Rice Cooker
Wheat Berry Salad
This savory and tart wheat berry salad is a salad that eats like a full meal. Make this delicious salad recipe for a hearty lunch, dinner or picnic – and watch it disappear!
Servings

3-4

Preparation
Cooking
Ingredients
1 ½ cup Hard wheat berries
⅓ cup Red bell pepper, diced
2 Celery stalks, finely chopped
½ cup Cherry tomatoes, sliced in half
½ cup Chopped  walnuts
½ cup Flat leaf parsley, chopped
¼ cup Extra virgin olive oil
2 tbsp Fresh lemon juice
Salt and pepper
Directions
Soak the wheat berries in water for 1 hour before using. 
Drain well and add them to the rice cooker inner pot along with 2 cups water.
Close the lid and choose the [PLAIN] setting. Press Start.
When the wheat berries are cooked, transfer them to a bowl and refrigerate until they are cold. 
Toss the remaining ingredients with the wheat berries and serve.
A DELICIOUS AND FILLING WHEAT BERRY SALAD
Aren't salads the best?! We love digging into a bowl brimming with fresh ingredients pretty much any night of the week. And salads are especially wonderful when they can stand as a meal on their own.
This wheat berry salad gets pops of color and freshness from sliced cherry tomatoes and red bell pepper – and plenty of crunch from celery and chopped walnuts.
And it's all tossed in a simple Medeteranean combination of extra virgin olive oil and lemon juice.
But the star of the show is most definitely the hearty wheat berries.
WHAT ARE WHEAT BERRIES?
A wheat berry (or wheatberry) is the wheat grain at its most rustic. The wheat kernel has an inedible husk that is removed – but that's where the processing stops.
Everything that's left (the germ, bran and endosperm) is edible and super full of fiber. These chewy and nutty whole grain kernels work well in both sweet and savory preparations.
And it's so easy to cook wheat berries in your rice cooker!
HOW TO MAKE WHEAT BERRIES IN A RICE COOKER
Prior to cooking the wheat berries for this delicious Medeterranean inspired salad, it's important to soak the whole wheat kernels for about an hour.
Then all you need to do is place them in the inner pot of your rice cooker with a couple cups of water.
When you select the Plain setting (yep – that's the same setting you use when making Japanese rice) and press the Start button, your wheat berries will cook to toothsome perfection.
All that's left to complete this wheat berry salad recipe is to cool the grains in the fridge. Once cool, add your other salad ingredients (see the recipe tab on this page for specifics) and mix well.
Products used in this recipe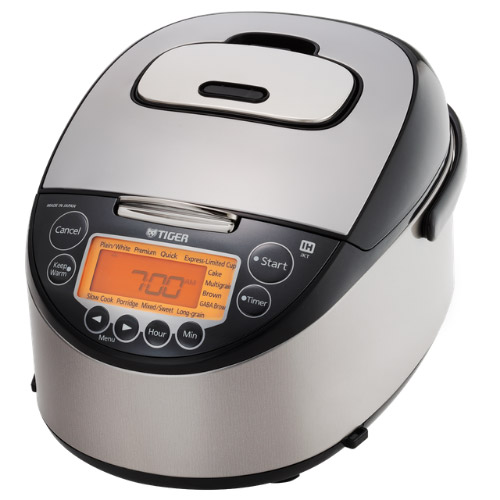 Induction Heating Rice Cooker JKT-D10U/18U
Made in Japan The TIGER JKT-D multi-functional induction heating (IH) electric rice cooker allows yo […]
LEARN MORE