Rice Cooker
Tomato Red Pepper Soup
Garden goodness is the name of the game with this savory and bright vegan tomato red pepper soup. Make it easily in your rice cooker!
Servings

3-4

Preparation

10 min

Cooking

55 min
Ingredients
2 cups vegetable broth
1 28-ounce can diced tomatoes
2 tablespoons tomato paste
1 large red bell pepper, cored, seeded, and chopped into bite size pieces
1 small onion, finely chopped
2 garlic cloves, minced
½ teaspoon granulated sugar
1 teaspoon smoked paprika
¼ teaspoon cayenne pepper
½ cup fresh basil leaves, chopped
Directions
Put all the ingredients, except the basil, in the rice cooker inner pot and mix well.
Close the lid and choose the [Slow Cook] function. Set the timer to 55 minutes and press start.
When the cooking is done, open the lid, add the chopped basil, and stir.
Divide the soup among bowls and serve with bread of your choice.
OUR FAVORITE BELL PEPPER RECIPE: TOMATO RED PEPPER SOUP
We've gone on record before as being absolute lovers of soup!
Because, whether you're eating a silky cream of mushroom soup – or a bright and smoky taco soup – soup just epitomizes home-cooked comfort food.
This red pepper and tomato soup recipe gets a savory base of flavor from vegetable broth – which is elevated by the addition of smoked paprika and fiery cayenne pepper.
A can of diced tomatoes and a couple tablespoons of tomato paste deliver brightness and umami, which contrasts the sharper and funky elements of onion and garlic.
But we'd say the star of this vegan soup is the red pepper. We're using a large red bell pepper, cored and seeded. Red bell peppers are milder and on the sweeter side of things. Once cooked in the broth, they take on the perfect texture.
And we think you'll love how easy it is to make this delicious rice cooker soup recipe!
HOW TO MAKE RED PEPPER SOUP IN A RICE COOKER
Simply load all of your soup ingredients (EXCEPT the fresh basil leaves) into the inner pot of your Tiger multifunctional rice cooker.
Stir well, close the lid and select the Slow Cook setting for 55 minutes. Once you press the Start button your work is basically done!
The intense flavors of your tomato red pepper soup will develop in a relatively short amount of time – and there's no fussing over a pot of soup on the stovetop.
Once the cooking cycle completes, add your chopped basil and serve. Goes perfectly with a crusty baguette or sourdough boule!
Products used in this recipe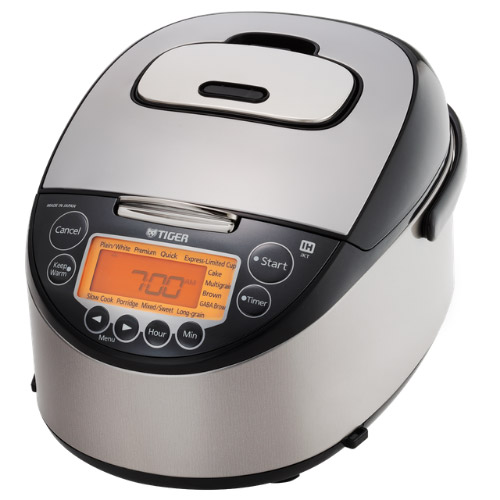 Induction Heating Rice Cooker JKT-D10U/18U
Made in Japan The TIGER JKT-D multi-functional induction heating (IH) electric rice cooker allows yo […]
LEARN MORE