Rice Cooker
Spinach Tomato Cake Salé
Say hello to your new baking obsession! This spinach tomato cake salé is the savory French pastry you never knew you needed.
Servings

3-4

Preparation

15 min

Cooking

45 min
Ingredients
1 ¼ cup all-purpose flour
1 teaspoon baking powder
¼ cup extra virgin olive oil
2 large eggs, whisked
100ml milk
Pinch of salt 
3/4 cup spinach, chopped
50g feta cheese
6 sun dried tomatoes in oil, sliced in half
Directions
Combine the all-purpose flour and baking powder in a bowl.
Add the olive oil, eggs, milk, and pinch of salt to the bowl, and stir until the mixture becomes a smooth batter.
Add the spinach and feta cheese and stir until well combined.
Spray the rice cooker inner pot with cooking spray and place the sun dried tomato at the bottom of it. 
Pour the batter over the sun dried tomatoes and close the lid. 
Select the [Slow Cook] function and set the timer for 45 minutes. Press start.
When the cake salé is cooked, take the rice cooker inner and place a plate on top of it. Very carefully flip the inner pot so the side of the cake with the sun dried tomatoes is facing up. Serve.
BAKING IN A RICE COOKER
Baking is the best! And we think there's something so fun and practical about using a rice cooker instead of an oven.
Because, whether you whip up a chiffon cake or a massive chocolate and blueberry pancake, if the oven stays off, that means you can enjoy your favorite sweets even in the middle of a summer heat wave.
Well, the same rules apply to this savory spinach tomato cake salé.
Packed with Mediterranean favorites like sun dried tomatoes and feta cheese, we think you and your family are going to love it!
WHAT IS CAKE SALÉ?
First things first: cake salé is a French savory cake. In fact, salé from French to English literally translates to 'salty'.
But there's a lot more than salt alone going on in this savory cake recipe. Sliced sun dried tomatoes bring a tangy quality to the overall flavor profile that is further boosted by the brined, peppery saltiness of good quality Feta cheese crumbles.
Chopped spinach brings a garden fresh element to the mix. One bite of this soft and savory cake, and you'll wonder how you ever got through life without this French delicacy in the steady rotation.
HOW TO MAKE SPINACH TOMATO CAKE SALÉ IN A RICE COOKER
First, make your batter according to the instructions above. Then add your spinach and feta to the batter and stir until combined.
Spray the inner pot of your Tiger multifunctional rice cooker with a little cooking spray and place the halved sun-dried tomatoes at the bottom.
Then just pour your batter in, select the Slow Cook setting for 45 minutes and press the Start button. And that's it!
Plate your completed cake salé with the sun dried tomatoes facing up. Bon appétit!
Products used in this recipe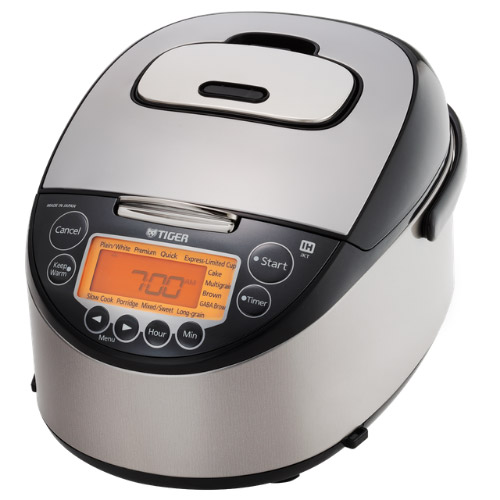 Induction Heating Rice Cooker JKT-D10U/18U
Made in Japan The TIGER JKT-D multi-functional induction heating (IH) electric rice cooker allows yo […]
LEARN MORE