Rice Cooker
Barley Vegetable Soup
With hearty and soulful flavors, this barley vegetable soup will be your go-to-recipe this winter. And making it in your rice cooker is a breeze!
Servings

3-4

Preparation

20 min

Cooking

120 min
Ingredients
½ Small onion, finely chopped
1 Large carrot, chopped
3 Garlic cloves, minced
½ cup Frozen peas
½ cup Frozen green beans
½ cup Pearl barley
½ tsp Dried thyme
1 (14-ounce) Can diced tomatoes
2 cups Low sodium chicken broth
1 ½ cup Water
Salt and pepper for flavor
Directions
Place all the ingredients in the inner pot and stir.
Place inner pot in the rice cooker. Select [Slow Cook] menu and set for 120 minutes. Press [Start] key.
Once complete, serve in a bowl.
AN EASY AND COMFORTING BARLEY VEGETABLE SOUP RECIPE
After work or school, soup can make a tough day melt away into a hazy memory. Ditto when it's freezing outside, the car wouldn't start and the bus was late.
Soup can make it all better.
And this vegetable and barley loaded soup is so hearty and warming, it's practically comfort food royalty. A base of aromatics like garlic, onions and thyme marry perfectly with vegetables like carrots, peas and green beans.
But the star of this dish has got to be the barley. This grain delivers stick-to-your-ribs substance that just happens to absorb the flavors of the savory chicken stock.
And it's so simple to make!
HOW TO MAKE VEGETABLE SOUP IN A RICE COOKER
Now, here's where the easy factor really shines! To make this vegetable and barley soup from scratch, simply add all your ingredients to the inner pot of your rice cooker and select the Slow Cook setting. That's pretty much it! Press the Start key and move on to something else. There's nothing better than eating a slow cooker soup without dragging the slow cooker out of storage!
And your Tiger rice cooker can do so much more than just cook perfect rice.
So when the cold wind blows and the urge to make soup strikes, we hope these hearty soup recipes have you well prepared to combat that winter chill with veggies and broth.
Bon Appetit!
Products used in this recipe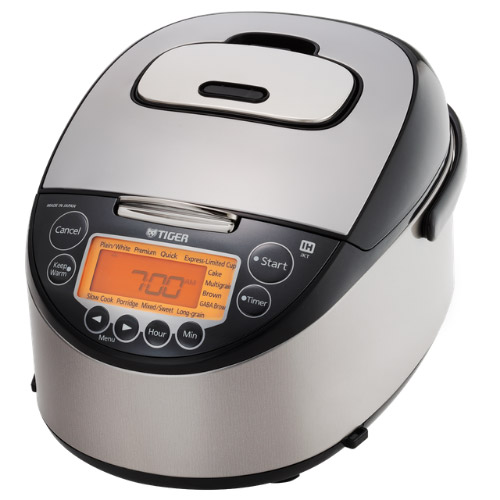 Induction Heating Rice Cooker JKT-D10U/18U
Made in Japan The TIGER JKT-D multi-functional induction heating (IH) electric rice cooker allows yo […]
LEARN MORE