Rice Cooker
Slow Cooker Whole Cauliflower
Need an easy veggie side dish? This slow cooker whole cauliflower is as simple as it gets! Bonus: you can make it in your rice cooker.
Servings

3-4

Preparation

10 min

Cooking

75 min
Ingredients
1 small cauliflower head (ADD WEIGHT)
2 tablespoons water
2 tablespoons extra virgin olive oil
Salt and pepper, to taste
Directions
Rinse the cauliflower head and remove the leaves. Cut the stem off so the head sits flat on a plate. 
Drizzle olive oil over the cauliflower and massage the oil so it covers the head evenly.
Sprinkle a little salt and place the cauliflower head in the rice cooker inner pot. 
Choose the [Slow Cook] function and set the timer to 75 minutes. Press start.
Carefully transfer the cauliflower onto a plate and season with salt and pepper. Serve.
THE EASIEST WAY TO PREPARE A WHOLE CAULIFLOWER HEAD
Cauliflower is one of our favorite ingredients to work with. Its natural sweetness and earthiness means it's one of the tastiest side dishes you can make with minimal steps (just check out these simple yet decadent cauliflower mashed potatoes). 
So it stands to reason that we'd finally tackle the easiest cauliflower recipe of them all!
This slow cooker whole cauliflower head gets all of the flavor it needs from a little EVOO and a pinch of salt. And while it's easy to make, the indulgent flavors mean it'll probably be in your steady dinner rotation soon!
HOW TO COOK A WHOLE HEAD OF CAULIFLOWER IN A RICE COOKER
Simply rinse and trim your whole cauliflower following the steps outlined in the 'directions' tab above.
Then drizzle with extra virgin olive oil. Be sure to massage the oil in so that the entire cauliflower is covered.
Sprinkle with salt – and place it into the inner pot of your Tiger multifunctional rice cooker. Select the Slow Cook function for 45 minutes, and your work is done!
Once the timer sounds off, you're all set. Plate it up and serve as a side dish the whole family will enjoy. An additional sprinkle of flaky sea salt is a great finisher btw.
Optional step for crispy, roasted cauliflower: If you'd like to get a bit of roasted goodness on the outside of your cooked cauliflower head, you might consider a final step. Take the cooked cauliflower head out of your rice cooker, put it on a baking sheet and place it on the top oven rack. Turn your oven to Broil. But keep an eye on it! There's a fine line between crispy goodness and charcoal. This optional roasting step shouldn't take more than a few minutes tops.
Products used in this recipe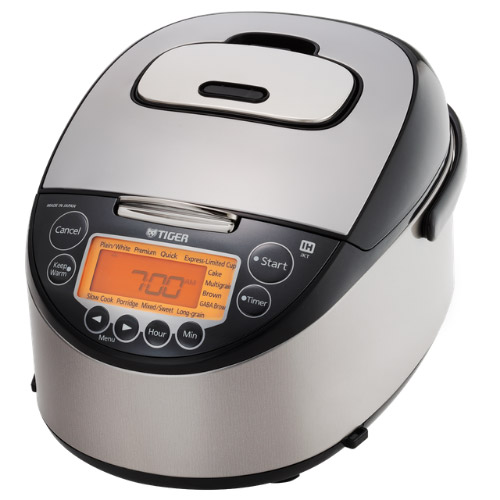 Induction Heating Rice Cooker JKT-D10U/18U
Made in Japan The TIGER JKT-D multi-functional induction heating (IH) electric rice cooker allows yo […]
LEARN MORE