Rice Cooker
Cauliflower Mashed Potatoes
What happens when you mix mashed potatoes and cauliflower? Absolute magic! Make these cauliflower mashed potatoes this holiday season.
Servings

3-4

Preparation

15 min

Cooking

45 min
Ingredients
2 russet potatoes, peeled and chopped
2 cups (about 10oz) cauliflower, chopped
¼ cup extra virgin olive oil
2 garlic cloves, minced
¼ cup water
Salt and pepper, to taste
Directions
Put all the ingredients in the rice cooker inner pot and select the [Slow Cook] function. Set the timer for 45 minutes and press start.
When the cooking is done, grab a rice paddle or plastic masher and mash the potatoes and cauliflower inside the inner pot. 
Season with salt and pepper. Add more water if needed.
CAULIFLOWER MASHED POTATOES (WITH ACTUAL POTATOES)
We've seen a ton of inventive recipes out there that substitute cauliflower in place of potatoes when making a delicious side dish for the holidays.
And that got us thinking…
If cauliflower is capable of standing in for potatoes – what kind of delicious magic would occur if we mixed the two together on purpose? (Hint: trust us… you'll love it!)
Now, we've already rounded out plenty of holiday dinners with these rice cooker mashed potatoes – so when it comes to spuds, this isn't our first rodeo.
But most mashed potato recipes call for milk and butter to make them creamy, smooth and moreish. Well, not this recipe!
The moisture and texture from the cooked cauliflower tames some of the more starchy elements of the potatoes. The result is a silky vegan mashed potatoes recipe you won't need dairy to fix for you.
We like adding a bit of garlic to the mixture for another level of flavor. There's just nothing better than garlic mash, right?!
And if you've already got all the stove top burners going on a massive holiday feast, you can totally use your rice cooker to whip this one up!
HOW TO MAKE CAULIFLOWER MASHED POTATOES IN A RICE COOKER
Simply add all your ingredients (listed above) to the inner pot of your Tiger multifunctional rice cooker. Select the Slow Cook function for 40 minutes – and press the Start button.
When the cooking cycle has finished, carefully mash the potatoes and cauliflower together. Make sure you use a plastic masher or the plastic rice paddle that was included with your rice cooker. Metal can damage the inner pot! If in doubt, transfer to a separate bowl before mashing.
All you'll need is a little salt and pepper for seasoning. And if the cauliflower mashed potatoes are a little too thick for your taste just add a tiny bit of water.
We think you're going to love this delicious holiday side dish mash-up!
Products used in this recipe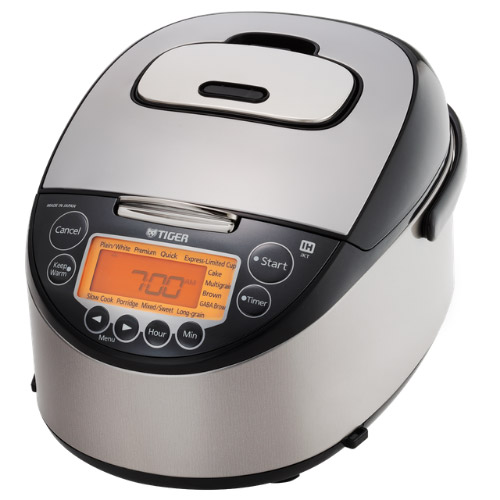 Induction Heating Rice Cooker JKT-D10U/18U
Made in Japan The TIGER JKT-D multi-functional induction heating (IH) electric rice cooker allows yo […]
LEARN MORE