Rice Cooker
Mashed Sweet Potatoes
This mashed sweet potatoes recipe is the perfect balance of savory and sweet – with a creamy texture that is sure to make this your go-to sweet potato recipe.
Servings

3-4

Preparation
Cooking
Ingredients
1 ½ pound Sweet potatoes, peeled and chopped
Water
1 tsp kosher salt
¼ cup Milk or dairy-free substitute like oat milk
2 tbsp Butter
1 Scallion, finely chopped
Directions
Place the sweet potatoes in the rice cooker inner pot and add enough water to cover them. 
Select the [Plain] function and press start.
When the cooking is done, careful remove the inner pot and drain the sweet potatoes.
Return the potatoes to the inner pot and add sat, milk, and butter. Mash the potatoes until they are smooth. Top with chopped scallions and serve.
AN EASY MASHED SWEET POTATOES RECIPE
The humble sweet potato is one of our favorite root vegetables. Not only are they delicious, they just happen to be rich in dietary fiber, complex carbohydrates and all kinds of vitamins our bodies need to perform at peak levels.
This super-tuber is also quite pretty to look at – especially once cooked and mashed into a sweet potato puree.
Well, this simple mashed sweet potatoes recipe is perfect for those nights you're looking for a delicious side dish to round out your family's evening meal. And if it's a Thanksgiving side dish you're after, you've come to the right place!
This savory sweet potato recipe is made super creamy with a little help from butter and milk (feel free to use your favorite dairy substitutes if you're making vegan sweet potatoes).
A dash of kosher salt ramps up the play between savory and the natural sweetness of the sweet potatoes themselves.
We love any recipe with this few ingredients that turns out so flavorful. And it's a breeze to make in your rice cooker!
HOW TO MAKE MASHED SWEET POTATOES IN A RICE COOKER
Simply place your peeled and chopped sweet potatoes into the inner pot of your Tiger rice cooker. Cover the sweet potato pieces with water and select the Plain cooking function (yep – that's the same one you use when making rice).
Once the cooking cycle has completed, just drain the sweet potatoes, add your salt, milk and butter – and mash away! Top your mashed sweet potatoes with chopped scallions and dig in. Hey, we told you it was easy.
Now, we won't hold it against you if your rice cooker isn't the first kitchen appliance you think of when whipping up potatoes. But we'd like the opportunity to change all that!
Products used in this recipe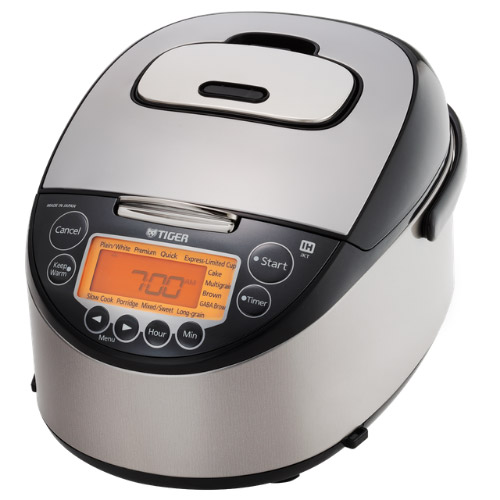 Induction Heating Rice Cooker JKT-D10U/18U
Made in Japan The TIGER JKT-D multi-functional induction heating (IH) electric rice cooker allows yo […]
LEARN MORE