Rice Cooker
Korean Style Potatoes
Need a little fire in your life? Covered in a gochujang based sauce, these Korean style potatoes have just enough heat to satisfy your craving. Make this easy Korean side dish in your rice cooker!
Servings

3-4

Preparation

60 min

Cooking

60 min
Ingredients
2 tbsp Neutral oil
3 Garlic cloves, minced
2 tbsp Gochujang
1 tbsp Gochugaru
2 tbsp Soy sauce
1 tbsp Sugar
¼ cup Water
1 pound Fingerling potatoes
4 Scallions, finely chopped
Salt and pepper, to taste
Directions
Whisk the oil, garlic, gochujang, gochugaru, soy sauce, sugar, and water in a bowl, and transfer the mixture to the rice cooker inner pot.
Add the potatoes to the inner pot and mix with the sauce, until the potatoes are well coated.  
Close the lid and choose the [Slow Cook] function. Set the timer to 60 minutes and press Start.
Serve with chopped scallion and season with salt and pepper, if needed.
KOREAN STYLE POTATOES: THE PERFECT SIDE DISH
We love banchan! In fact we could happily make an entire meal out of Korean side dishes.
And while this spicy baby potatoes recipe isn't a traditional Korean side dish – it has the flavor profile down pat.
Spicy, sweet, earthy and rich – this is one potato recipe you'll come back to again and again. Gochugaru (dried Korean chili pepper flakes) deliver spice without accidentally going into volcanic territory. Soy sauce and sugar deliver a one-two punch of savory sweetness.
But the hero of the show – at least in the flavor department – is gochujang.
WHAT IS GOCHUJANG?
Gochujang is a paste made of red pepper, fermented soybeans and salt. And it's used liberally throughout Korean cuisine.
With its spicy, sweet, nutty and earthy flavor profile, it's used to flavor everything from soups and stews to pickles and marinades for meat and seafood.
It's the perfect ingredient to give your fingerling potatoes some real kick and depth.
And you won't believe how easy it is to make this recipe in your rice cooker!
HOW TO MAKE KOREAN POTATOES IN A RICE COOKER
This Korean style potatoes recipe is as simple as it gets. To make it in your rice cooker, simply mix all the elements for your fiery sauce in a bowl and transfer it to the inner pot of your Tiger multifunctional rice cooker.
Then add your fingerling potatoes to the inner pot and stir until the potatoes are evenly coated with the sauce.
60 minutes on the Slow Cook setting is all it takes.
After cooking, top with a few chopped scallions and serve. Careful though, they'll disappear from the table quickly. Better make extra!
Products used in this recipe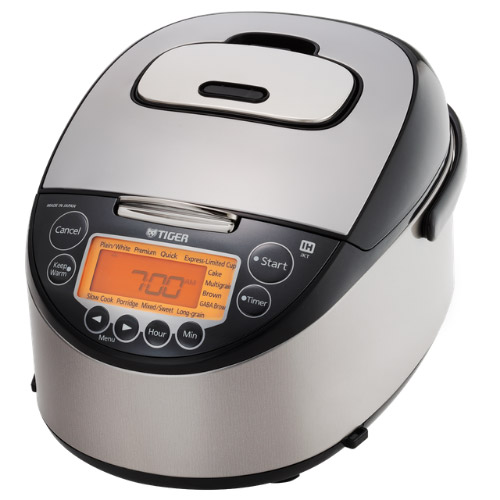 Induction Heating Rice Cooker JKT-D10U/18U
Made in Japan The TIGER JKT-D multi-functional induction heating (IH) electric rice cooker allows yo […]
LEARN MORE