Rice Cooker
Slow Cooker Pumpkin Butter
This easy slow cooker pumpkin butter is the taste of autumn in a jar. Grab a loaf of freshly baked bread and top it with this zesty and sweet spread!
Servings

3-4

Preparation

10 min

Cooking

120 min
Ingredients
One 15oz can of Pumpkin puree
½ cup Brown sugar
¾ cup Apple juice 
½ teaspoon Ground cinnamon
⅛ teaspoon Allspice
Directions
Put all the ingredients in the rice cooker inner pot and stir.
Close the lid and select the [Slow Cook] function. Set the timer to 120 minutes and press start.
Serve with toasted bread.
WHAT IS PUMPKIN BUTTER?
Pumpkin butter is a sweet and creamy fruit butter made with a simple combination of pumpkin puree, sugar and a few spices you probably already have in your pantry.
Much like its better known cousin apple butter – there's no actual butter in the recipe. Think of the flavors of pumpkin pie filling, but in spreadable form, and you're pretty much there in terms of taste.
Cinnamon and allspice temper the sweetness of the sugar and apple juice and form an almost warming flavor profile.
The sweet and lightly spiced spread is delicious on toast, pancakes and even in steel cut oats.
Now, we have a confession: we're pretty much powerless to the pull of all-things-pumpkin, especially once there's a nip in the air and the leaves start to change colors.
Yes, we've been known to grab pumpkin spices lattes at a breakneck pace – and devour more than a slice of pumpkin pie at Thanksgiving dinner.
Well, think of this homemade pumpkin butter recipe as just another way to get pumpkin into your life – in one of the tastiest ways possible!
And it's so easy to make at home.
HOW TO MAKE PUMPKIN BUTTER IN A RICE COOKER
Simply load all of your ingredients into the inner pot of your Tiger multifunctional rice cooker. Use the Slow Cook setting for 120 minutes – and you're pretty much finished with the cooking process.
Once the timer sounds off, stir and serve.
How easy is that!?
We think you and your family will love the flavors of autumn on your morning toast!
Products used in this recipe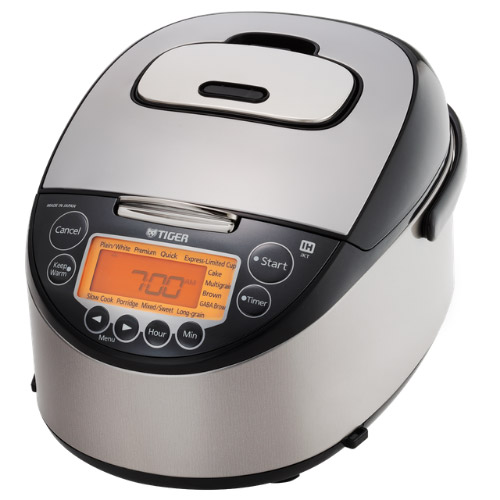 Induction Heating Rice Cooker JKT-D10U/18U
Made in Japan The TIGER JKT-D multi-functional induction heating (IH) electric rice cooker allows yo […]
LEARN MORE