Rice Cooker
Savory Japanese Breakfast Oatmeal
When it comes to a hearty, balanced breakfast, this savory oatmeal is umami loaded and easy to make in your rice cooker! It's the ultimate Japanese breakfast.
Servings

3-4

Preparation
Cooking
Ingredients
1 cup steel cut oats
2 cups water
1 cup low sodium chicken stock
2 eggs
Furikake
Chopped scallions
Soy sauce
Directions
Place steel cut oats, water, and chicken stock in the rice cooker, and stir.
Close the lid and choose the [Oatmeal] setting. Press Start.
Add a little oil to a pan and cook the eggs sunny side up.
Fill two bowls with oatmeal and top each one with an egg, some furikake, chopped scallions, and a drizzle of soy sauce. Serve
THIS SAVORY OATMEAL RECIPE MAKES THE BEST BREAKFAST
When it comes to breakfast foods, sweet historically tends to get all the love.
And sometimes with good reason. There's nothing like the pep you get in your step when you dig into a bowlful of apple cinnamon steel cut oats. That's some next level deliciousness! 
But what about savory oatmeal?
We're glad you asked! We've got an easy to make savory oatmeal recipe you can make with just a few ingredients whenever your tastebuds crave a little umami in your breakfast foods.
The basic ingredients you'll need are steel cut oats, chicken stock (or veggie broth)… and your Tiger multifunctional rice cooker of course!
The chicken broth infuses savory goodness into the steel cut oats as they cook. And we love topping our savory oatmeal with things like chopped scallions, soy sauce, sunny side up eggs and furikake.
WHAT IS FURIKAKE?
Furikake is an all purpose Japanese seasoning made with bonito flakes, spices and nori (dried seaweed).
We use this condiment on lots of things (especially this Japanese oatmeal). Pick it up at your favorite Asian market, or make furikake yourself at home!
HOW TO MAKE OATMEAL IN A RICE COOKER
This is as easy as it gets!
Simply load your steel cut oats, water and stock into the inner pot of your Tiger multifunctional rice cooker and stir well.
If your rice cooker has an Oatmeal setting, use that. Otherwise use the Brown Rice setting and press Start.
When the cooking cycle is finished, top your oatmeal with the savory toppings of your choice. But definitely don't forget the furikake!
Itadakimasu!
このレシピで使用した製品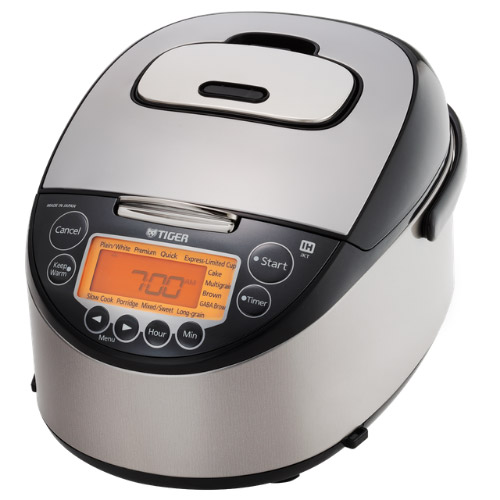 Induction Heating Rice Cooker JKT-D10U/18U
Made in Japan The TIGER JKT-D multi-functional induction heating (IH) electric rice cooker allows yo […]
LEARN MORE