Rice Cooker
Rice Cooker Apple Cinnamon Steel Cut Oats
Put a little pep in your step with this delicious rice cooker apple cinnamon steel cut oats recipe. If you think breakfast is the most important meal of the day, this one's for you!
Servings

2

Preparation

10 min

Cooking
Ingredients
1 Medium to large apple, peeled, cored, and chopped into bite size pieces
1 ½ cup Steel cut oats
4 cups Water
2 teaspoon Pure vanilla extract
2 teaspoon Cinnamon powder
Pinch salt
Directions
Put all the ingredients in the rice cooker inner pot and stir.
Close the lid and choose the [Oatmeal] setting. Press Start.
Serve with maple syrup or a sprinkle of brown sugar.
BREAKFAST OF CHAMPIONS: RICE COOKER APPLE CINNAMON STEEL CUT OATS
There's a reason to start the day with a hearty breakfast. Heading out the door with a full belly sets us on a trajectory for success.
And oatmeal makes the perfect breakfast food. Nutrient dense, packed with fiber and a good source of protein – steel cut oats won't have you wishing it was lunch time at 10AM.
For this delicious apple cinnamon oatmeal recipe we're using a large apple, peeled and cut into bite sized pieces. It adds a great amount of natural sweetness to the overall dish.
Cinnamon and pure vanilla extract lend a one-two-punch of satisfying comfort food goodness.
But the star of the show is the steel cut oats that have such a chewy, satisfying bite to them.
And don't worry… even though steel cut oats typically take longer to cook than things like rolled oats and quick cooking oats, we've got a simple solution for that. Rice cooker to the rescue!
HOW TO COOK STEEL CUT OATS IN A RICE COOKER
This is where it gets easy!
Now, depending on the model you have, your Tiger multifunctional rice cooker likely has a setting called either Porridge or Oatmeal. It's those cooking presets that make whipping up steel cut oats in your rice cooker a piece of cake.
Just load all of the ingredients into the inner pot, and that's pretty much it!
One bite and we think you'll agree that this rice cooker apple cinnamon oatmeal is a great way to start your day.
Products used in this recipe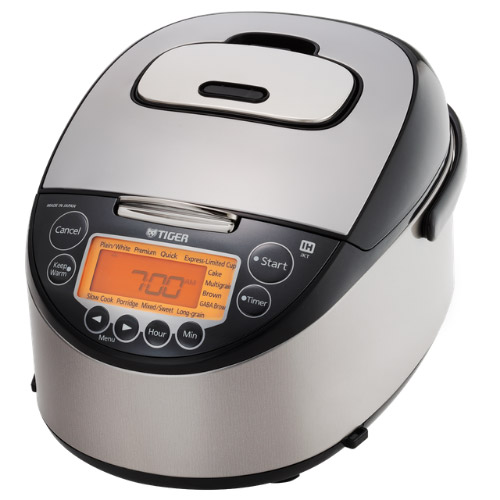 Induction Heating Rice Cooker JKT-D10U/18U
Made in Japan The TIGER JKT-D multi-functional induction heating (IH) electric rice cooker allows yo […]
LEARN MORE