Rice Cooker
Steel Cut Oatmeal With Cranberries and Pecans
Sunday mornings are just perfect for making a dried fruit-and-nut packed batch of hearty steel cut oats.
There's just something about oatmeal that manages to straddle the line between delicious comfort-food and healthy wholesome perfection. And whether you're a traditionalist – or prefer a delicious oatmeal recipe that tastes like banana bread – you can't go wrong with making oatmeal in your rice cooker!
You see, while cooking steel cut oats takes more time than preparing rolled oats, Tiger rice cookers are up to the challenge – and have computerized presets that turn out perfect oatmeal every time.
Seriously… we've got you!
Ingredients
2 cups steel cut oats
5 cups water
3 tablespoons maple syrup
1/2 cup dried cranberries
1/2 cup toasted sliced almonds
1 teaspoon pure vanilla extract
1/2 teaspoon ground cinnamon
Pinch of Kosher salt
Directions
Combine the oats, water, maple syrup, cranberries, almonds, cinnamon, vanilla and salt in the non-stick inner pot of the rice cooker.
Use the Menu button to set the rice cooker to the "Porridge" setting (60 minutes cooking time). Close the lid and press Start.
When finished cooking, stir the oatmeal and serve.
Makes 3 cups of Oatmeal
BREAKFAST FOR ONE… OR THE ENTIRE CREW
Aside from being delicious and absolutely packed with nutrition, oatmeal also happens to keep really well in the fridge. So, even if you're not cooking for an army, you can make a week's worth of healthy breakfasts in one shot.
Of course, you can also whip up a batch of sweet, tart and nutty steel cut oats that will satisfy your entire family with the push of a button.
If there's a rule we try to follow when at all possible, its: keep things simple in the morning😜
HOW TO MAKE OATMEAL IN A MULTI COOKER
Our rice cookers can do quite a lot. In fact, we're fond of calling them multicookers for that very reason!
To make this simple steel cut oats recipe in your Tiger JKT, just load all the ingredients into the inner pot of your rice cooker, select the Oatmeal (Steel Cut) setting and press Start. That's it!
But it's just as easy when using other rice cooker models, like the JAX or JBV. With those multi cookers, simply follow the same prep steps – and select the Porridge setting. Easy peasy!
You'll be eating healthy steel cut oatmeal, sweetened with maple syrup – and fortified with cranberries and pecans – in no time.
Your family (and your tummy) thank you!
Products used in this recipe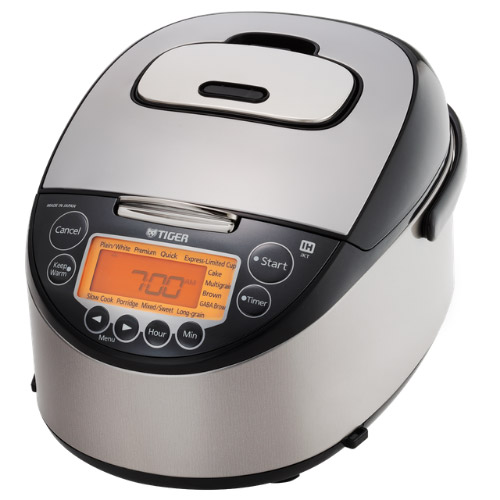 Induction Heating Rice Cooker JKT-D10U/18U
Made in Japan The TIGER JKT-D multi-functional induction heating (IH) electric rice cooker allows yo […]
LEARN MORE