Rice Cooker
Vegan Berry Oatmeal
Need a little kickstart in the morning? Well, look no further than this vegan berry oatmeal recipe. It's delicious, and so easy to make in your rice cooker!
Ingredients
1 cup Steel cut oats 
2 cups Water
1 cup Oat milk
¼ tsp Kosher salt
1 cup Frozen mixed berries, thawed
3 tbsp Honey or brown sugar
Directions
Place steel cut oats, water, oat milk, and salt in the rice cooker and stir. 
Close the lid and choose the [Oatmeal] setting. Press Start.
When the oatmeal is cooked, add berries and honey and stir. Serve.
A VEGAN BREAKFAST RECIPE THAT WILL FORTIFY YOU FOR THE DAY AHEAD
You know what they say about starting your day off with a hearty breakfast. Well, we couldn't agree more!
This berry oatmeal recipe is not only packed with the types of things your body needs to operate at optimal levels, it tastes amazing.
There's the nutty perfection of the steel cut oats, countered by the brightness of berries (keep it simple by just thawing out frozen berries) – along with the perfect sweetness of brown sugar.
We opted to use oat milk in this vegan oatmeal recipe – but you can use soymilk, almond milk or cow's milk if that's what you prefer. Your breakfast is going to taste amazing!
HOW TO COOK STEEL CUT OATS
Now, you may have noticed that not all oatmeal is the same.
There are rolled oats (which include old-fashioned oats and quick-cooking oats) – and steel cut oats. Steel cut oats are less processed than their quicker cooking cousins – and tend to have a more chewy, satisfying mouthfeel
This recipe calls for steel cut oats. And while they tend to require longer cooking times, we've got an easy solution that will have you cooking steel cut oats with the press of a button!
HOW TO MAKE OATMEAL IN A RICE COOKER
Simply place your steel cut oats, water, salt and oat milk inside the inner pot of your Tiger multifunctional rice cooker and stir. Then select the Oatmeal (Steel Cut) preset and press the Start key.
That's it! Your rice cooker will take it from there.
While your oatmeal is cooking, you have time for a shower or a cup of coffee (or a few extra minutes of sleep).
After a bowl of berry loaded oatmeal, you'll be ready to attack your day!
Products used in this recipe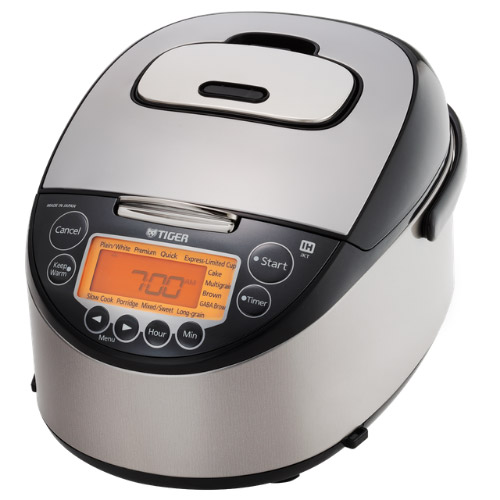 Induction Heating Rice Cooker JKT-D10U/18U
Made in Japan The TIGER JKT-D multi-functional induction heating (IH) electric rice cooker allows yo […]
LEARN MORE