Rice Cooker
Basic Congee (Porridge)
This ginger chicken congee is basically a thick and hearty chicken rice soup. It's so easy to make – and is the perfect meal when you need a comforting dose of mom's home cooking.
Servings

2

Preparation

10 min

Cooking

70 min
Ingredients
½ cup Japanese rice (supplied measuring cup)
Chicken stock
1 celery stalk, finely chopped
1 thumb size ginger, julienned
Scallions for topping (optional)
Directions
Rinse the rice under running water until the water and drain the cloudy water.
Place the rice, celery and ginger in the inner pot and pour enough chicken stock to reach the 0.5 Soft Porridge line.
Select the [Porridge] menu and set the heating time to 70 minutes. Press the [Start] key.
Serve topped with chopped scallions.
HOW TO MAKE CONGEE IN A RICE COOKER
At its most basic, congee is a thick rice porridge comprised of rice grains that have been cooked in water or broth for long enough that they begin to disintegrate. And while that may not sound very appetizing, it's basically the chicken soup of Asia, eaten when you're feeling under the weather – or when you just need a dose of home-cooked comfort food.
Congee can be served plain to someone with a tender stomach – or can be full of flavor forward ingredients like meat, eggs, fried shallots and spices. The list of possible ingredients is truly endless!
Now, rice porridge goes by a ton of different names throughout the Asian food lexicon. It is congee in the Guangdong province in China – and is okayu in Japan. In Indonesia, rice porridge is bubur, in Cambodia it's bobar – and in Korea it's called Juk. And that's just a few of the many different names this soothing and comforting rice dish goes by around the globe.
But no matter whether you call it arroz caldo or chok, you're going to love how easy it is to make this congee recipe in your rice cooker!
HOW TO MAKE CONGEE IN A RICE COOKER
Since this hearty porridge is so delicious, we're all about making rice cooker congee. Seriously, from this Indonesian bubur ayam to this silky Japanese nanakusa gayu – to this assertive Chinese century eggs and fish fillet porridge – whipping up congee in your Tiger rice cooker is as simple as loading everything into the inner pot.
With fill lines and a cooking preset specifically for porridge, just press the Start key and let your Tiger multi-functional rice cooker do its thing.
We think you'll absolutely LOVE this ginger chicken congee – and since you used your multicooker, whoever gets stuck on cleanup duty will feel like they got a free pass!
Products used in this recipe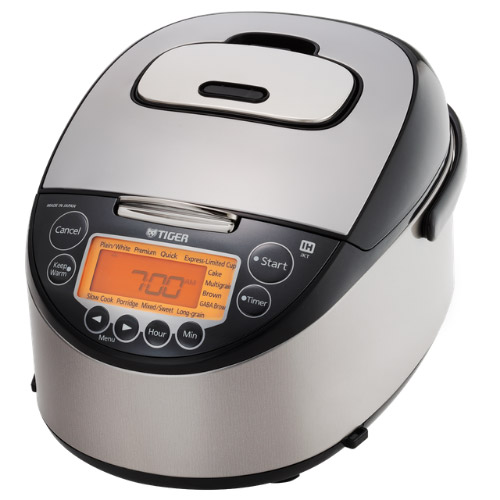 Induction Heating Rice Cooker JKT-D10U/18U
Made in Japan The TIGER JKT-D multi-functional induction heating (IH) electric rice cooker allows yo […]
LEARN MORE