Rice Cooker
Nanakusa Gayu – Seven Herb Rice Porridge
Make this traditional Japanese rice porridge (nanakusa gayu) on the 7th of January – or really any day you want to give your belly a break!
Servings

2-3

Preparation

20 min

Cooking
Ingredients
1 cup White rice (supplied measuring cup)
5 oz total Seven herbs (water dropwort, shepherd's purse, cudweed, chickweed, henbit, turnip, and Japanese radish)
1/3 tsp Salt
Directions
Wash the rice in the inner pot. Add water up to level 1 of Porridge in the inner pot. Select the [Porridge] menu and set the heating time to 60 minutes. Press the [Start] key.
Lightly boil the seven herbs and place them in water. Squeeze out water and chop finely.
When porridge is cooked, add the chopped herbs and salt. Gently stir the porridge and place in a serving bowl.
WHAT IS NANAKUSA GAYU?
Have you ever overindulged during the holidays? Well in our experience, right around Christmas and New Year, it's pretty common to overdo it on rich food, desserts, cocktails and sweets of all kinds. There's nothing better!
But while the holiday spirit can live on well into the new year, it's usually a decent idea to get back to healthy eating before springtime, right?!
Nanakusa gayu is a Japanese rice porridge recipe that is traditionally eaten on January 7th. Made with a variety of young Japanese herbs, it is a great meal to give your overworked stomach a chance to recover. It's also thought to be a cleansing meal that fortifies you for the year to come.
Fun fact: nana means seven in Japanese. And the word for herb is kusa.
But aside from solely being a meal based on tradition, rice porridge is very commonly eaten throughout Asia. Seriously, it's like chicken soup – eaten when you're feeling a little under the weather, when you need a comforting taste of home – or when you just need to give your tummy a break.
You may have heard of rice porridge referred to as congee (Chinese), okayu (Japanese), or bubur ayam (Indonesian).
And rice porridge is super easy to make!
HOW TO MAKE RICE PORRIDGE IN A RICE COOKER
Your Tiger rice cooker can handle everything from congee to oatmeal. With onboard menu presets for cooking steel cut oats or chili, it really is a handy kitchen appliance to lean on when you want to eat well, but time is short.
To make this rice cooker porridge, simply load your rice and water into the inner pot and select the Porridge setting. Once the timer sounds off, stir in your boiled herbs and a pinch of salt.
You'll be eating a bowl of stomach soothing Japanese nanakusa gayu in no time.
Itadakimasu! 🍲😋
※ Seven-herb rice porridge is one of Japanese traditional porridges and cooked with the baby leaves. It is often eaten to prevent diseases and ward off evils
and is commonly served to help the stomach rest after a series of New Year's feasts.
Products used in this recipe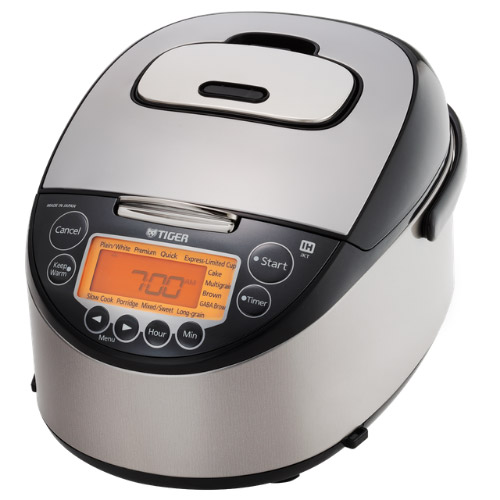 Induction Heating Rice Cooker JKT-D10U/18U
Made in Japan The TIGER JKT-D multi-functional induction heating (IH) electric rice cooker allows yo […]
LEARN MORE