Rice Cooker
Century Eggs and Fish Fillet Porridge
This delicious century egg and fish porridge is Asian comfort food at it's best. Bonus: it's SUPER easy to make in your rice cooker!
Servings

2

Preparation
Cooking
Ingredients
½ cups White rice (supplied measuring cup)
3 ½ oz White fish
1 Century egg
3-inch Ginger
½ tsp Salt
½ tsp Sesame oil
A pinch White pepper
Coriander for garnish
Salt for flavor
White pepper for flavor
Directions
Slice the white fish and mix with the condiments. Pickle in the refrigerator for a while.
Dice the century eggs and shred the ginger.
Put the washed rice in the inner pot. Add water up to level 0.5 of Porridge in the inner pot. Place the fish, century egg and ginger. Select the [Porridge] menu and set the heating time to 70 minutes. Press the [Start] key.
When cooking is complete, season with salt and pepper.
Serve into a bowl and sprinkle minced coriander.
WHAT IS PORRIDGE?
Now, Goldilocks references aside, porridge is pretty much any grain simmered in liquid until it takes on a smooth yet toothsome consistency. And aside from rolled oats (in oatmeal), rice is one of the most popular grains that gets used in porridge.
You may have heard of it referred to as congee in the Chinese nomenclature. And in Japan, it is known as okayu.
But no matter where you've tried it, rice porridge is an Asian comfort food staple, perfect for those times you need something soft yet substantive to fill you up.
Plus you can really make a meal out of it. This rice porridge recipe is packed with savory ingredients like marinated white fish fillet and a century egg!
WHAT IS A CENTURY EGG?
Century eggs go by many names. Seriously… hundred year egg, thousand year egg, millenium egg and pine-patterned eggs are just a few of the titles assigned to these little black eggy wonders. But at their most basic, century eggs are preserved eggs.
By using a solution that often times includes salt, clay (and sometimes ash), these eggs have a creamy yolk, a white that turns jellylike and black – and a flavor that one might describe as… ahem, pungent.
You can oftentimes find them sold at Asian grocery stores – and there are plenty of DIY recipes on the internet. Don't worry, they don't take 100 years to make, ha!
HOW TO MAKE RICE PORRIDGE IN A RICE COOKER
For this fish congee recipe, it's as simple as placing your rinsed rice, century egg, marinated fish fillets, ginger and spices in the inner pot of your Tiger rice cooker. Then select the Porridge setting for 70 minutes and press the Start button. That's it!
Whether this is your first time trying rice porridge ever – or this century egg and fish congee is a taste of home – we think you'll definitely want seconds!
Products used in this recipe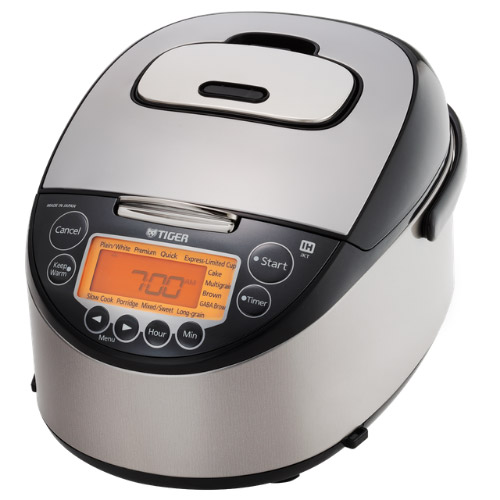 Induction Heating Rice Cooker JKT-D10U/18U
Made in Japan The TIGER JKT-D multi-functional induction heating (IH) electric rice cooker allows yo […]
LEARN MORE