Rice Cooker
Rice Cooker Potato Potage
This silky potato potage is the quintessential French soup. Savory, velvety and super easy to make in your rice cooker!
Servings

3-4

Preparation

10 min

Cooking

70 min
Ingredients
3 ½ cups chicken broth or vegetable broth
2 medium large yukon gold or russet potatoes, peeled and sliced into bite size pieces
1 medium onion, finely chopped
2 garlic cloves, minced
½ teaspoon dried parsley
½ teaspoon salt
Ground black pepper
¾ cup milk or unsweetened oat milk (vegan option)
Directions
Put all the ingredients – except the milk – in the rice cooker inner pot and stir.
Close the lid and select the [Slow Cook] function. Set the timer to 60 minutes and press Start.
When the cooking process is done, transfer the soup to a blender and add the milk. Blend until smooth. Or you can use a hand mixer with a protective plastic guard and do the blending in the inner pot.
Serve with your favorite bread and enjoy!
YOUR RICE COOKER IS THE PERFECT APPLIANCE FOR MAKING SOUP AND STEW
What is it they say about a watched pot never boiling?
While that may be a bit of cooking folklore, we firmly believe that there are certain kitchen tasks that can be made a lot easier if an appliance is taking care of the actual cooking.
Whether you're making a savory white bean and ham soup – or this hearty vegetable stew – when you use a rice cooker, you never have to worry about whether your soup is ready or not. Heck, you never even have to turn the stove top burners on (a great relief in the summertime!).
Well, the same rules apply to this luxuriously creamy potato potage.
WHAT IS POTAGE?
A potage (or pottage) is a thick stew or soup made typically of boiled vegetables – and sometimes grains and meat or fish.
One of the most iconic examples of a potage is a French potato leek soup, blended until silky smooth.
This rice cooker potato potage is an homage to that rustic yet refined French classic.
OW TO MAKE POTATO POTAGE IN A RICE COOKER
Simply load all of your potage ingredients into the inner pot of your Tiger multifunctional rice cooker and stir well. Be sure to check the ingredients tab on this page for options when it comes to the stock and non-dairy alternatives if you're looking to make a vegan potage.
Close the lid, select the Slow Cook setting for 60 minutes and press the Start button.
When the cooking cycle has finished, simply transfer the cooked soup to a blender (or use a hand blender) and blend until silky smooth.
Serve with a pinch of salt and pepper to taste – and your favorite local bakery's crusty baguette. Bon appetit!
Products used in this recipe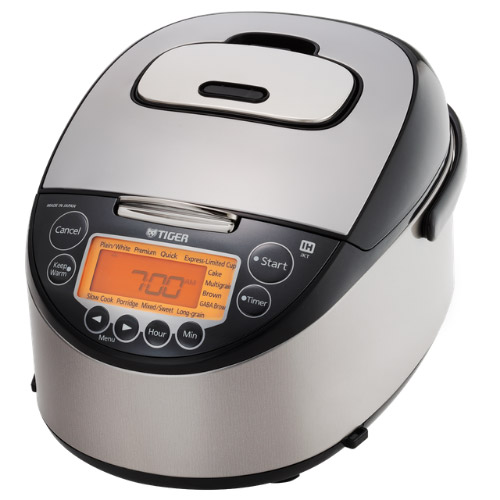 Induction Heating Rice Cooker JKT-D10U/18U
Made in Japan The TIGER JKT-D multi-functional induction heating (IH) electric rice cooker allows yo […]
LEARN MORE