Rice Cooker
Easy Lentil and Sausage Stew
Make this hearty, easy lentil and sausage stew anytime you need a filling and savory dose of comfort food. It's so simple to whip up in your rice cooker!
Servings

3-4

Preparation

10 min

Cooking

75 min
Ingredients
3 ½ cups water
2 celery stalks, finely chopped
1 small onion, finely chopped
1 sausage link (75g) or beyond sausage link (vegan)
1 cup green or brown lentils
1 bay leaf
½ teaspoon dried thyme
½ teaspoon kosher salt
2 tablespoons tomato paste
¼ cup flat leaf parsley, chopped
Directions
Add water, celery, onion, sausage, lentils, bay leaf, thyme, and salt in the rice cooker inner pot and stir. 
Close the lid and choose the [Slow Cook] function. Set the timer to 45 minutes and press start. 
When the cooking is done, divide the soup among bowls and top with fresh parsley. Serve.
AN EASY SLOW COOKER STEW RECIPE, LOADED WITH LENTILS AND SAUSAGE
When it comes to cooking at home, we'd argue that lentils are one of the best ingredients out there.
Because whether you're whipping up a traditional lentil stew – or a bright lentil salad – you know the finished dish will be healthy, hearty and full of flavor.
But what happens when you add sausage to the mix? Um, we don't have to tell you that lentil and sausage stew is pure magic. It's one of those things you can taste just thinking about it, right?!
Celery and onion make the perfect aromatics – and are deftly complemented by the addition of thyme, tomato paste and a bay leaf.
Now, you can make this with your favorite beef or pork sausage – or make a vegan stew with a plant based sausage alternative (for example Beyond Meat Hot Italian Sausage).
But no matter what you decide on for your protein, you're going to love how easy it is to make this lentil and sausage stew recipe in your rice cooker!
HOW TO MAKE SAUSAGE STEW WITH LENTILS IN A RICE COOKER
To start, simply load all of your stew ingredients (EXCEPT for the fresh parsley) into the inner pot of your Tiger multifunctional rice cooker.
Stir until well mixed, close the lid and select the Slow Cook function for 45 minutes. Once you press the Start button your work is pretty much done!
When the timer sounds off, ladle the hearty mix into serving bowls and top with chopped flat leaf parsley. Trust us… dinner is going to be delicious tonight!
Products used in this recipe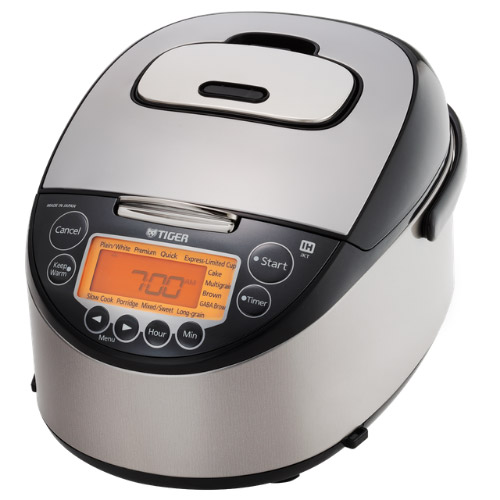 Induction Heating Rice Cooker JKT-D10U/18U
Made in Japan The TIGER JKT-D multi-functional induction heating (IH) electric rice cooker allows yo […]
LEARN MORE