Rice Cooker
Moroccan Chickpea Stew
Dig in to this savory and spicy Moroccan chickpea stew with abandon. You're going to fall in love with the deep flavors. And it's so easy to make in your rice cooker!
Servings

3-4

Preparation

20 min

Cooking

80 min
Ingredients
12oz Fresh chickpeas, soaked overnight
11oz Canned diced tomatoes
⅓ cup Diced celery
⅓ cup Diced carrot
⅓ cup Chopped onion
2 Garlic cloves, minced
1 Jalapeno pepper, finely chopped
1 Bay leaf
1 tsp turmeric powder
1 tsp paprika
½ tsp cayenne pepper
1 tsp salt
2 Cups low sodium chicken broth
Cilantro leaves, for garnish
Lemon wedges, for garnish
Directions
Place all the ingredients in the inner pot and stir.
Choose the [Slow Cook] setting and set the timer to 80 minutes. Press start.
Serve with lemon wedges and fresh cilantro.
AN EASY SLOW COOKER RECIPE, PACKED WITH MOROCCAN FLAVORS
Is there anything in the food world more warming and comforting than stew?
This Moroccan chickpea stew recipe is packed with flavor – and is a powerhouse of veggies and spices. Celery, carrot, onion and garlic act as a base of aromatics, fortified by the tang of diced tomatoes. A chopped jalapeno (optional) delivers a decent amount of heat without sending things into overdrive.
But, in terms of flavor, the real stars of the show in this Moroccan recipe are the spices. Turmeric, paprika and cayenne add their fragrant, warming elements to this well rounded and easy stew recipe.
However, we can't forget the most iconic ingredient in this smoky bean stew: chickpeas!
WHAT ARE CHICKPEAS?
Chickpeas are a legume, cultivated in the Middle East and Medeterranean – and well known by their other name: garbanzo beans.
They have a nutty, somewhat savory flavor – and a chewy, slightly grainy texture.
And, guess what… they make the best fortifying addition to this easy Moroccan spiced garbanzo bean stew recipe!
HOW TO MAKE CHICKPEA STEW IN A RICE COOKER
Place all your ingredients – except the garnishes, into the inner pot of your Tiger multi-functional rice cooker. When you select the Slow Cook function and press the Start key, your work is basically done!
Your rice cooker takes care of developing deep, slow-cooked flavors in a comparatively short amount of time. And you don't have to watch a simmering pot on the stovetop!
When the timer sounds off, dinner is served.
We think you're going to love it!
Products used in this recipe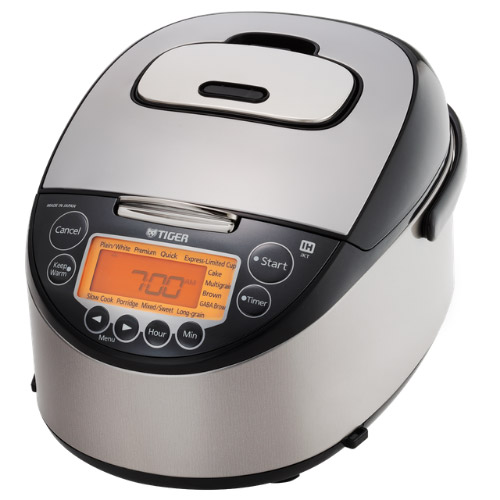 Induction Heating Rice Cooker JKT-D10U/18U
Made in Japan The TIGER JKT-D multi-functional induction heating (IH) electric rice cooker allows yo […]
LEARN MORE