Rice Cooker
Green Lentil Salad
This green lentil salad is savory, bright and nutty! Make this wholesome and epically delicious recipe in a flash in your rice cooker.
Servings

3-4

Preparation
Cooking
Ingredients
1 cup green lentils
2 cups water
½ teaspoon salt
5 celery stalks, thinly sliced on the bias
½ cup baby spinach, chopped
2 scallions, chopped
⅓ cup parmesan cheese, shaved
¼ cup extra virgin olive oil
2 tablespoons lemon juice
1 teaspoon rice vinegar
¼ teaspoon dried oregano
¼ teaspoon dried parsley
¼ teaspoon kosher salt
¼ teaspoon ground black pepper
Directions
Rinse the green lentils under cold water and drain well.
Add the lentils, water, and salt, to the rice cooker inner pot and stir.
Close the lid and choose the [Plain] function. Press start.
While the lentils are cooking, make your dressing by whisking all the ingredients in a bowl. Set aside.
When the lentils are cooked, turn the rice cooker off and transfer them to a bowl. Refrigerate until they are cold or room temperature. 
Add the celery, spinach, and scallions to the lentils and toss.
Stir in the dressing and serve cold.
A GREEN LENTIL SALAD WITH PLENTY OF MEDITERRANEAN FLAVORS
Ah, the mighty lentil. Not only is it packed with things that our bodies like to convert into raw energy, they taste pretty darn great as well! And that's why they're so so frequently found in soups and stews – like this hearty lentil soup.
Well, lentils are great in salads as well!
We're using green lentils in this salad because of their robust, almost peppery flavor profile. They compliment the natural verdant freshness of the baby spinach, scallions and celery used in the recipe.
The celery in particular does a lot of the heavy lifting both in terms of freshness and aggressive crunch. Make sure to slice your celery on the bias (diagonally) for a more refined look and all around better bite.
Pro tip: if you typically find celery a little too fibrous, you can use a vegetable peeler to peel away the outer layer, leaving you with fewer chewy celery strands.
Parmesan cheese lends a savory element – while playing super nicely with the other Mediterranean ingredients (i.e. evoo, parsley, oregano, etc) in the salad dressing.
HOW TO MAKE GREEN LENTIL SALAD IN A RICE COOKER
Add your rinsed and drained lentils to the inner pot of your Tiger multifunctional rice cooker – along with the water and salt, and stir well.
Select the Plain cooking function (yep, that's the same one you'd use for white rice!) and press the Start button.
While the lentils are cooking, make your salad dressing and set it aside.
After the lentils are cooked and cooled, add the celery, spinach and scallions and toss well with the dressing. Serve topped with parmesan (optional).
Products used in this recipe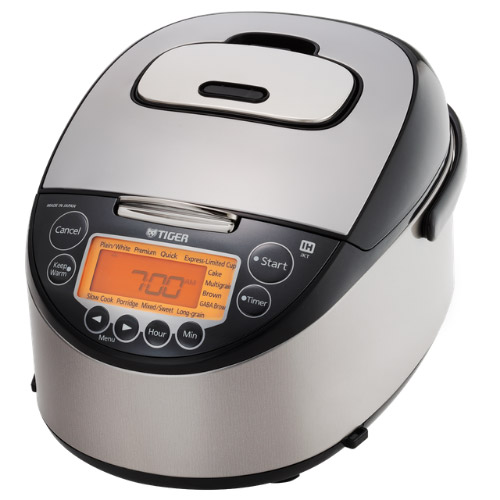 Induction Heating Rice Cooker JKT-D10U/18U
Made in Japan The TIGER JKT-D multi-functional induction heating (IH) electric rice cooker allows yo […]
LEARN MORE