Rice Cooker
Pearl Couscous Risotto
You're going to fall in love at first bite with this lightened-up, savory pearl couscous risotto. And when you make this easy risotto recipe in your rice cooker, you'll be cooking with the press of a button!
Ingredients
1 cup Pearl couscous
2 1/4 cups Low sodium chicken stock
1 tbsp Extra virgin olive oil
2 Garlic cloves, minced
1/8 tsp Ground nutmeg
2 tsp Fresh lemon juice
1/2 cup Freshly grated Parmesan cheese
1 cup Baby spinach, chopped
Directions
Place pearl couscous, chicken stock, olive oil, garlic, and nutmeg in the rice cooker's inner pot and stir.
Stir and select [Plain] menu. Press [Start].
When the cooking process is finished, stir in lemon juice, then Parmesan cheese.
Divide the risotto into 4 bowls and serve topped with chopped baby spinach.
WHAT IS RISOTTO?
Now, traditionally, Risotto is a creamy northern Italian rice dish. There are a ton of variations, however most call for white wine, broth, butter, onion and Parmesan cheese.
The velvety texture of a good risotto creates a luxurious mouthfeel that is tough to beat.
While we've kept the Parmesan and chicken stock in this risotto recipe, we've also stepped away from tradition a bit in using pearl couscous instead of rice.
And we think you're going to love it!
WHAT IS PEARL COUSCOUS?
Pearl couscous is actually a type of pasta made from semolina flour and water. Also known as Isreali couscous this pasta has a wonderful chewiness when cooked – and makes the perfect base of this rice cooker risotto recipe.
And not only is Israeli couscous the perfect choice for this recipe, we think you'll love it in this Medeterranean inspired pearl couscous salad recipe. Let's hear it for couscous!
HOW TO MAKE RISOTTO IN A RICE COOKER
For this pearl couscous risotto recipe, simply place your ingredients in the inner pot of your rice cooker (EXCEPT the lemon juice, Parmesan cheese and chopped baby spinach).
Select the Plain setting on your Tiger multi-functional rice cooker – and press the Start button. Bonus: there's no need to keep your eye on it. Your pearl couscous risotto will be perfectly cooked by the end of the cycle.
When finished, open the lid and stir in lemon juice, cheese and top with baby spinach. YUM!
Now, when it comes to making risotto in our rice cookers, this isn't our first day at school 🙂
From classic rice based risotto recipes like this bacon and parmesan risotto and this colorful butternut squash risotto – all the way to alternative grain preparations like this farro risotto made with mushrooms and fennel – we can't get enough!
Buon appetito!
Products used in this recipe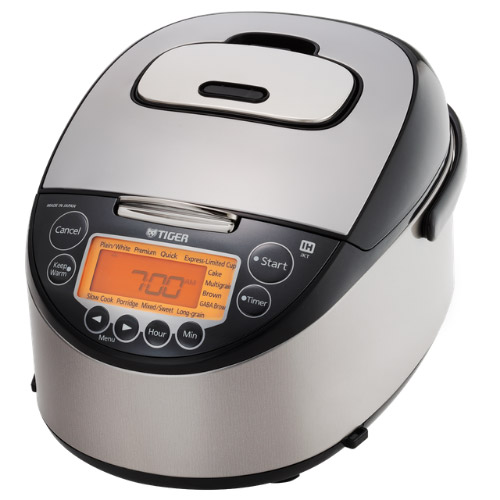 Induction Heating Rice Cooker JKT-D10U/18U
Made in Japan The TIGER JKT-D multi-functional induction heating (IH) electric rice cooker allows yo […]
LEARN MORE