Rice Cooker
Pearl Couscous Salad With Tomatoes, Spinach and Feta
There's nothing quite like a recipe that pulls double duty.
When a dish can make either a substantial and vibrant summer salad – OR a hearty winter side dish – you know you're on to something versatile!
This bright, summery pearl couscous recipe bears the delicious hallmarks of a healthy lunch on a breezy Mediterranean terrace. Yet, this veggie and vitamin packed couscous salad has a hearty bite that may make you immune to the winter chill as well!
Ingredients
2 cups pearl (Israeli) couscous
4 cups chicken or vegetable broth
2 garlic cloves, peeled and left whole
1/2 teaspoon Kosher salt
Freshly ground white pepper
2 tablespoons balsamic vinegar
4 tablespoons extra-virgin olive oil
2 cups fresh baby spinach leaves
1 cup cherry tomatoes, halved
1/2 cup sundried tomatoes in oil, drained and sliced into thin strips
1/4 cup fresh basil leaves, cut into thin strips
1 cup crumbled Feta cheese
Directions
Combine the couscous, garlic cloves, broth, salt and pepper in the non-stick inner pot of the rice cooker. Use the Menu button to set the rice cooker to the "Quick" setting. Close the lid and press Start.
Meanwhile, in a small bowl, whisk together the balsamic vinegar and olive oil. Set aside.
When the couscous is finished cooking, remove it to a large mixing bowl and let it cool slightly. Remove the garlic cloves and discard. Once cool, add the balsamic/olive oil mixture along with the baby spinach leaves, cherry tomatoes, sundried tomatoes and basil. Stir well to combine. Transfer the couscous salad to a serving bowl and garnish with the crumbles feta cheese.
Serves as a Side Dish
WHAT IS COUSCOUS?
Traditional couscous is granulated semolina made from durum wheat – and is very popular in Mediterranean and North African cooking.
So, how is that different from pearl couscous – or Israeli couscous?
Pearl couscous (AKA: Israeli couscous or Jerusalem couscous) is also made from semolina flour. However, then water is added and everything is formed into a pasta dough – which is later shaped into small pearls and dry toasted. This gives pearl couscous a nutty flavor and a pleasant chew once cooked.
IS COUSCOUS HEALTHY?
In a word: yes!
This whole wheat food is low in fat, has no cholesterol and is a great source of dietary fiber. Bonus: pearl couscous is also iron rich, and a decent source of calcium.
HOW TO COOK COUSCOUS IN A RICE COOKER
This is the fun part, friends! If you've ever wondered how to make couscous preparation even easier than it already is, read on.
You see, we can forget about the stovetop altogether. For this couscous salad, load the couscous, garlic and broth into the inner pot of your Tiger Tacook rice cooker.
Simply select the Quick setting and press start. That's it!
This easy salad recipe has it all! There is a toasted nuttiness from the couscous, a savory punch from the sun dried tomatoes – and a garden fresh zest from the basil. You can make this couscous salad vegetarian by using vegetable broth in place of chicken broth as the couscous cooking liquid.
But, no matter which broth you choose, this bright salad will be a welcome addition to your dining room table in the dead of winter, or on a bright and breezy summer's day!
Products used in this recipe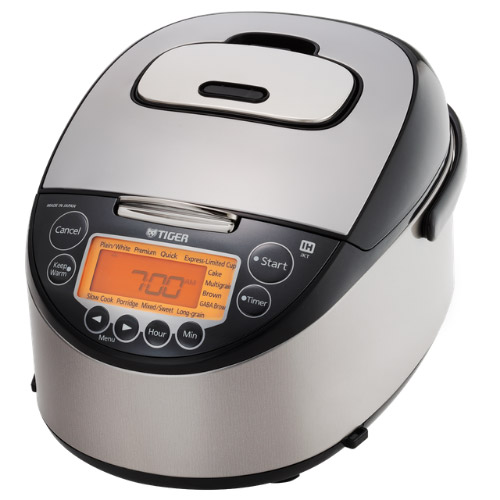 Induction Heating Rice Cooker JKT-D10U/18U
Made in Japan The TIGER JKT-D multi-functional induction heating (IH) electric rice cooker allows yo […]
LEARN MORE