Rice Cooker
Mushroom and Fennel Farro Risotto
This vegan mushroom and fennel farro risotto is a full flavored nod to a traditional risotto.
And it's the perfect time saving recipe to whip up in your Tiger multi-cooker!
Servings

2

Preparation

20 min

Cooking

100 min
Ingredients
6 oz Farro
5 oz Fennel bulb
2 1/2 oz Mushroom
7/8 oz Carrot
3 slices Lemon wedges
1/3 oz Garlic
1/2 Bay leaf
1 tbsp Extra virgin olive oil
1 tsp Curry powder
Salt and Black pepper for flavor
450ml (2 cups) Vegetable broth
Directions
Cut the stem off the fennel bulb, remove the core and outer skin and cut into bite-sized pieces. Finely chop the mushrooms and carrot.
Mince the garlic.
Place the farro in the inner pot and add the farro mix. Mix well.
Place inner pot in the rice cooker and add the fennel bulb, mushroom and carrots on top of the farro. Select the [Slow Cook] menu and set for 100 minutes. Press the [Start] key.
When cooking is complete, place the risotto on a serving plate. Serve with lemon
WHAT IS FARRO?
Farro is an ancient grain that, once cooked, has a chewy texture and nutty flavor. Loaded with protein, iron and plenty of dietary fiber, farro is a wonderful choice for healthier meals.
Although shaped like rice, it is actually derived from certain species of wheat.
But it's that rice-like shape and consistency that makes farro the perfect grain for this healthier fennel and mushroom risotto!
WHAT IS RISOTTO?
Risotto is a rice dish that hails from Northern Italy.
However, instead of water, the rice is traditionally cooked in broth until it achieves a creamy consistency. Now, this creamy consistency is usually helped along by mammoth amounts of butter and Parmesan cheese.
Bursting at the seams with savory, umami flavor, risotto is truly one of life's indulgent mealtime pleasures! It's beyond delicious.
But it must be said that most versions of this yummy rice dish definitely fall on the heavier side of things. Perfect for an occasional satiating meal. Not so great if you're working on your beach body – or just trying to keep dinner on the healthy side.
HOW TO COOK FARRO RISOTTO IN A RICE COOKER
This healthier farro recipe is loaded with veggies and vegetable broth – and a dash of curry powder for an epic boost of flavor. Oh, and it happens to be entirely vegan!
But it's so delicious, your diners might just think it's a full bore risotto recipe!
Ultimate bonus: you can totally make this farro risotto with the push of a button. You see, when you use the Slow Cook setting on your Tiger multi-functional rice cooker, all the elements of your dinner will be cooked to perfection without you having to monitor everything on the stovetop like usual.
Your farro will be toothsome and packed with the flavors of garden fresh fennel – and umami mushrooms.
And, since you used your rice cooker, cleanup will be a breeze!
Buon Appetito🍲
Products used in this recipe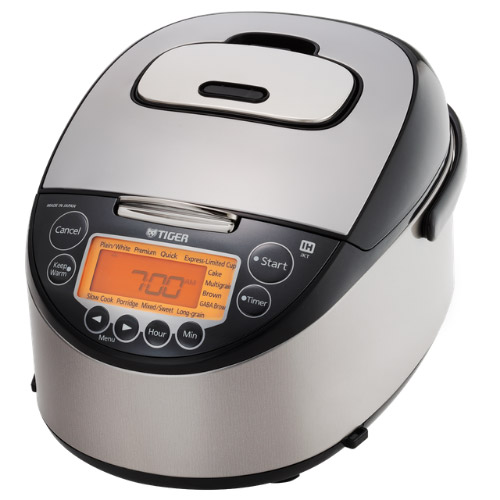 Induction Heating Rice Cooker JKT-D10U/18U
Made in Japan The TIGER JKT-D multi-functional induction heating (IH) electric rice cooker allows yo […]
LEARN MORE