Rice Cooker
Chinese Tomato Egg Stir Fry
Crack those eggs and dice those tomatoes! We've got a delicious and easy Chinese tomato egg stir fry recipe you can make in your rice cooker.
Ingredients
4 Large eggs, whisked
2 Small tomatoes (300g), seeds removed, finely chopped
2 Scallions, finely chopped
2 tbsp Water
1 tsp Toasted sesame oil
1 tsp Shaoxing wine or dry sherry
1 tsp Fish sauce
1 tsp Sugar
¼ tsp White pepper
Directions
Start by preparing your rice and adding it to the inner pot.
Whisk all the ingredients in a bowl and pour the mixture in the tacook cooking plate.
Put the washed rice and water in the inner pot and place it in the rice cooker.
Set the cooking plate in the inner pot. Select the [Synchro-Cooking] menu and press the [Start] key.
When the cooking is done, serve with rice.
AN EGGY AND EASY CHINESE STIR FRY RECIPE
Chinese stir fry recipes are epicly delicious. We're all about digging into everything from a veggie loaded Buddha's delight to a meaty Szechuan pork with glee and abandon.
Now, while this Chinese tomato egg stir fry may not be the first thing you think of when the craving for stir fry sets in, we're here to tell you that it's hits the trifecta when it comes to whipping up a yummy dinner at home: It's easy, it's relatively cheap and it's absolutely delicious.
Finely chopped tomatoes bring a level of brightness that contrasts the eggs earthy flavor. Sesame oil delivers a toasted, nuttiness that is enhanced by the salty / sweet one-two-punch of fish sauce and sugar.
And shaoxing cooking wine imparts a complex vinegary sharpness with distinct caramel notes. It's one of those ingredients that goes a long way towards making your homemade Chinese recipes taste restaurant quality.
Need a substitute for the shaoxing wine? No problem! Just use the equivalent amount of dry sherry instead.
You're going to love how easy it is to make this stir fry at home!
HOW TO MAKE CHINESE TOMATO EGG STIR FRY IN A RICE COOKER
Your Tiger multifunctional rice cooker is the perfect tool to use for this easy egg and tomato stir fry recipe. And you can make a composed meal in the process.
You see, your rinsed rice and water go into the inner pot as usual – and the tomato and egg mixture goes into the Tacook cooking plate up top.
The vapor created as your rice steams in the pot below cooks your Chinese tomato egg stir fry to perfection. Easy, right?!
We think you and your family will love this savory and bright Chinese egg recipe served over pillowy, tender rice.
Products used in this recipe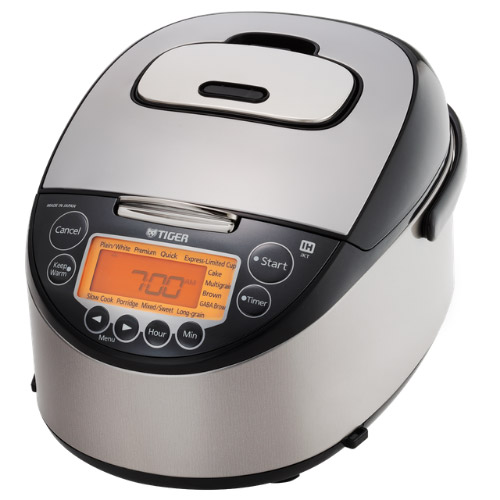 Induction Heating Rice Cooker JKT-D10U/18U
Made in Japan The TIGER JKT-D multi-functional induction heating (IH) electric rice cooker allows yo […]
LEARN MORE