Rice Cooker
Chinese Marinated Tofu Rice
How about a delicious, protein rich rice bowl for dinner? This Chinese marinated tofu rice recipe is packed with yummy Asian flavor – and may just change your mind on bean curd in general if you're not already a fan!
Servings

2

Preparation
Cooking
Ingredients
1 block (200g) Fried tofu curd
3-4 cloves Garlic
½ Green onions
2- inch Ginger
2 tbsp Chinese marinade (soy sauce for substitution)
4 tbsp Water
½ tbsp Sugar
Directions
Soak the fried tofu curd with hot water to remove the oil. Once cooled, dice the tofu.
Cut the garlic into halves. Cut the green onions into 1 ½ inch sections. Slice the ginger.
Put the tofu, garlic, green onions and ginger on the tacook  cooking plate and pour the condiments onto it.
Put the washed rice and water in the inner pot and place it in the rice cooker.
Set the cooking plate in the inner pot. Select the [Synchro-Cooking] menu and press the [Start] key.
When cooking is complete, place the cooked rice in a serving bowl and top it off with the tofu.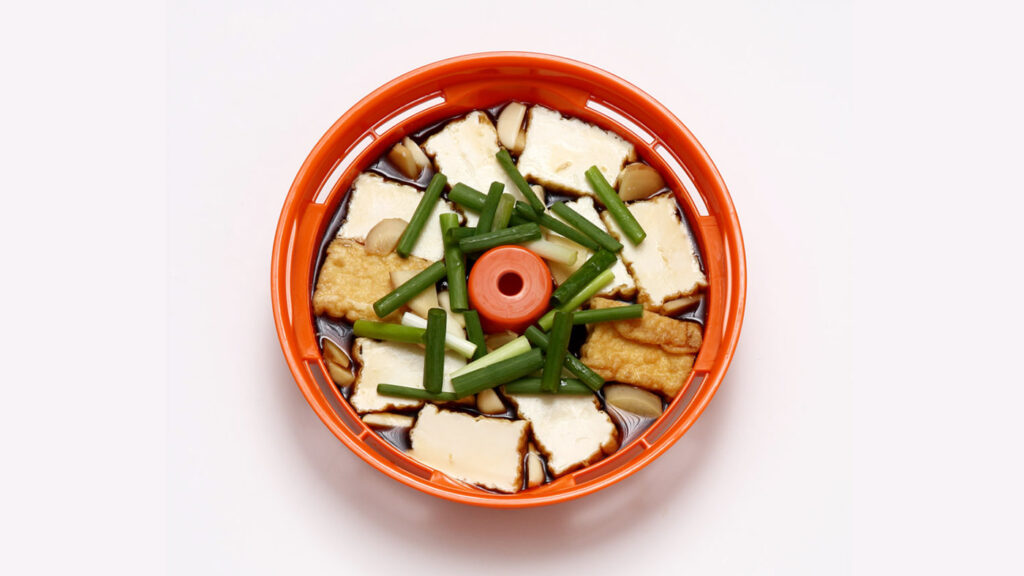 AN EASY TOFU RECIPE… A DELICIOUS VEGAN RECIPE
Not a big fan of bean curd? Don't worry, this recipe will change all that!
You see, tofu tends to get a bad rap for being flavorless – but nothing could be farther from the truth. We choose to look at tofu as something more akin to a blank slate. Whatever you choose as your flavoring elements will dictate the overall deliciousness that the composed tofu recipe will have.
Basically, do a good job in the flavoring department, and the rest will fall into line. Well, the soy sauce based marinade in this easy Asian recipe will take care of that 😋
However, we've got another reason this delicious vegetarian rice bowl will have some deep flavor and a serious bite to it. Yep, we're using fried tofu.
When bean curd is fried, it gets a yummy, almost crispy exterior to it. And, almost like fried chicken, that skin packs some real punch in the flavor department.
Now, some chefs like to soak packaged fried tofu in hot water to remove some of the oil prior to cooking with it. And we fall into that camp.
After that, it's a walk in the park to get this tofu and rice bowl on the table in time for dinner!
HOW TO COOK TOFU IN A RICE COOKER
Your Tiger rice cooker is the perfect appliance to rely on when making all the elements for a rice bowl. Seriously, whether it's this savory Chinese rice bowl, this beefy Japanese gyudon or this eggy oyakodon, making a composed dish and rice at the same time is kind of our sweet spot.
And all of that is due to the tacook cooking plate. 
Therefore, to whip up this Chinese marinated tofu rice, just place your rinsed rice and water into the inner pot of your rice cooker. Then set the tacook plate with your tofu, ginger, garlic and green onions on top. Close the lid and select the Synchro Cooking setting.
And that's it! The steam vapor created from the rice will cook the marinated tofu at the same time.
And a delicious and healthy dinner will be on the table in no time flat! 🍲
Products used in this recipe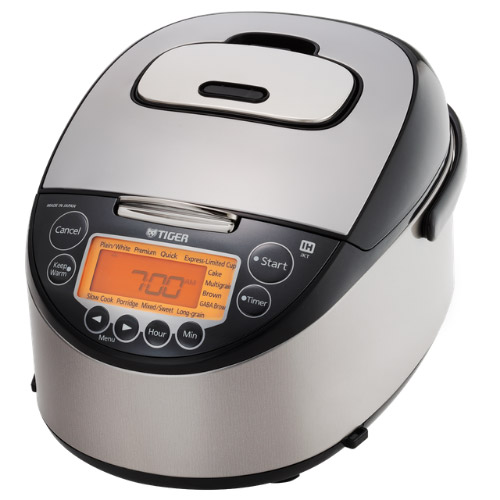 Induction Heating Rice Cooker JKT-D10U/18U
Made in Japan The TIGER JKT-D multi-functional induction heating (IH) electric rice cooker allows yo […]
LEARN MORE