Rice Cooker
Chinese Rice Bowl
When the urge strikes to eat a Chinese rice bowl with all the flavors of your favorite stir fry, EASY isn't the first thing that comes to mind, right?
Well, we're here to change all that.
Your Tiger multi-cooker might just surprise you!
Servings

2

Preparation
Cooking
Ingredients
6 Shrimp
1 1/2 oz Squid
1/8 lbs Pork (sliced)
2 Nappa cabbage leaves
1/4 Bamboo shoot (small)
1/2 (3/4 oz) Carrot
2 Kikurage (wood ear) mushrooms
1 Green onion stalk
A dash Ginger
2 tbsp Corn starch
Sesame oil for flavor
1/2 tsp Soy sauce
1/2 tsp Sake (rice wine)
A dash Salt
A dash Sesame seeds
1/2 tbsp Corn starch
1/4 tsp Salt
1 tsp Sugar
1/2 tbsp Soy sauce
1/2 tbsp Sake (rice wine)
A dash Vinegar
A dash Pepper powder
2 tsp Chicken stock (powder)
Directions
Peel and devein shrimp. with a knife, make grid lines on the squid and cut into bite size pieces. Cut pork into bite size pieces. Place in a bowl and mix with the meat seasonings.
Cut the nappa cabbage into bite size pieces and bamboo shoots and carrots into thin slices.
Cut the kikurage (wood ear) mushrooms and green onions into bite size pieces and ginger into thin strips.
Mix the seasoning mixture.
Dredge the vegetables and mushrooms with corn starch and place them on the tacook cooking plate. Cover with the seasoning mixture and place the shrimp, squid and pork on top.
Put the washed rice and water in the inner pot and place in the rice cooker.
Set the cooking plate in the inner pot. Select the [Synchro-Cooking] menu and press the [Start] key.
Once the cooking is complete, add sesame oil to the sauce and serve over a bowl of rice.
AN EASY RICE RECIPE… TONS OF FLAVOR
Now, if a rice bowl topped with Chinese style shrimp, pork, squid, bamboo shoots, wood-ear mushrooms and cabbage sounds good to you, you're not alone.
This yummy seafood, meat and veggie rice bowl is one of our favorites as well. It's has all the flavor elements of a delectable Chinese stir fry.
There's just nothing better than a bowl of rice topped with a ton of savory goodness. It truly makes dinnertime something to look forward to.
And you would be forgiven if – at first glance – you thought a recipe with this much going on might be tough to pull off in a short amount of time.
But you see…
The best part about this Chinese rice bowl is that you don't have to sacrifice flavor to make an easy recipe for dinner.
It's the best of both worlds!
Sure, it isn't common for a recipe with this many ingredients to be easy to make. However, much of that ease can be attributed to HOW it's all being cooked.
HOW TO MAKE A RICE BOWL IN A RICE COOKER
Your Tiger rice cooker is up to the task of making way more than just rice!
So whether you're craving something like teriyaki chicken, gyudon or a cheesy potato frittata – we've got you covered!
Since you can use your rice cooker to make all the elements of this yummy rice bowl, dinner will be easy indeed.
Simply place your rinsed rice and water in the inner pot of your rice cooker as usual. Then load the Tacook cooking plate up with all your yummy meat, seafood, veggies and seasonings. When you use the Synchro-Cooking setting, everything will cook at the same time.
Seriously, just press the button and set the table!
It's dinnertime 🍲😋
Products used in this recipe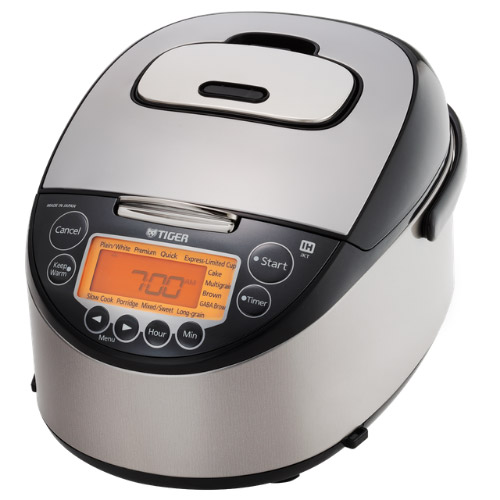 Induction Heating Rice Cooker JKT-D10U/18U
Made in Japan The TIGER JKT-D multi-functional induction heating (IH) electric rice cooker allows yo […]
LEARN MORE