Rice Cooker
Hainanese Chicken Rice
Are you ready to dig into one of the best chicken dishes – famous throughout Asia?
We think you are absolutely going to fall in love with this Hainanese chicken rice recipe! Because… hey – what's better than chicken and rice!?
Servings

4

Preparation
Cooking
Ingredients
4 Chicken thigh
25 g (1 oz) White leek (cut into 5 to 7 cm long pieces)
20 g (3/4 oz) Ginger (sliced)
1 Garlic clove
5 cups Water
3 1/3 tbsp Soy sauce
3 1/3 tbsp Sesame oil
2 cups Rice (supplied measuring cup)
110 g (3 3/4 oz) Onion (minced)
35 g (1 1/5 oz) Ginger (minced)
1 Garlic clove (minced)
3 1/3 tbsp Vegetable oil
Salt for flavor
Cilantro for garnish
Cucumber for garnish
35 g (1 1/5 oz) Ginger  (grated)
160 ml (3/5 cup) Chicken stock
A pinch Salt
65 ml (4 2/5 tbsp) Chili sauce (commercially available)
100 ml (2/5 cup) Chicken stock
2 1/2 tbsp Sautéed onions, ginger and garlic from seasoned rice recipe
Sweet soy sauce (commercially available) as needed
Directions
Add water, white leek, ginger and garlic into a large pot and bring to a boil. Add the chicken. Simmer the mixture over medium heat for 20 to 30 minutes while skimming off any foam.
When the chicken is cooked, remove and let cool in iced water. Let the chicken stock cool separately. Save the broth as chicken stock.
When the chicken is cooled, spread the mixture of soy sauce and sesame oil on both sides of the chicken.
Place the onions ginger, garlic clove and vegetable oil for the seasoned rice and sauté it thoroughly. Save 2 1/2 tbsp tbsp of sautéed ingredient for chili sauce.
Place the washed rice in the inner pot and add salt and chicken stock up to level 2 of "Plain" in inner pot. Place the remainder of sautéed onions, ginger and garlic on top of the rice. Place the inner pot in the rice cooker, select the "Mixed" menu and press the [Start/Rinse-free] key.
Soak the chicken into chicken stock.
Cut the cucumber into thick strips. Chop the cilantro.
Mix the ingredients for each sauce.
Place the cucumber on a serving plate and add the chicken that is cut into bite-sized pieces on top.
Add the equal amount of chicken stock to the remaining mixture of soy sauce and sesame oil from instruction 3 and pour it over the chicken. Place the chopped cilantro on the side.
When rice is cooked, loosen it evenly and place it on a serving plate. Serve the dish with the 3 types of sauces on the side.
WHAT IS HAINANESE CHICKEN?
Hainanese chicken rice (aka: Hainan chicken) is a simply poached chicken served alongside flavor infused rice, sliced cucumber and a chili dipping sauce.
And even though the steps to make it are straightforward and unembellished, this is one of those easy chicken recipes that tastes much greater than the sum of its parts.
Now, while this savory and simple chicken and rice recipe originated in the Hainan province in southern China, it is one of those dishes you'll see represented all over Asia.
Yep – this juicy bird is one of Singapore's national dishes – and can be devoured at Hawker Centres throughout the vibrant city-state.
It's also super popular in Thailand where khao man gai (translation: chicken fat rice) is a staple recipe throughout the country.
In Vietnam, it's called hai nam chicken – and in Malaysia it's nasi ayam.
This famous chicken rice is pretty much everywhere in Asia. And with good reason!
You see, it's beyond delicious – and it's so easy to make!
THE BEST CHICKEN AND RICE RECIPE
What sets Hainanese chicken rice apart from other preparations of chicken and rice is that the flavor essence of the chicken is evident not only in the meat – but is also infused into the grains of rice.
You see, the rice that is served alongside the chicken is prepared in chicken stock, along with aromatics like ginger and garlic (and sometimes pandan leaves).
The result is a fragrant rice so saturated with savory, homey and comforting chicken flavor that it is almost as succulent as the chicken itself!
The other main difference between simply boiled chicken and Hainan chicken is the texture of both the meat and skin.
With Hainanese chicken rice, the chicken is simmered to cook the meat (and prepare the cooking liquid for the rice). However, once cooked through, the chicken is plunged into an ice bath that stops the cooking and produces a supple textured chicken-skin as well as juicy meat.
The dish is typically served at room temperature alongside a cooling duo of sliced cucumber and cilantro and a number of dipping sauce options.
To say that this is one of our favorite chicken recipes of all time is still a bit of an understatement 😋🍲 Here's hoping that it becomes one of your family's favorite rice cooker recipes as well!
Products used in this recipe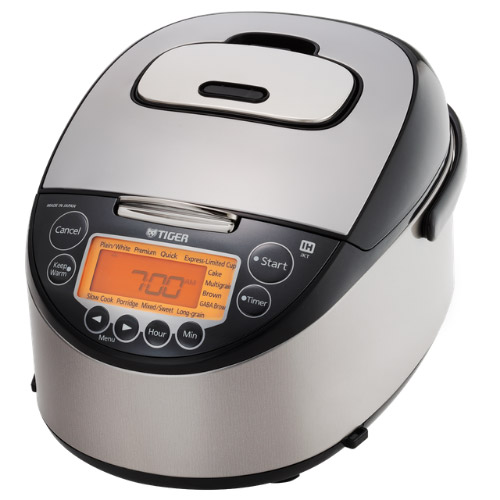 Induction Heating Rice Cooker JKT-D10U/18U
Made in Japan The TIGER JKT-D multi-functional induction heating (IH) electric rice cooker allows yo […]
LEARN MORE