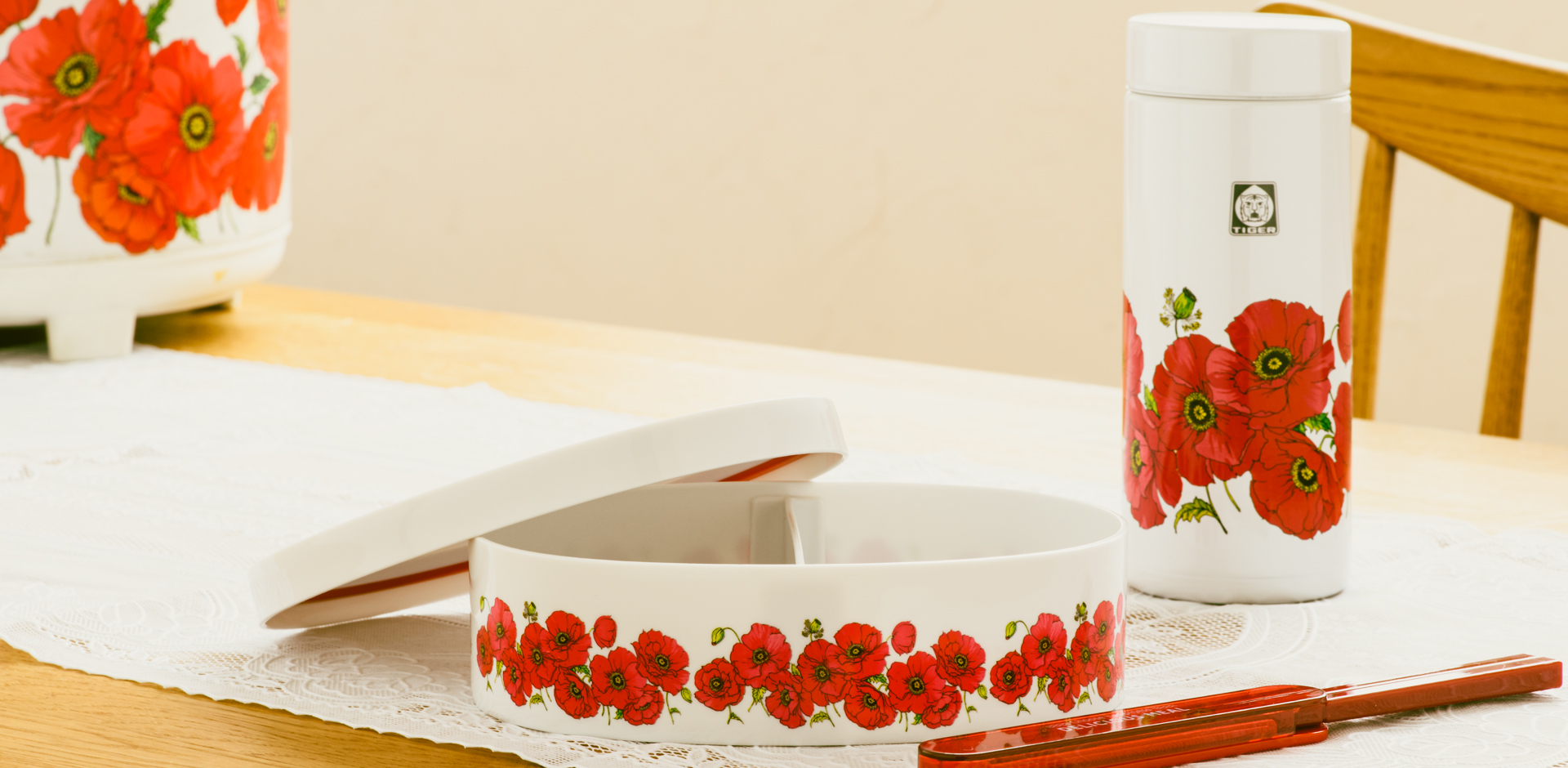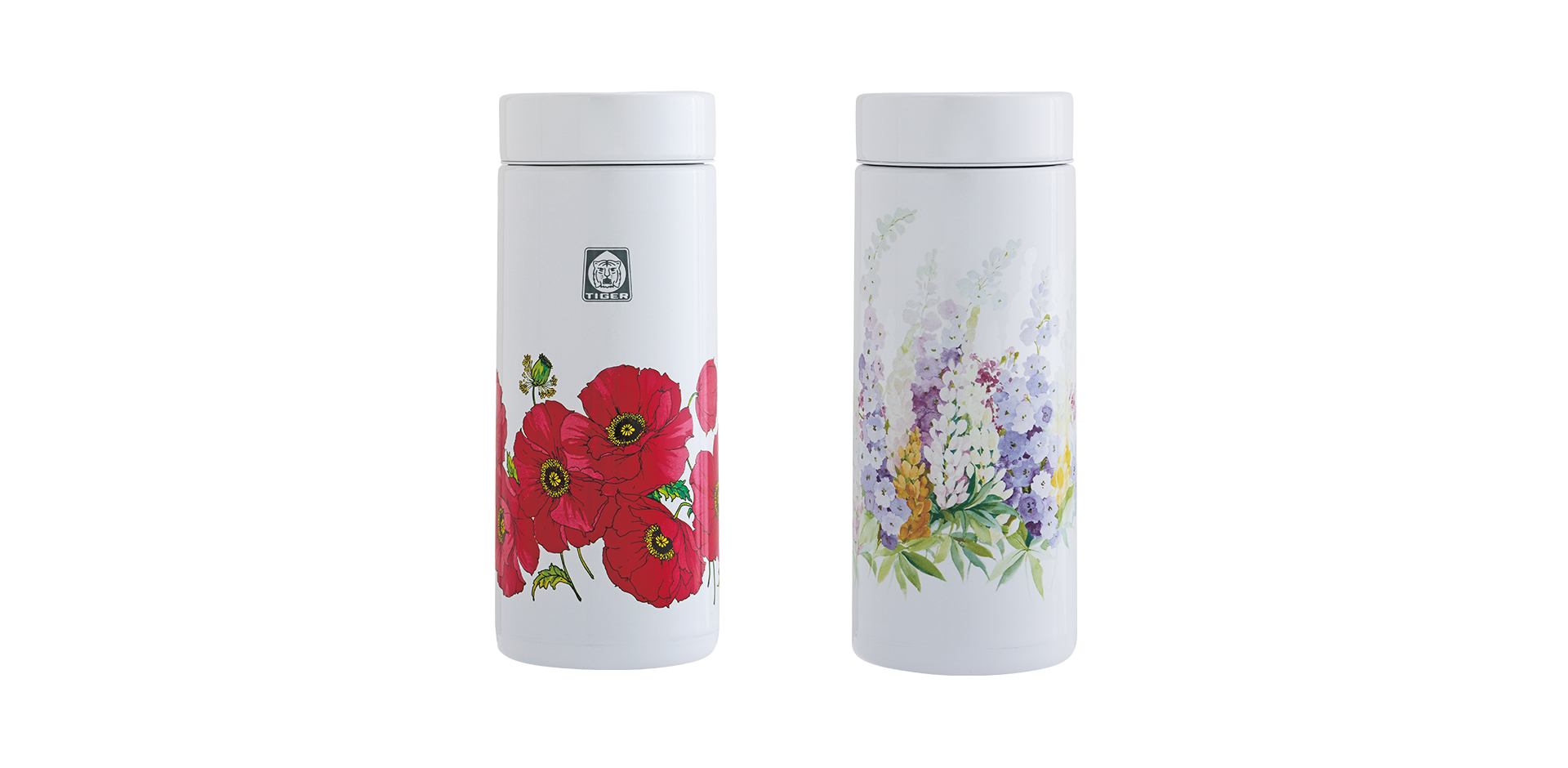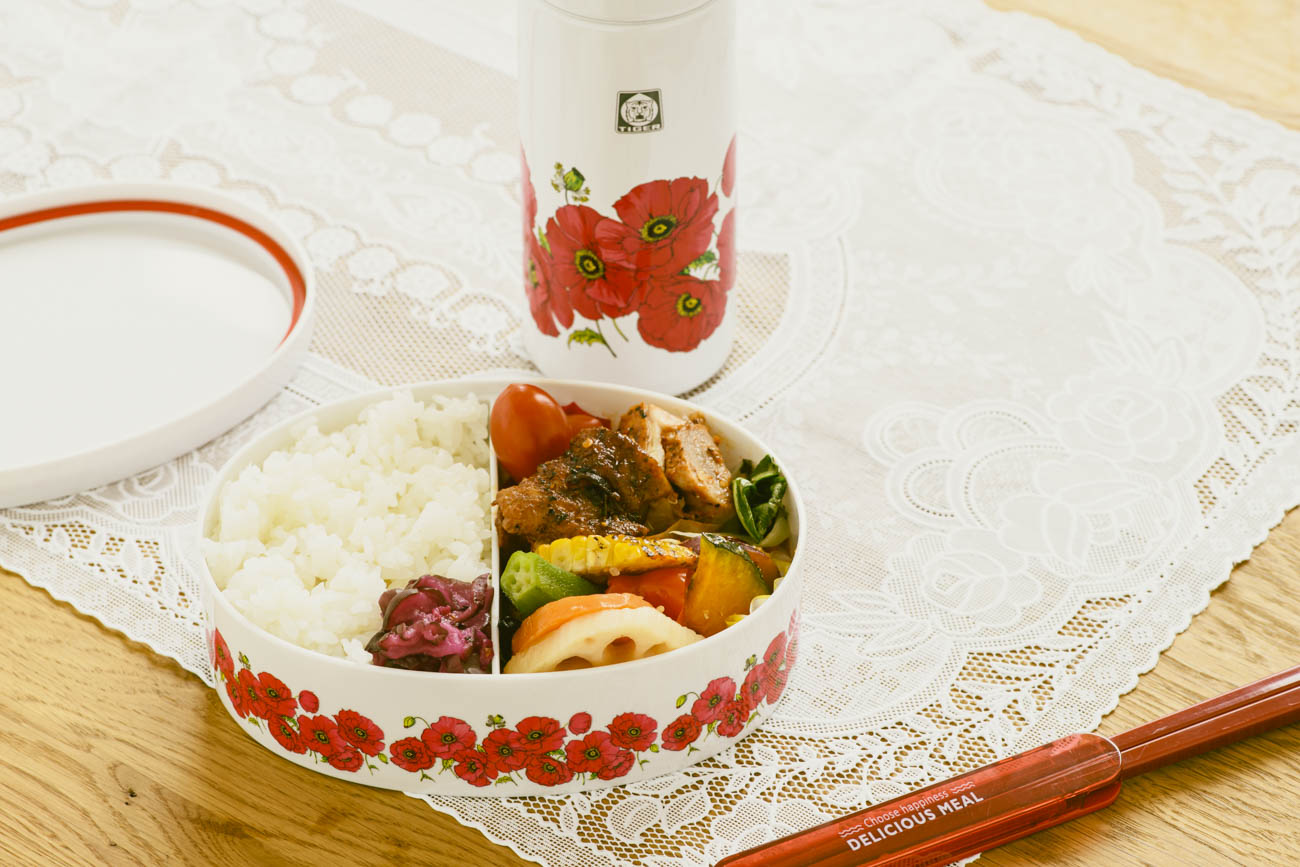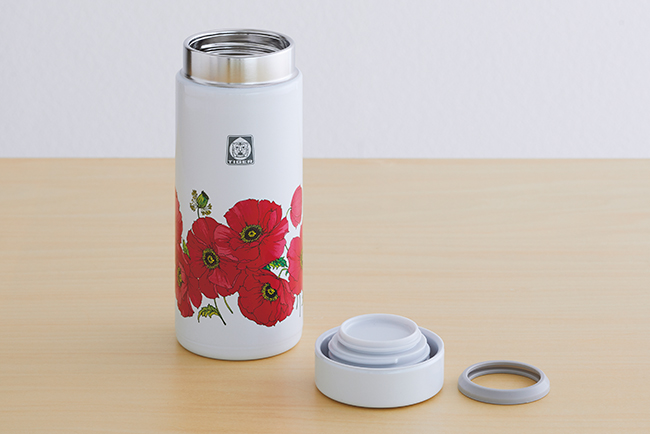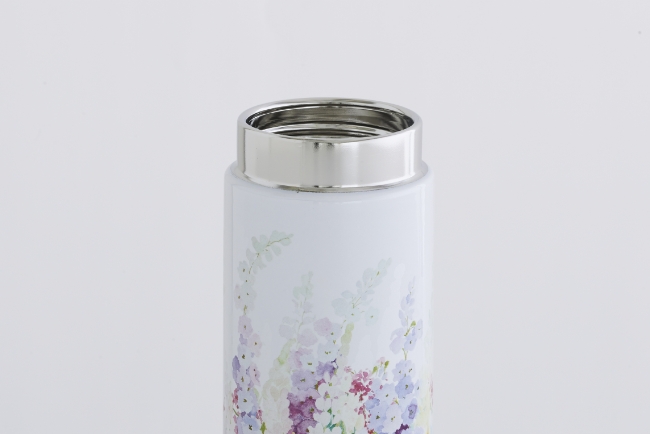 WEB限定商品
Floral Art Bottles MMZ-F035
This reissued edition of the bottle features a classic floral pattern!
Now available are bottles featuring Tiger's original floral design, which gained popularity with its electronic jars released in the 1970s.
| Size of product | Product number | MSRP |
| --- | --- | --- |
| 0.35L | MMZ-F035 | 5,500yen (5,000yen without tax) |
Features

"Poppy" Showa Period floral pattern by Tatsuo Sekidome
This fashionable 1970's design features red petals blooming in the brilliant sunlight.
Bright and vibrant poppies were very popular at that time and were widely used for the design for everything from rice cookers to pots.

Photorealistic Western-style floral pattern by Yoko Katayama "English Garden"
This depiction of an English garden features a combination of beautiful delphiniums and snapdragons in a softly hued floral pattern.
Drawn in the early Heisei period, these patterns are just now being revealed and commercialized.

Limited edition bottle released in conjunction with Tiger Corporation's 100th Anniversary Classic Floral Pattern Bento Box Book.
To commemorate the 100th anniversary of Tiger Corporation in 2023, the official fan book Tiger Corporation's 100th Anniversary Classic Floral Pattern Bento Box Book, which features a poppy-patterned lunch box as a special bonus item, is now available from Takarajimasha.
The mook provides an overview of the history of Tiger Corporation and our products featuring retro designs.

All customers who purchase the Poppy floral pattern bottle will receive a water-resistant sticker with a poppy pattern!
For example, you can affix it to the lid of the floral pattern bento box that came with your Takarajimasha mook as a bonus item.
BioGuard series featuring Tiger's unique hygienic specifications
---
Featuring a Super Clean Plus finish and the antibacterial inner plug and gasket, the MMZ-F series is part of a product series that adopts Tiger's proprietary hygiene design, BioGuard.
We know it's a product you'll need every day, so we have developed the bottle with the aim of making it as safe and reliable as possible.

The antibacterial finish suppresses bacterial growth (inner plug & gasket)
---
We want to deliver bottles that are safer and more reliable.
With this in mind, we have developed a plug (inner plug, gasket) with antibacterial finishing.
Antibacterial finishing
The MMZ-F series has a silver-based (Ag-based) antibacterial-finish.
Testing organization: Evaluation Technical Center, Daiwa Chemical Industries Co., Ltd.
Test method: The antibacterial finish has been tested in accordance with JIS Z 2801 (ISO 22196).
Tested parts: Inner plug, gasket *For details, see the instruction manual.
Processing method:
Inner plug | Kneaded into the plastic material
Gasket | Kneaded into the silicone rubber
Antibacterial agent used: Silver-based antibacterial agent
Test result: 2.0 or higher antibacterial activity value
"Antibacterial" refers to the prevention of bacterial growth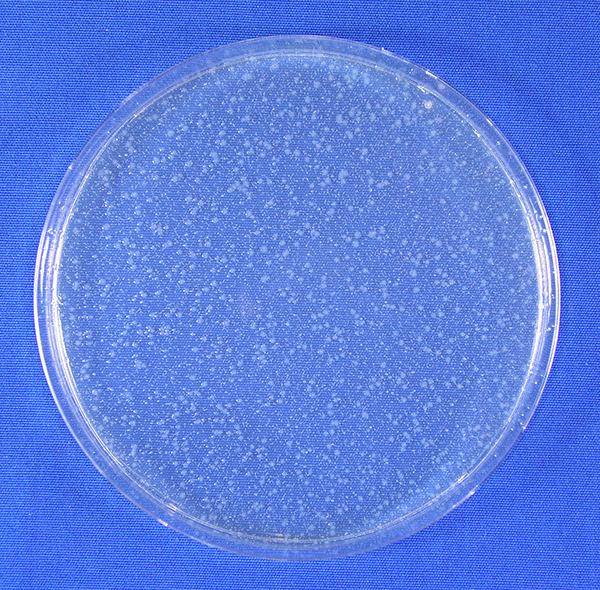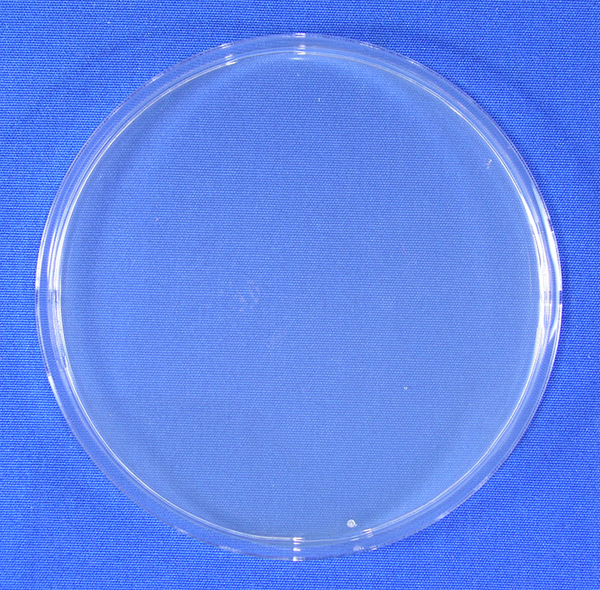 Result photo of antibacterial test based on JIS Z 2801 (ISO 22196)
*Test results on the inner plug resin of our MCT-K series with the same antibacterial finish as that applied to this series
Antibacterial stopper certified by the Society of International Sustaining Growth for Antimicrobial Articles (SIAA)
Tested part: Inner plug
SIAA registration number: JP0122676X0001G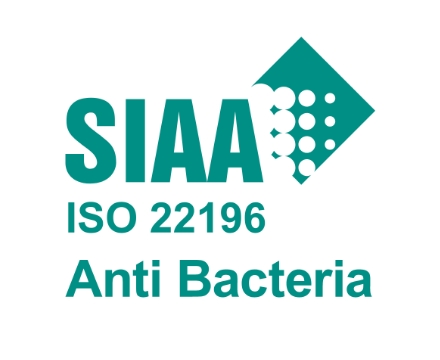 Products carrying the SIAA marks are subjected to quality control and information disclosure under the SIAA guidelines based on the results of evaluation conducted in accordance with ISO 22196.
The SIAA marks are symbols for KOHKIN (or antibacterial) established by the Society of International Sustaining Growth for Antimicrobial Articles.
Products that meet the three criteria of [1] antimicrobial properties (*1), [2] safety (*2) and [3] appropriate labeling (*3) may carry the SIAA mark. (Inner plug) (*1) The proportion of bacteria on the surface of the product must be equal to or less than 1/100 that of a non-treated product, and the antimicrobial effect must remain after durability tests.
Antimicrobial properties are determined from the results of tests conducted in accordance with the international standard ISO 22196.
(*2) The safety criteria uniquely established by SIAA must be met. (*3) The types of antibacterial agents used and parts treated must be clearly indicated.
Super Clean Plus prevents stains and odors and is resistant to rust
---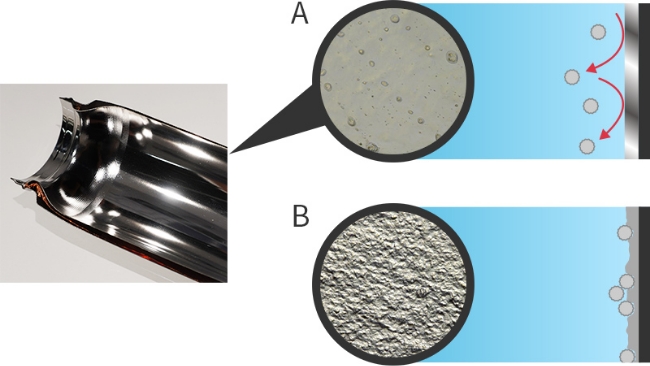 The smooth and lustrous Super Clean Plus finish is applied to the inner surface of the bottle.
The surface prevents stains and odors and is resistant to rusting, allowing you to put a sports drink containing salt in the bottle.
*Please clean the bottle by rinsing it with water immediately after use.
A: With Super Clean Plus finish (smooth surface, stain and odor resistant)
B: Without Super Clean Plus finish (small bumps and crevices on the surface that attract stains and odors)
The bottle feels like a mug when you put it up to your mouth. Rim for smooth drinking
---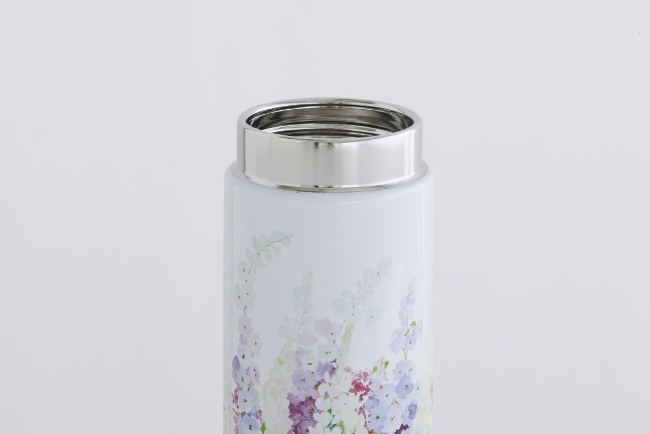 The rim boasts both the cleanliness and pleasant drinking experience of stainless steel.
The upper part of the rim was curled to reproduce the mouth feel of a mug.
Reliably keeps drinks hot or cold with vacuum insulation
---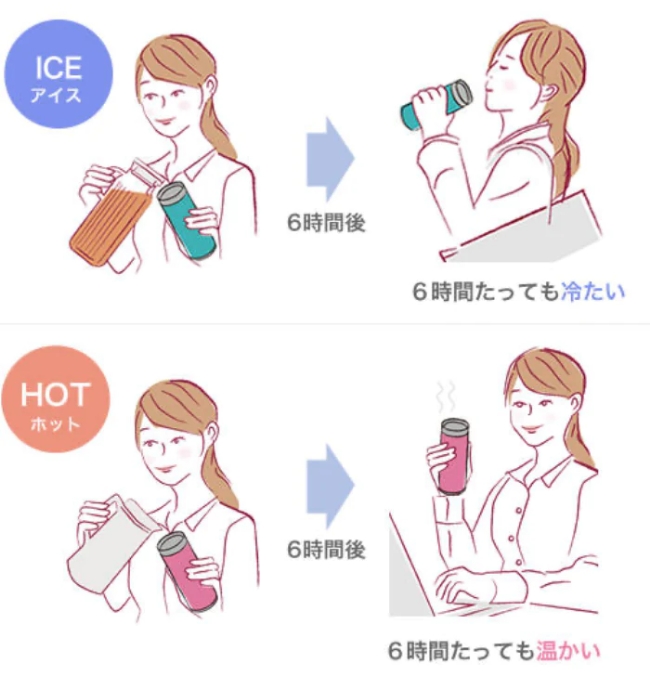 High heat-retaining/cold-storage performance achieved with the stainless steel, double-walled, vacuum structure!
Hot drinks will stay hot and cold drinks will stay cold, so drinks can be kept at the best temperatures for drinking for many hours.
Cleaning
With few parts, the product is easy to clean
---
All you have to clean are just three parts.
It's easy to clean, too.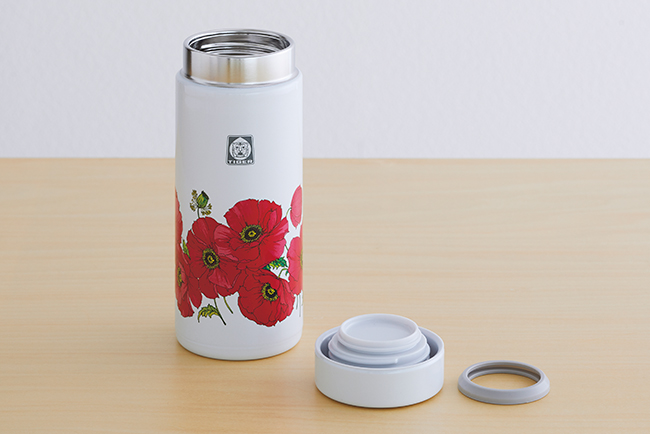 Specifications
Floral Art Bottles

Poppy<WP>

English Garden<WE>
Product number
MMZ-F035
Color
Poppy<WP>
English Garden<WE>
Capacity
0.35L
Heat Retention (6h)
69℃ or more
Heat Retention (1h)
86℃ or more
Cold Retention (6h)
8℃ or less
Size W×D×H (Approximate value)
6.6×6.6×16.4(cm)
Weight (Approximate value)
0.17kg
Caliber (Approximate value)
4.4cm
Producing Country
China