IHジャー炊飯器〈炊きたて〉JPW-H100/H180
*For open-priced products, there are no suggested retail prices from the manufacturer.
A high-value model
with a variety of cooking settings and
a focus on daily use
The inner pot with the two-layer metal structure is heated efficiently. The far-infrared radiation effect enhanced by the far-infrared coating helps moisture be distributed evenly to every grain to cook fluffy sticky rice.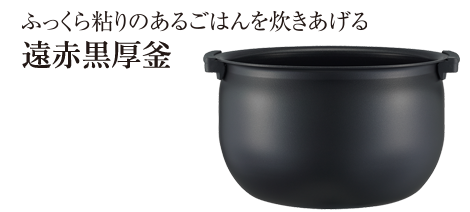 High heat PowerfulIH
Powerful IH (Powerful induction heating) that brings out the original sweetness and flavors of rice. The bottom and wall of the inner pot are heated as if the entire inner pot was encompassed by a strong fire so that the cooked rice can be plump to the core. The rice is also steamed at high temperatures of about 110 to 115°C, which accelerates gelatinization of the rice to bring out the original sweetness and flavor of the rice.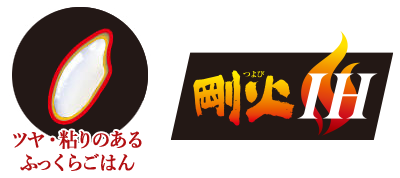 Even on busy days
Enjoy the delicious taste of freshly cooked rice
Frozen Rice setting
This setting employs a program that allows you to cook delicious rice suitable for freezing. In order to prevent defrosted cooked rice from being dry or defrosted rice reheated in a microwave oven from being pasty, the rice is given a longer time to absorb water in this menu setting than in the White Rice setting, so that the cooked rice will be plump to the core and the delicious flavor can be kept after the rice is frozen. You can keep your freezer stocked with frozen rice to allow you to enjoy the "delicious taste of freshly cooked rice" anytime.
Small Amount and Quick setting
The setting to cook a bowl of rice (0.5 go) in a minimum of about 15 minutes and 1 go in about 17 minutes* is provided to allow you to eat freshly cooked rice on busy days. Heat is efficiently transferred to the rice in each of the water absorption, heating, and steaming processes, enabling a small amount of rice to be cooked quickly.
* Only rice cookers with a capacity of 5.5 go can be used to cook 0.5 go of rice. It takes about 17 minutes to cook 1 go of rice (minimum amount) with a rice cooker with a capacity of 1 sho.
The time required for cooking may vary depending on the type of rice and room and water temperatures. (Based on our research)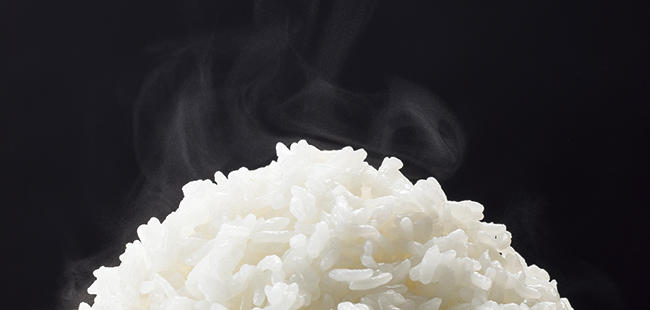 Premium setting
This luxurious setting brings out all of the sweetness, springiness, aroma, stickiness, and softness that define delicious rice. The water-absorption process takes twice as long as the standard White Rice setting in order to bring out the original flavor of the rice.
Cook the desired healthy variety of rice easily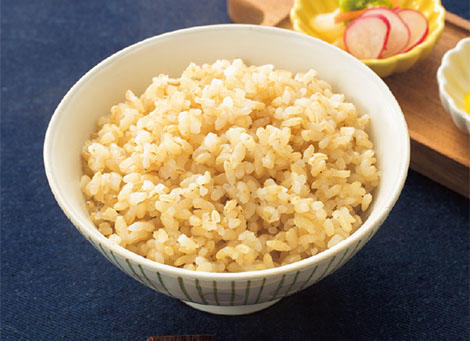 Brown Rice
This setting produces plump, delicious brown rice, which is usually difficult to cook with the right amount of water and heat. Brown rice is a good source of vitamin B1 and other nutrients.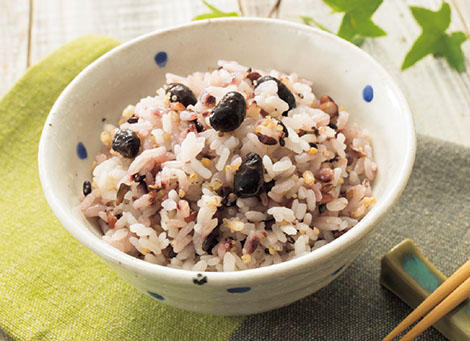 Mixed Grains
This setting produces plump, delicious rice with mixed grains, which is usually difficult to cook in consideration of the right amount of water absorbed. You can easily take in abundant nutrients such as vitamins, minerals, and dietary fiber.
Cooking setting to cook a variety of dishes
Ready to cook various dishes
On this setting, the rice cooker heats foods automatically without using fire
so that you can just wait until it finishes cooking a dish.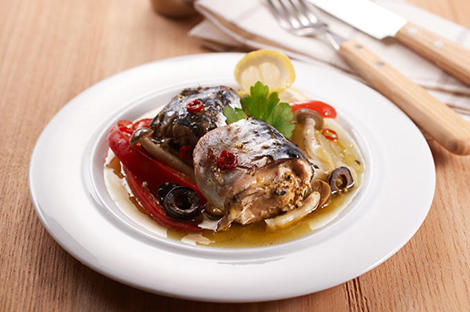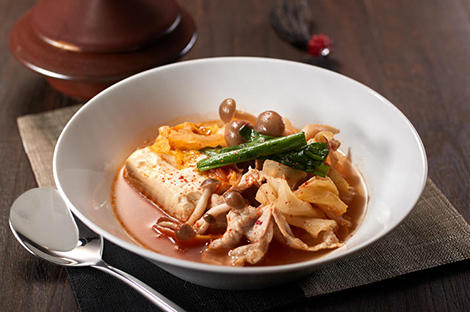 All you have to do is put ingredients in the rice cooker and wait to easily cook
and complete a dish in a minimum of about 15 minutes.
Very useful for preparing a meal on a day when you are not cooking rice, or for preparing some dishes in advance on weekends!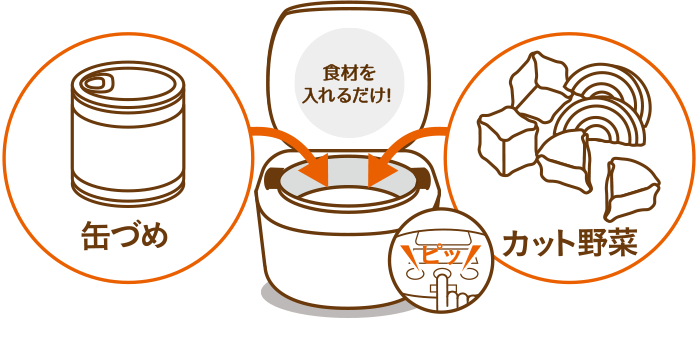 Equipped with the bread baking function
Bread baking function
It is difficult to maintain the optimal temperature when making bread, but this device makes it a breeze with the Bread Fermentation and Bread Baking settings. You can easily make homemade bread that is fragrant outside and soft and fluffy inside.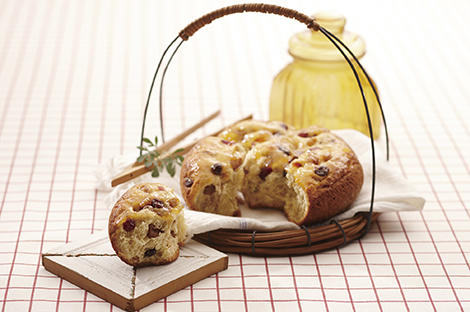 Cake setting
This fun-to-use setting allows you easily to bake a soft sponge cake like a whole cake (as opposed to individual slices).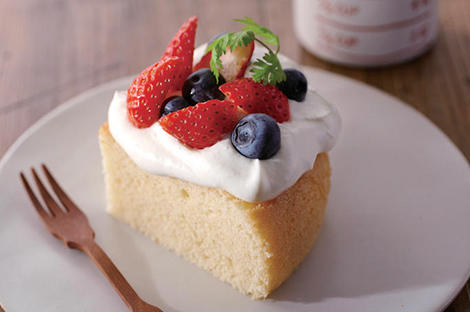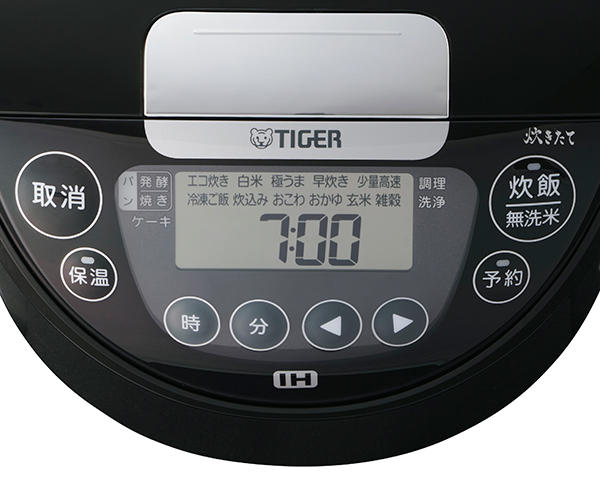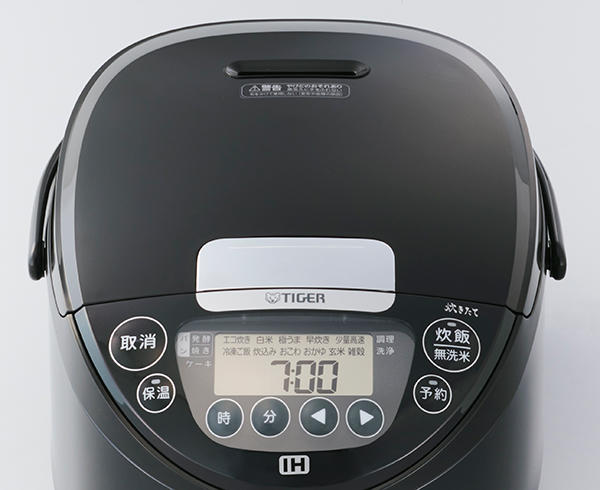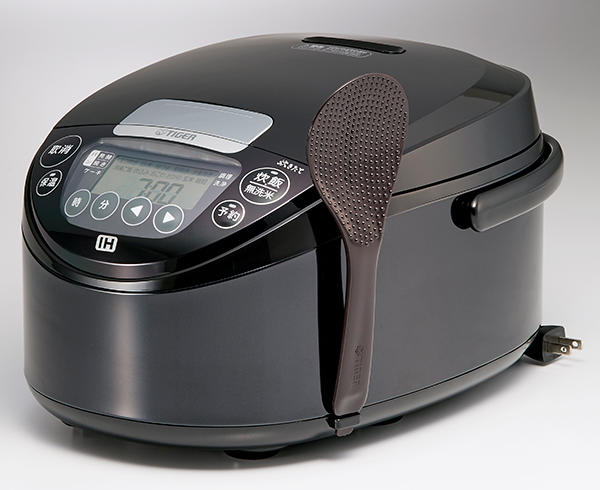 Antibacterial rice scoop
To ensure safer and more secure daily consumption of rice, a new rice scoop certified by SIAA (Society of International Sustaining Growth for Antimicrobial Articles)* has been adopted. The growth of Escherichia coli or Staphylococcus aureus is prevented thanks to the antimicrobial rice scoop with an antibacterial effect.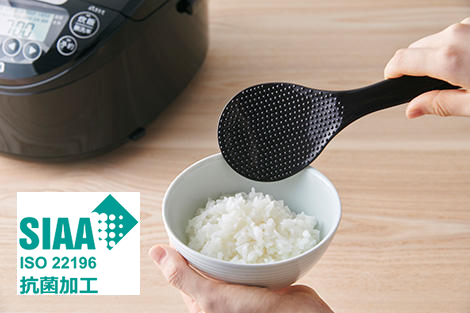 Antibacterial rice scoop certified by the Society of International Sustaining Growth for Antimicrobial Articles (SIAA)
– Tested parts: Rice scoop
The products carrying the SIAA marks are subjected to the quality control and information disclosure under the SIAA guidelines based on the results of evaluation conducted in accordance with ISO 22196.
The SIAA marks are symbols for KOHKIN (or antibacterial) established by the Society of International Sustaining Growth for Antimicrobial Articles.
Products that meet the three criteria of [1] antimicrobial properties (*1), [2] safety (*2) and [3] appropriate labeling (*3) may carry the SIAA mark.
The proportion of bacteria on the surface of the product must be equal to or less than 1/100 that of a non-treated product, and the antimicrobial effect must remain after durability tests. Antimicrobial properties are determined from the results of tests conducted in accordance with the international standard ISO 22196.
The safety criteria uniquely established by SIAA must be met.
The types of antibacterial agents used and parts treated must be clearly indicated.
[Antibacterial finishing] The rice scoop included with the JPW-H model has a silver-based (Ag) antibacterial finish.
Evaluation Technical Center, Daiwa Chemical Industries Co., Ltd.
The antibacterial finishing has been tested in accordance with JIS Z 2801 (ISO 22196).
Kneaded into the plastic material
Silver-based antibacterial agent
2.0 or higher antibacterial activity value
Easy to hold and easy to scoop rice
Hexagonal measuring cup
The flattened sides make it easier to scoop out rice than conventional cylindrical measuring cups. You can scoop up rice easily even when little rice remains in the container.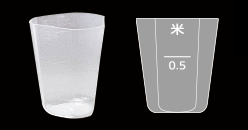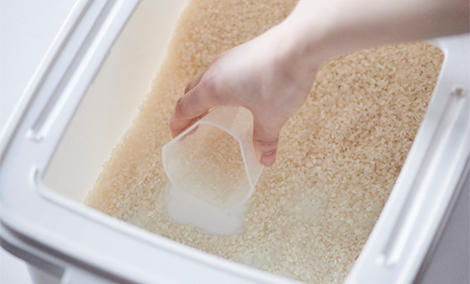 All you have to clean are just two parts. The parts can be removed easily.
"Easy to clean"
(1) Inner pot
(2) Inner lid
The easily removable inner lid makes it easy to clean the product every day.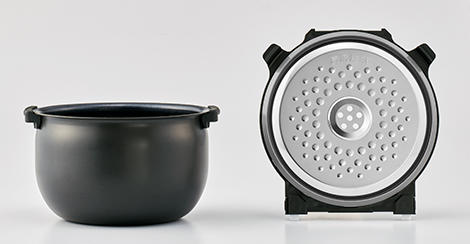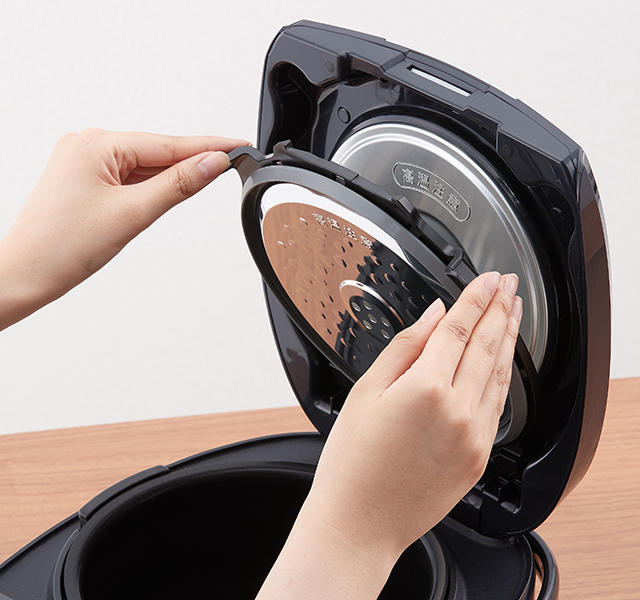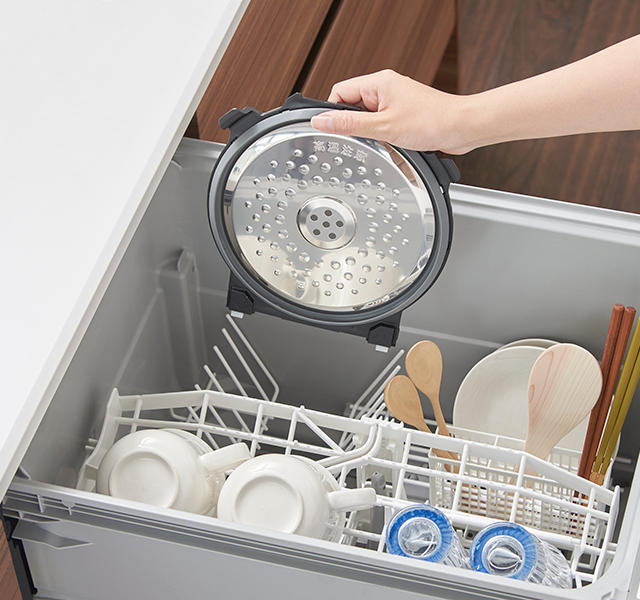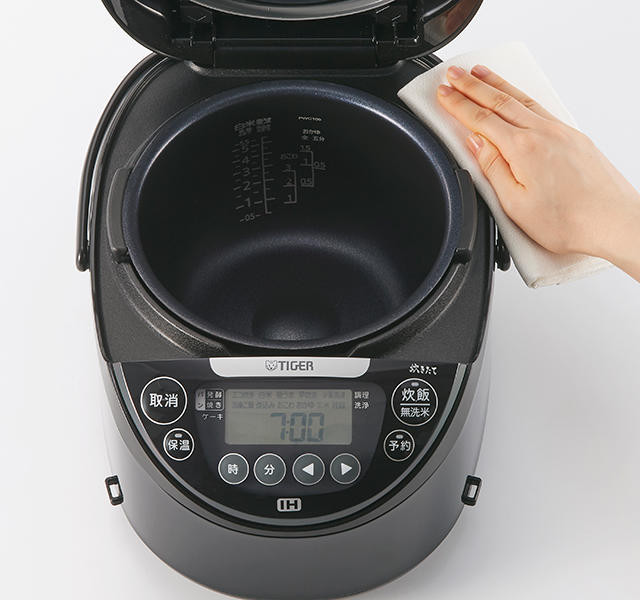 Easy-to-wipe top surface with little unevenness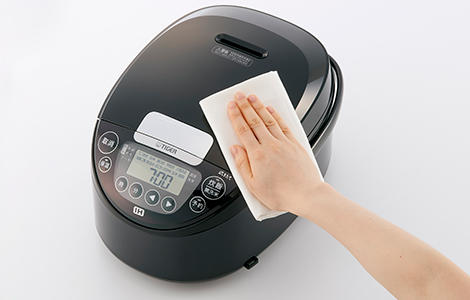 Easy to clean due to the simple design and low form
The flat top surface without a steam cap
is easy to clean by quickly wiping it.