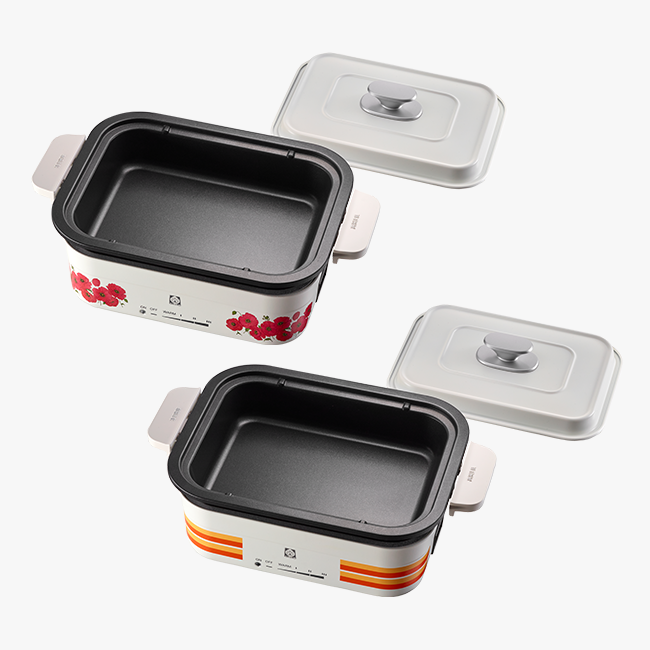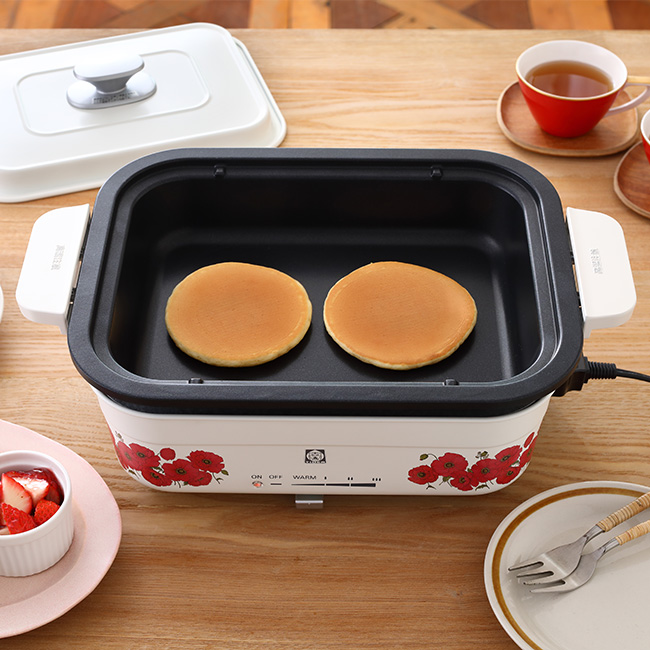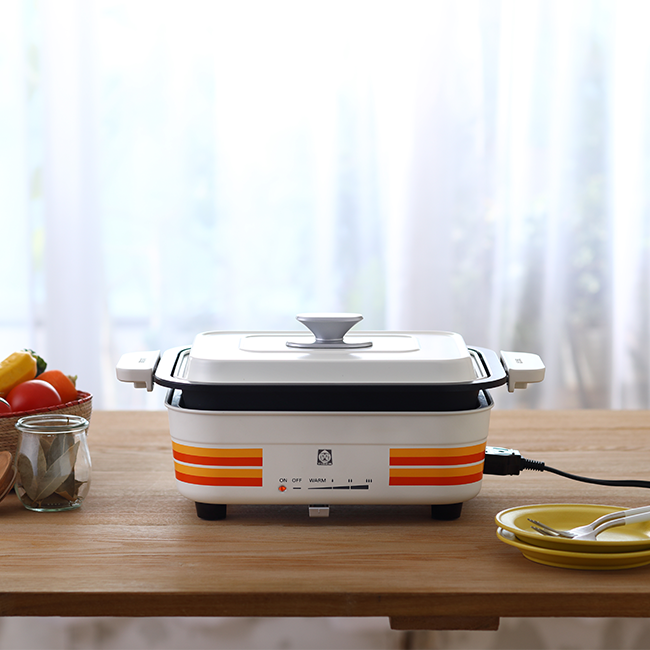 WEB限定商品
Electric Griddles CRL-T100
Thanks to its compact design, you can leave it on the kitchen counter or on the table.
It's equipped with a 46 mm-deep pot that can be used for hot pot, as well as a triple-U heating element that prevents uneven heating, allowing you to cook dishes like pancakes perfectly.
Special Revival of Showa Floral and Striped Patterns on New Items
Introducing Tiger's 100th Anniversary Model—the Retro Pattern Revival Series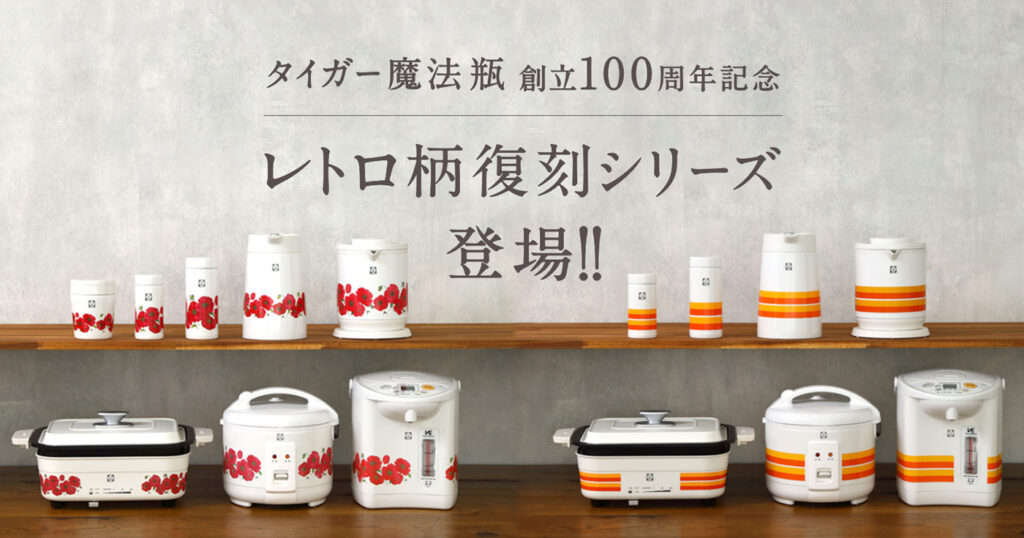 Features
You can enjoy hotpot dishes, too! The pot is about 46 mm deep.
---
The 46 mm deep pan helps reduce oil splatter. It's suitable for frying and hotpot dishes.
The ribbed underside allows for efficient heating, and you can even make paella and cheese fondue.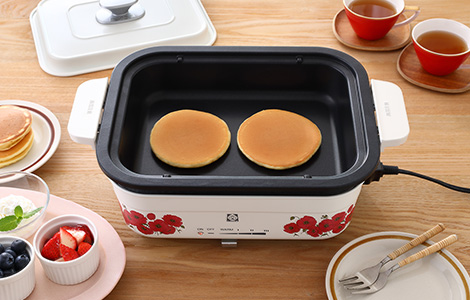 It's made with a highly durable metallic fluorine coating for pans!
---
The pot is coated with a durable metallic fluorine coating so that it can withstand heavy-duty use.
Plus, the inner surface of the pot is covered by a 3-year warranty, so if the fluorine peels off, you can have it repaired or replaced free of charge (within 3 years of purchase).
* The warranty covers only the pot. It does not cover the main unit or the grill plate.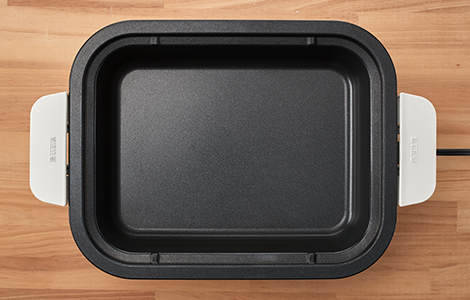 Equipped with a triple-U heating element that prevents uneven heating!
---
The heating element reduces uneven cooking and evenly distributes heat, resulting in beautifully cooked pancakes.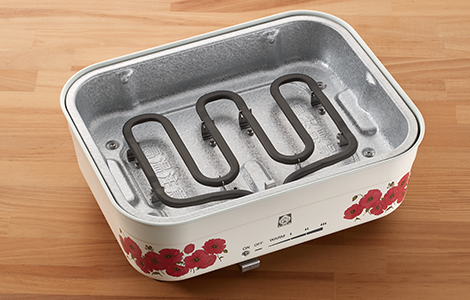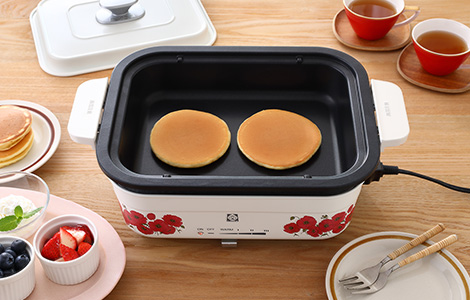 Easy-to-operate temperature control knob
---
The temperature control knob can be set to four levels, from keep-warm (approx. 70°C) to maximum heat (approx. 250°C), and the temperature can be easily adjusted by simply sliding the knob to the side.
Warm: approx. 70°C
1 flame: approx. 100°C
2 flames: approx. 180°C
3 flames: approx. 250°C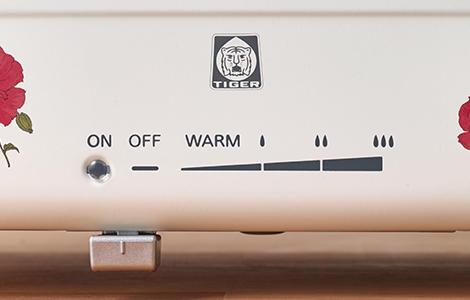 Equipped with a magnet plug so you don't have to worry about snagging the cord
---
A magnetic plug is used to ensure that in the event that the cord is snagged, it will disconnect.
Convenient handles for carrying the pot
---
The handles on the pot make it easy to remove the pot from the main unit for cleaning.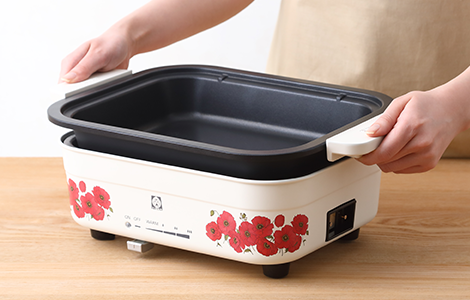 Compatible with ball plate (sold separately) for making takoyaki
---
Compatible with a separately sold ball plate that can make up to 20 takoyaki and a wave grill plate that can also enjoy meat dishes and waffles.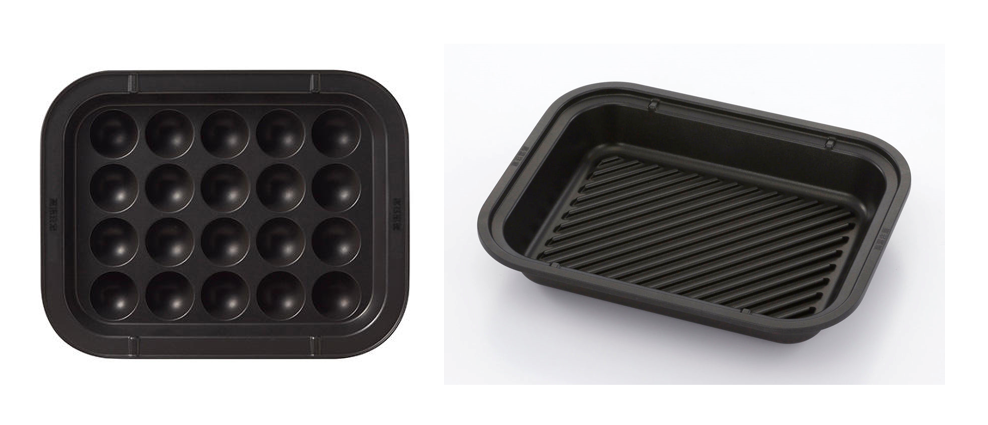 Ball Plate
Wave Grill Plate
Maintenance
Easy to disassemble and clean
---
The main unit (heater) and plate can be disassembled for easy cleaning.
Specifications
Electric Griddles

Poppy<WF>

Orange Stripes<WO>
Product number
CRL-T100
Color
Poppy<WF>
Orange Stripes<WO>
Rated Voltage
100V
Rated Frequency
50-60Hz
Electric Rating
1200W
Size W×D×H (Approximate value)
38.6×24.9×17.7(cm)
Weight (Approximate value)
3.4kg
Cord Length (Approximate value)
1.8m
Plate Variation
Deep pan,Grill plate&Ball plate(sold separately)
Inner Size of Pan/Plate W×D (Approximate value)
Pan:26.40×20.00(cm)
Depth of Pan/Plate (Approximate value)
Pan:4.60(cm)
Producing Country
China
Capacity when the pan is full
2.6L
Reviews