"#Seisyun wo samasuna Campaign" Vol.3! One pair of originally designed bottles just for graduates (for the number of people in the applying group) will be given away!
Youth is a memory that never gets cold the more you celebrate the "now".
"#Seisyun wo samasuna Campaign"Vol. 3
One pair of originally designed bottles just for graduates (for the number of people in the applying group) will be given away!
---
In addition, Osaka Tezukayama Gakuin High School Dance Club, the winner of Dance KoshienOsaka Tezukayama Gakuin High School,
the winner of the Dance Ko-en Tournament, performed live on stage!
Tiger Corporation (President: Yoshisato Kikuchi, Headquarters: Kadoma City, Osaka) ("Tiger" or "we"), For junior high and high school students across Japan who will graduate in the spring of 2024, we will give away a pair of originally designed vacuum insulated bottles (for the number of people in the applying group) in the "#Seisyun wo samasuna Campaign" will be held again this year, will run from November 16,(Thu.) through December 3(Sun.), 2023, and entries can be submitted through Tiger Corporation's official website. We are looking forward to receiving your applications for the matching bottles, which can be used with your school, class, club, or other friends.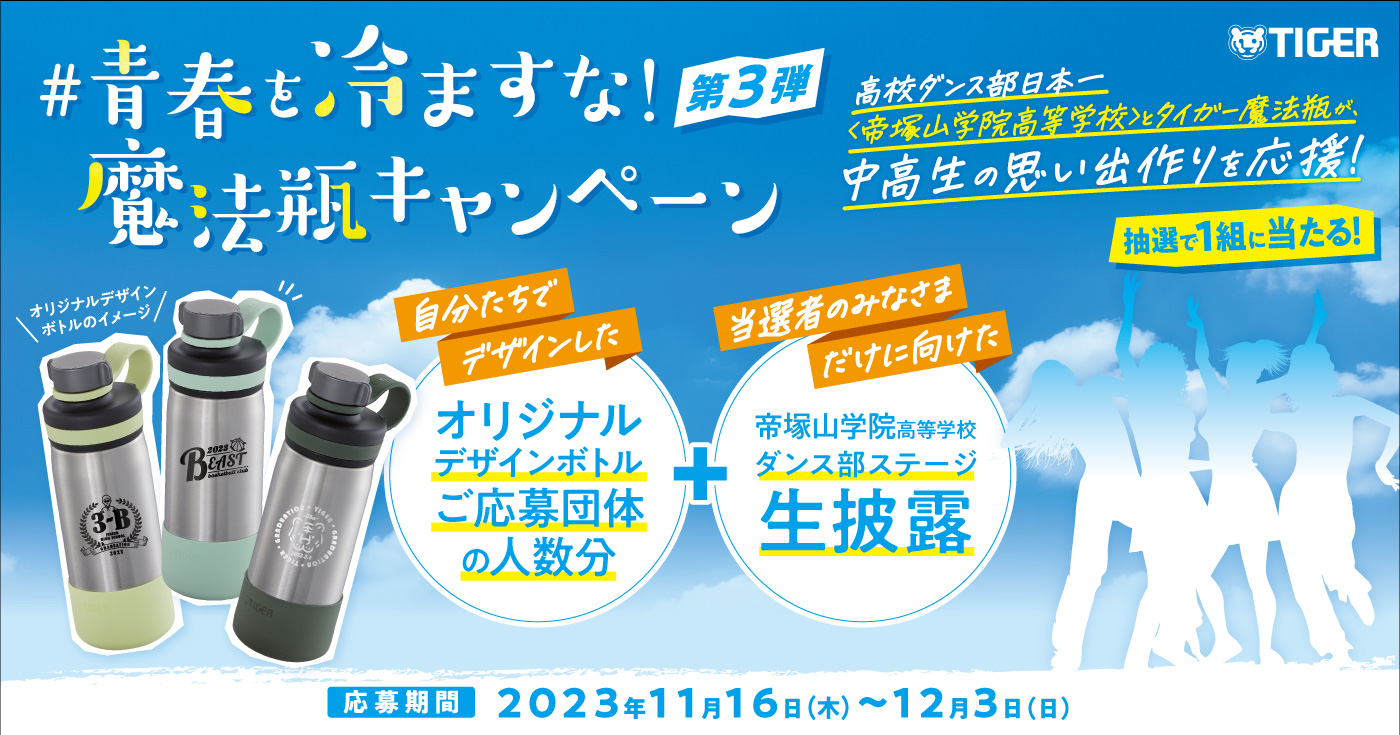 Application Form https://www.tiger-forest.com/enquete/index/seisyunbottle_cp23
Background of the Campaign
We hope that Tiger Corporation, which values warm ideas and has been refining its technology related to "temperature" for 100 years, will be able to contribute to the creation of memories for those students are about to graduate. We planned this campaign with the idea.
As a limited offer to one pair of winners, we will present an originally designed bottle as an item that reminds us of the "warm memories" and "strong bonds" of our youth and pushes us toward the future.
The winners will be announced in early December.The original bottles, designed according to the wishes of the winners, will be delivered in the form of a presentation ceremony from mid-February to the end of March.
This year, in addition to the bottle presentation, the "#Seisyun wo samasuna" Campaign"The Tezukayama Gakuin High School Dance Club, winner of the "16th Japan High School Dance Club Championships, Official Summer National Tournament," who were appointed ambassadors for the second installment of the "#Magic Bottle Campaign," performed live on stage. We look forward to receiving your entries to create memories of your school, class, or club activities.
Campaign Overview
Campaign name
Seisyun wo samasuna Campaign
Application Period
Thursday, November 16, 2023 to Sunday, December 3,23:59
How to apply
Entry through the application form on the official website.
In the application reason column, please write
I want to keep it as a proof of my youth that never cools down with my club mates.
I want to leave a warm memory for my students from a teacher.
As a parent, I want to support my children's warm friendship.
Please describe your warm feelings about this campaign.
Winners will be selected after reviewing the entries.
Eligibility
Junior high and high school students from all over Japan, parents and teachers, school officials including junior high school students, etc.
Number of winning pairs
Limited to one pair
Application URL
https://www.tiger-forest.com/enquete/index/seisyunbottle_cp23
"Schedule after winning the prize"
Announcement of winners: Early December
Design decision: Around December 20 *Bottle production period thereafter
Bottle delivery, Tezukayama Gakuin High School Dance Club live on stage: Mid-February through the end of March
*The bottle design will be determined in mid-December after consultation with the winners. Only one design of one type and one color of the same color will be accepted.
*Logos, text, and illustrations can be printed on the bottles. However, any item that infringes on the property rights, copyrights, design rights, trademark rights, personal rights, privacy rights, or other rights of third parties cannot be printed on the bottle. Please read the "Original Print on the Bottle" section of the Application Terms and Conditions carefully before submitting your entry.
*The bottles will be delivered to the winning schools at a presentation ceremony. A dance stage will also be presented at the presentation ceremony. Please read carefully the "About the Bottle Presentation Ceremony" in the Application Terms and Conditions before applying.
*Winners will be notified by e-mail or phone call to the e-mail address or phone number registered at the time of application.
*Minors must obtain permission from a parent or guardian to enter the contest. The winner (representative) will be notified at a later date. parental consent form will be required at a later date. In addition, there is a possibility that various media may cover the event. In such cases, we will require the parental consent of all the participants (minors) who are able to respond to the media coverage. Please be aware of this before submitting your application.
*The winner must obtain the school's approval for the presentation ceremony and dance stage performance at the school. Please be aware of this before submitting your application.
Image of the original design
Click here for vacuum insulated bottles that can be originally designed.
Vacuum Insulated Customizable Carbonated Bottles MTA-C050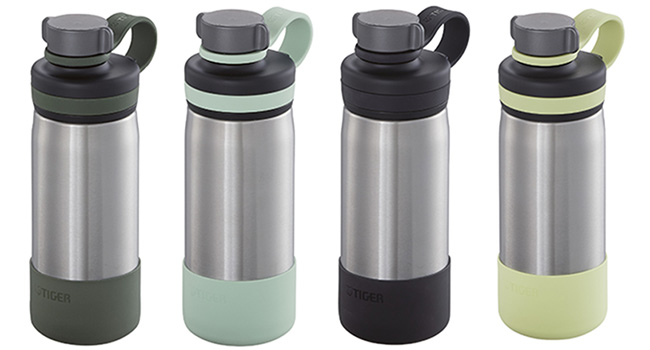 *The color of the lid and the bottle boot may not be available upon request.Please understand beforehand.
*If the number of requested bottles exceeds the number of available MTA-type bottles (0.5L), we may consult with you about other sizes (0.8L/1,2L/1.5L).
ボトルデザインの例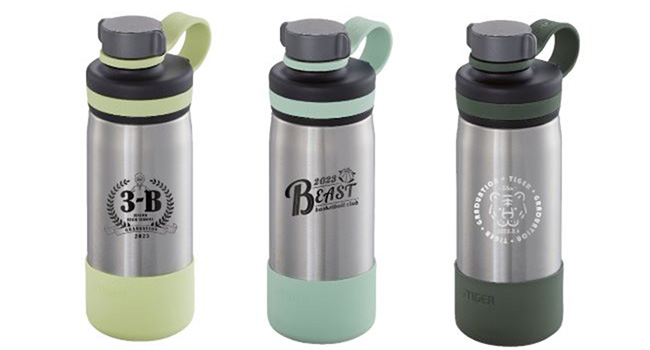 *You may print up to one color. Please consult with our representative after you have been selected for the color to be used.
*The print area is 50mm x 50mm inside the bottle.
"#Seisyun wo samasuna Campaign" ambassador
the students of the dance club of Tezukayama Gakuin High School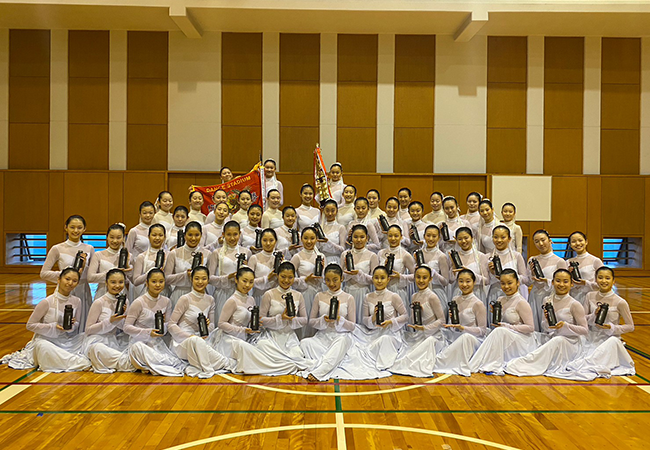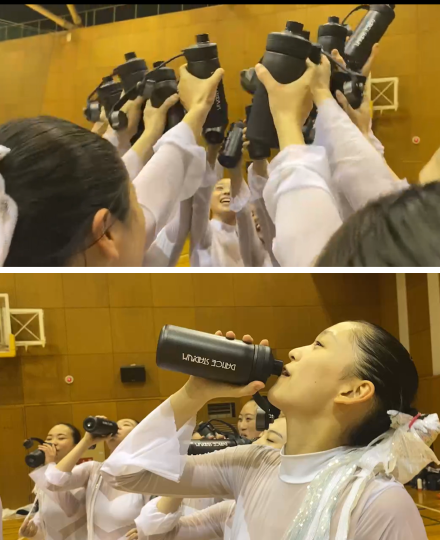 A strong dance club with over 150 members, both junior high and high school students.
We have participated in and won numerous competitions in both middle and high school. The reason for becoming an ambassador this time was to win the first place in the big class at the 16th Japan High School Dance Club Championships, the official national summer competition. We are so impressed by their passionate dedication to dance that we have appointed them as ambassadors for the "#Seisyun wo samasuna Campaign" ," the first high school students to become Tiger Thermos Bottle ambassadors! Thermos Campaign" by high school students.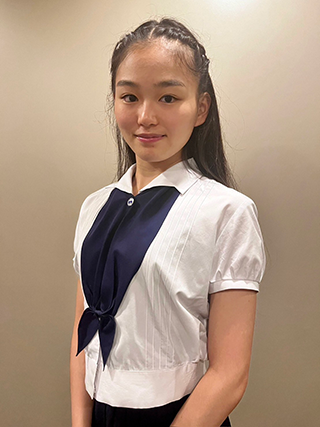 "Captain, Rei Kuriyama, a senior high school student, commented"
One of our main goals as a team was to win the number one position in Japan at the Dance Stadium, so we were able to show the results of our practice in the performance, and the recognition of the results gave us a sense of accomplishment that we have never felt before. I was very happy to be able to spend the best moment with my favorite team.
I love the Tiger bottle I received at the convention because it keeps my drink cold all the time! Only the dance club has these water bottles, so I am happy to find matching bottles on the days we use them. Let's all use our matching Tiger Bottles and enjoy our irreplaceable youth!
We asked high school students! What is realistic adolescence for high school students of today?
What do high school students think of real youth?
When talking with friends about trivial things (freshman)
When I am angry, happy, smiling and enjoying club activities with everyone (sophomore)
When practicing as a team in the heat of the day toward a single goal (junior)
When sweating and working hard with club members in club activities (junior)
What did the alumni feel about their youth in high school?
I was living a masked life due to the Corona disaster, but this year I was able to get rid of the mask and enjoy my life! (junior)
I had the best summer memories with everyone in my club (junior)
I spent my youth it, with the goal of becoming the best in Japan, and I actually did yearning to spend a hot summer in the dance club, putting everything I had into it. (junior)
It was a little different from the youth I had envisioned, but it was a lot of fun. I cried a lot and laughed a lot. (junior)
Youth is something that never cools down!
I don't think I will ever grow cold as an adult. Even as an adult, I want to make a single goal for myself and achieve it by working hard with my peers and myself (freshman).
As adults, we have fewer opportunities to feel that we are youth, and maybe we feel that we are cooling down. Still, adults can do things that we as students can't experience, so I'm looking forward to it tremendously. (sophomore)
I believe that youth never cools down even when you grow up. No matter how old I get, I want to find something I can be passionate about and give it my all! (junior)
Reference information: Bulk Order & Personalization Service
Tiger Thermos has been accepting vacuum-insulated bottle "Bulk Order/Name" services on the Tiger Thermos official website. You can easily apply for vacuum insulated bottles from Tiger Thermos by entering the necessary information in the inquiry form on the dedicated web page for the "Bulk Order/Name Engraving" service. It can also be used for anniversary gifts for companies and organizations, novelties for events, and goods for club activities and sports club friends.
Learn more about Bulk Order & Personalization Service:
https://www.tiger-forest.com/company-order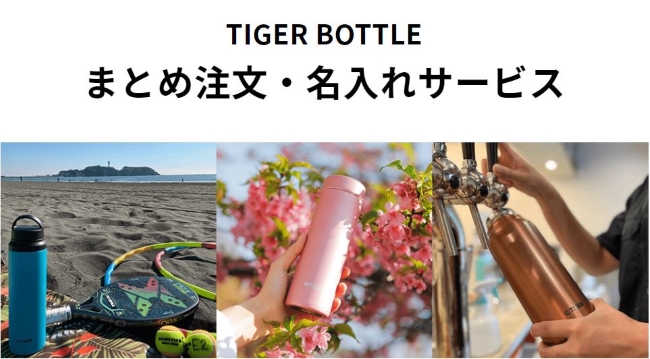 Reference information : The four pledges of Tiger's vacuum insulated bottles
In order to achieve health consciousness, human rights consciousness, and environmental consciousness, Tiger has made the following four pledges for its vacuum insulated bottles: no conflict minerals, no fluorine coating, yes our own factories, and no plastic waste.
Learn more about our four pledges:
https://www.tiger-corporation.com/ja/jpn/about-us/sustainability/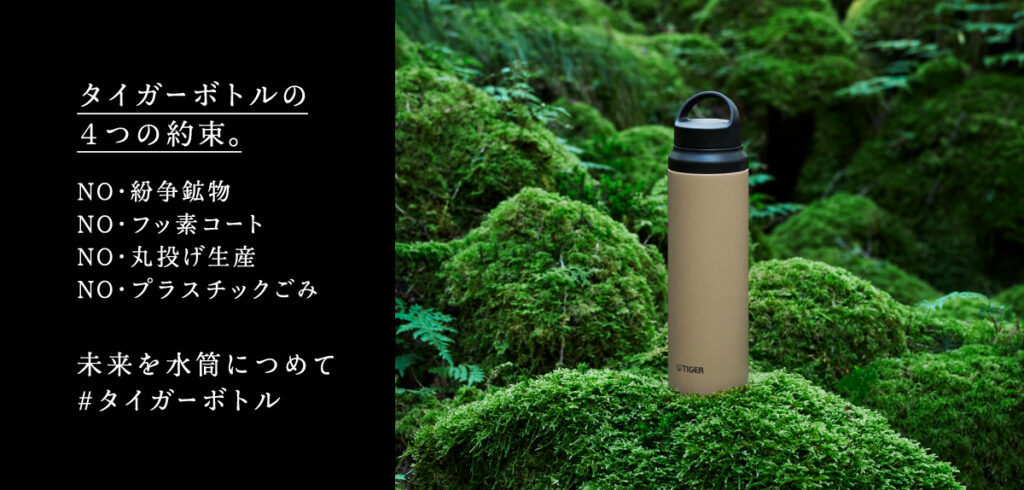 Controlling temperature, creating a brighter future. Watch it now – 100th anniversary statement movie!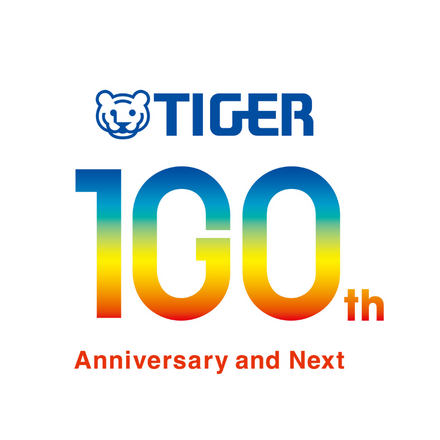 Cold? Warm? Just right?
Even a tiny temperature change can give our hearts comfort and strength.
From family gatherings to exploration of space,
a temperature change of a single degree
can open our eyes to life more precious.
Tiger Corporation has been in business for 100 years.
Now, we are looking forward to the next 100 years.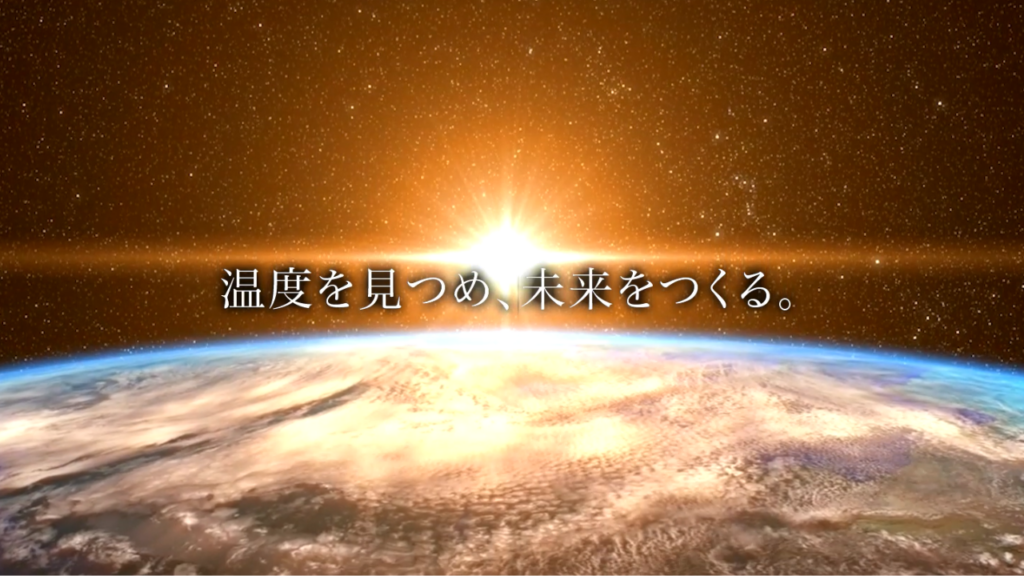 100th anniversary statement movie
Japanese : https://youtu.be/ojs_gKjj118
English : https://youtu.be/Z-s6dZrX53g