Tiger Corporation's 100th Anniversary Model, Tiger Kamado
To mark 100 years since the Great Kanto Earthquake, Tiger Corporation offers a new emergency product!
Tiger Corporation's 100th Anniversary Model, Tiger Kamado
– To support joyous harmony by helping serve freshly cooked white rice even when electricity is not available –
---
Pre-orders being accepted from today, August 31st, 2023.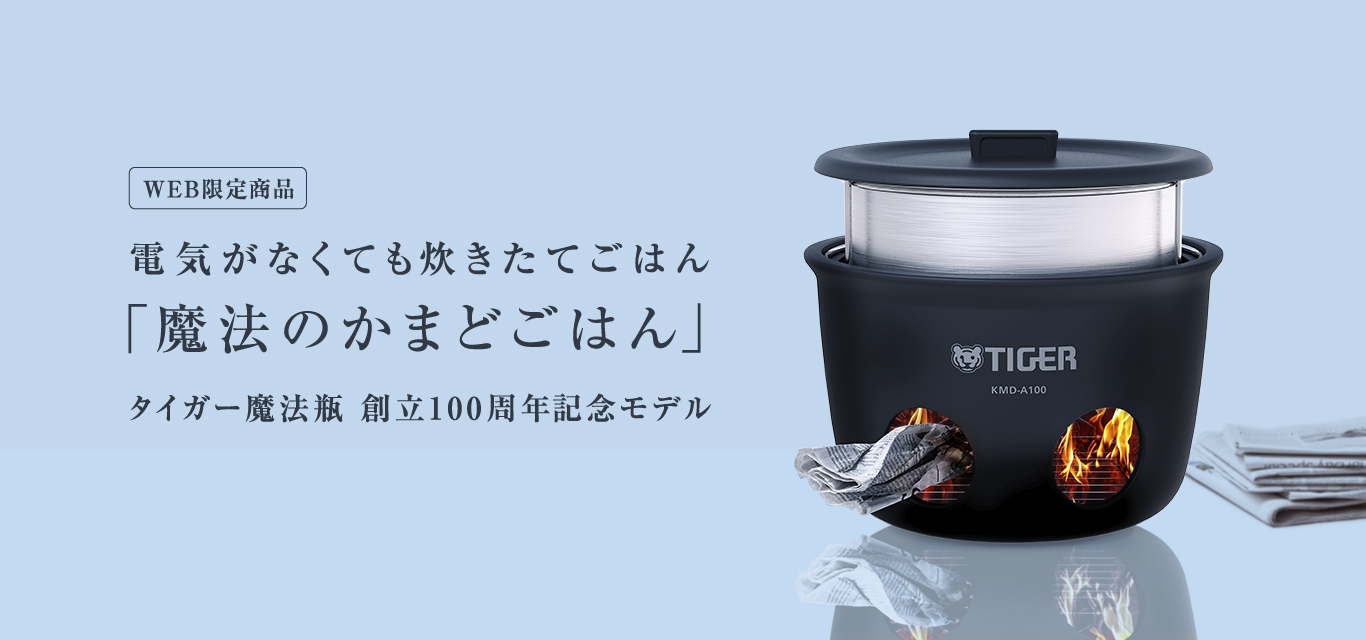 Tiger Corporation (President: Yoshisato Kikuchi, Headquarters: Kadoma City, Osaka) ("Tiger" or "we"), a world leader in thermal control technology, has released Tiger Kamado, which makes it possible to cook rice using only one newspaper without electricity. It is a model to mark the 100th anniversary of the company and we started accepting pre-orders for the product at its official online store on August 31, the day before Disaster Prevention Day in Japan, in 2023, the 100th milestone year after the Great Kanto Earthquake.
(https://www.tiger-corporation.com/ja/jpn/product/rice-cooker/kmd-a/) The ordered products will be shipped on the release date, October 20, 2023, or later.
Social background and a new proposal from Tiger Corporation
According to the White Paper on Disaster Management 2023 (*1), the severity and frequency of weather disasters have been visibly increasing for the past 100 years, and this trend is expected to continue as global warming progresses. The disaster-related information webpage of the Cabinet Office (*2) shows that the probabilities of an earthquake of magnitude 8.0 or so hitting in the next 30 years, 50 years, and 100 years are 14%, 20%, and 40%, respectively. In Japan, a country that often sees natural disasters, it is essential to be prepared for such events.
In these social circumstances, we developed Tiger Kamado as a product that allows anyone to simply cook rice using just one newspaper, an item that is easily available, without using electricity or gas, until lifelines are restored after a disaster. The product can serve as an outdoor item in leisure settings such as camps at normal times, and it can be used as an emergency item when a disaster strikes.
One hundred years have passed now since the Great Kanto Earthquake, and Tiger Corporation will continue to bring joyous harmony for the next 100 years
In 1923, the year of Tiger Corporation's founding, the Great Kanto Earthquake, the largest earthquake disaster in history, struck the Kanto area in Japan. By a strange irony, in the same year, Tiger's product gained attention because all 100 Tiger vacuum bottles stored in shops survived the earthquake, unscathed. The original Tiger vacuum bottles were developed out of the founder's wish to drink hot tea like that freshly brewed by his mother at any time. Since then, we have been offering various products to deliver warmth and joyous harmony to families.
With this product, we will be working to address social issues such as energy shortage and environmental burden and propose a world where anyone can eat freshly cooked rice even in an emergency to support joyous harmony for everyone.
*1 Created based on data cited from page 34 of the White Paper on Disaster Management 2023 released by the Cabinet Office 
https://www.bousai.go.jp/kaigirep/hakusho/pdf/r5_all.pdf
*2 Source: "Earthquakes from active faults" on the disaster-related information webpage of the Cabinet Office
https://www.bousai.go.jp/kohou/kouhoubousai/h21/05/special_03.html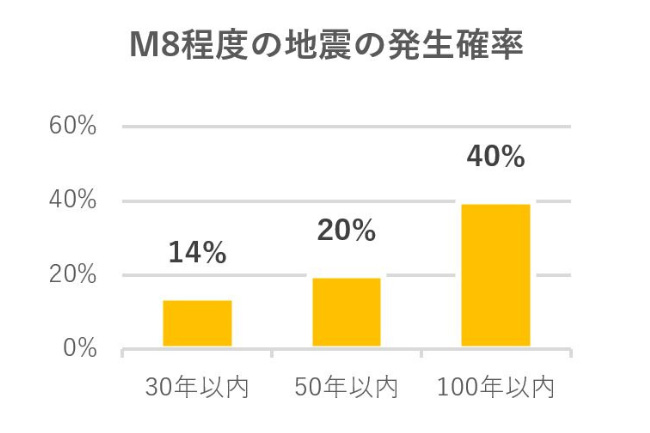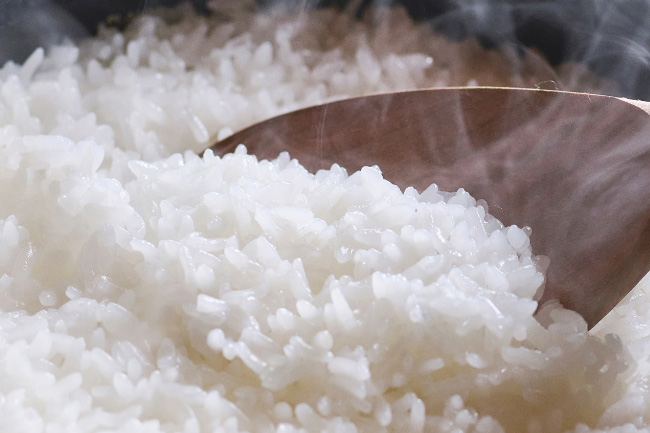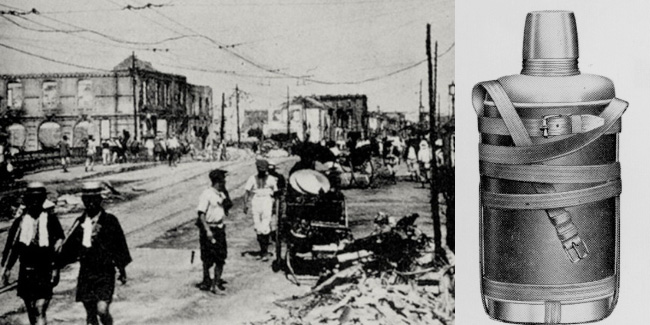 Project Concept
Magic Kamado Rice Cooker was created as a way to be prepared for natural disasters and address current social issues such as energy shortage and environmental burden. This solution can be offered only by Tiger Corporation with its thermal control technology, operating based on the corporate philosophy that "we strive to spread joyous harmony throughout the world."
In Japan, a country that often sees natural disasters, we took on the challenge of developing a product to help create an environment where disaster victims can be fed well at disaster sites to allow them to have peace of mind and maintain good health even under such harsh environments. We came up with the idea for this product based on our wish to make it possible for anyone to eat hot cooked rice at any time, and then conducted surveys by interviewing actual victims of past disasters with the aim of creating a product that would be really needed in disaster situations.
In addition, this product meeting demands for outdoor products that grew due to the COVID-19 pandemic allows anyone to cook rice easily at a camp and can be used as an emergency item in disaster situations; it embodies the concept of the Japanese saying "Be prepared and have no regrets."
A product created through the in-house idea-collection system
This product is a result of the in-house activity to collect ideas from employees under the Shining System, which encourages internal challenges and initiatives in line with the corporate philosophy to create a business with great novelty and growth potential that will be the mainstay of our businesses in 50 and 100 years' time. Since last year, we have been carrying out activities using business-to-business model products that reuse the inner pots of rice cookers for which the availability period of their parts has ended, to support outdoor activities and provide education on disaster prevention for young people. This time, we have decided to release a business-to-consumer model to the general market in order to propose to more and more people a world where freshly cooked white rice can be made available without electricity.
[Activities in the past]
January 2022 Won the Commercialization Award for a theme passing the final review under the Shining System.
March 2023 Launched a business-to-business model at the National Olympics Memorial Youth Center and National Awaji Youth Friendship Center
May 2023 Set up an exhibition booth as an exhibitor at the Kids Festa organized by the National Institution For Youth Education, LAUGH&PEACE MOTHER CO., LTD., and Canvas
September 2023 Started accepting pre-orders for the product for general sale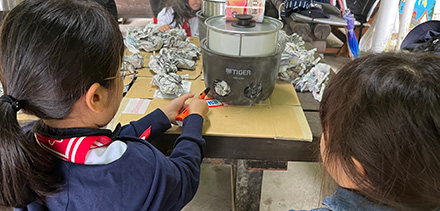 Product features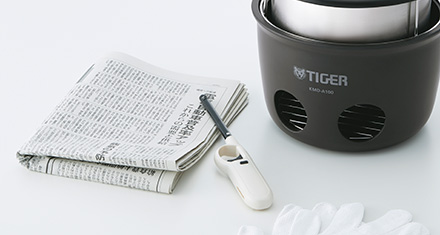 (1) Uses newspaper as a fuel source
The most distinctive advantage of the product is its ability to cook rice using just one newspaper (36 pages to cook 3 rice cups of rice) without electricity or gas.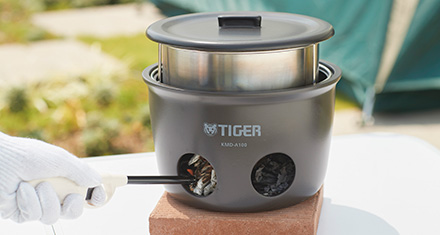 (2) Very simple way to cook rice
Insert pages from a newspaper alternately into two openings at the bottom of the oven and set fire to them. Repeat this step to control the heat level by starting with low heat and then rapidly increasing to high heat in the middle of the cooking process. Then, if you get used to this, you can cook rice easily with the rice cooker.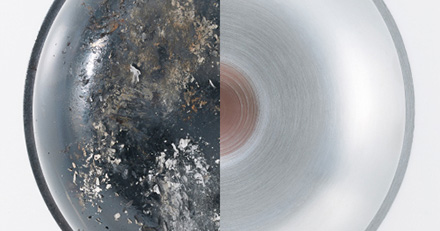 (3) Easy to clean up
The pot stained with soot can be cleaned by just wiping it with a wet sponge. No detergent is needed, so that the product can be cleaned in an eco-friendly way. Not much ash left after cooking so it can be disposed of easily.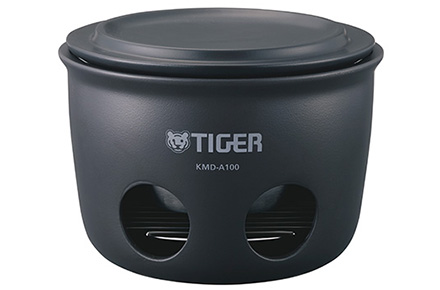 (4) Compact to store
The minimum height of the product for storage is approx. 18 cm, making it compact to fit in small spaces. It is also recommended to store it near other disaster supplies.
*Do not carry or move the rice cooker during use. *Do not use the product in an area where the use or handling of fire is prohibited.
*Do not use the product in a place with poor ventilation such as indoors or in a tent or car. *Read the Safety Precautions in the instruction manual to use the product properly.
The secret of cooking delicious rice with Tiger Kamado
This product is designed to have a structure that enables heat transfer in the same way as a genuine clay oven, so as to bring out the sweetness and plumpness of rice. The structure allows high heat to be applied to the bottom of the pot and the purposely exposed upper part of the pot causes a temperature difference between the upper and lower parts in the pot, produce convection to cook delicious rice.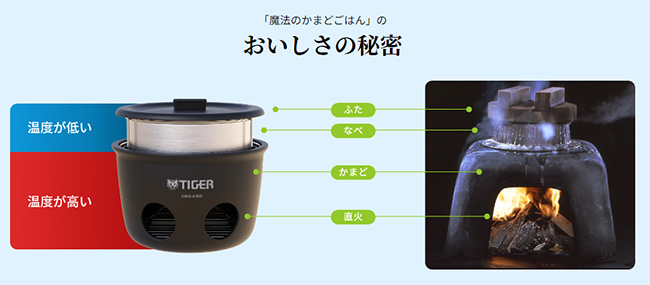 How to use Tiger Kamado
To cook 3 rice cups of white rice, you need to allow for a water absorption time of 30 minutes in summer or 40 minutes in winter, a rice cooking time of 20 minutes, and a steaming time of 15 minutes. You can also cook mixed rice with this rice cooker.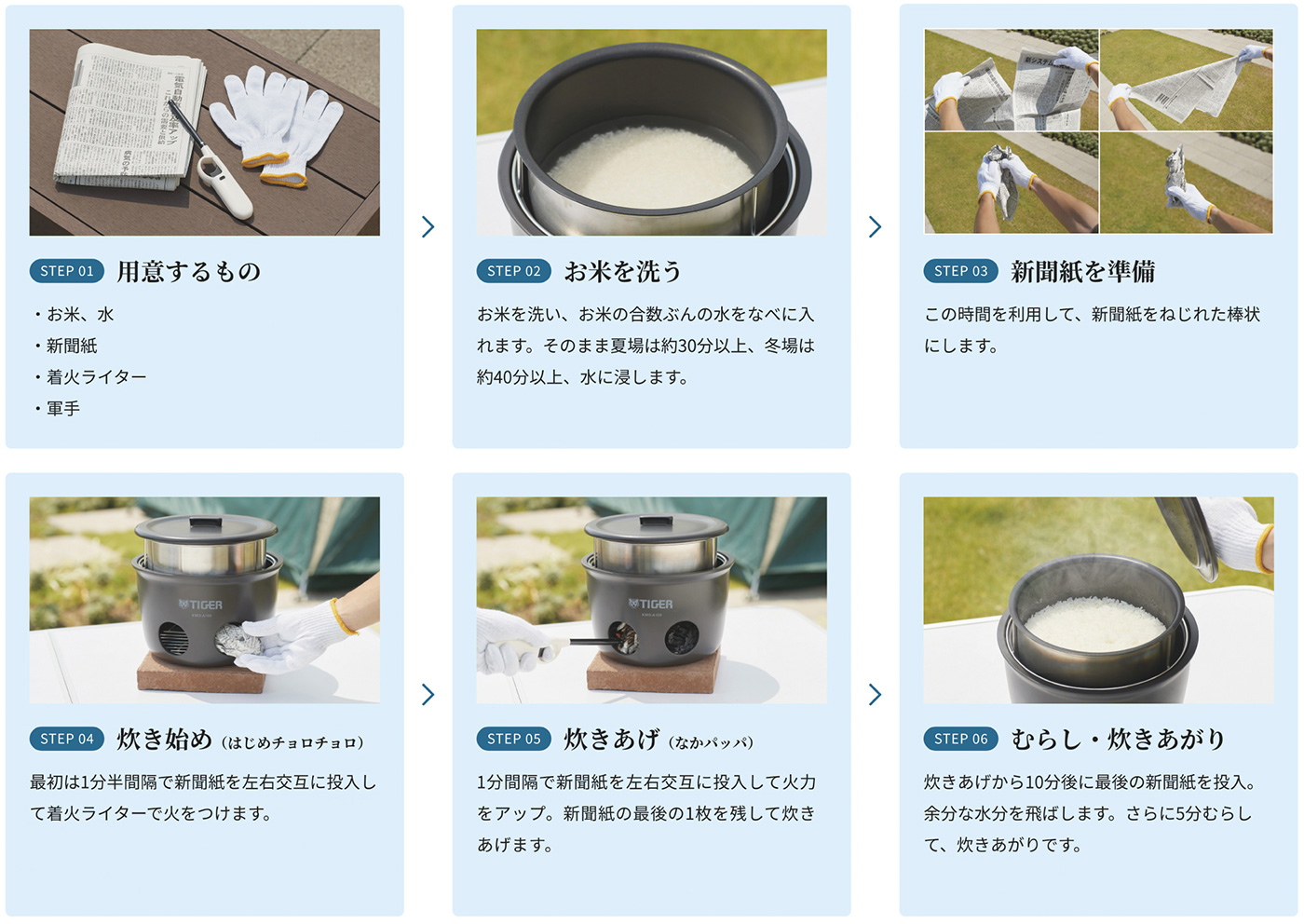 Pre-orders are now being accepted at Tiger's official online store
https://www.tiger-corporation.com/ja/jpn/product/rice-cooker/kmd-a/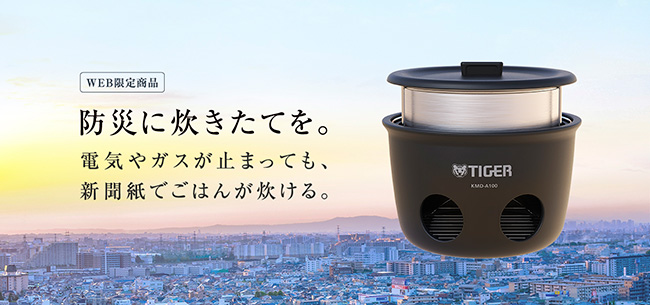 Product Image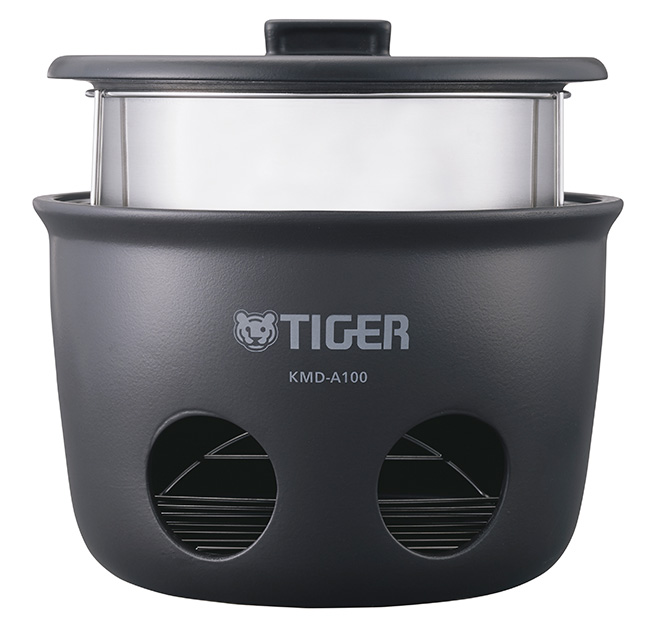 KMD-A100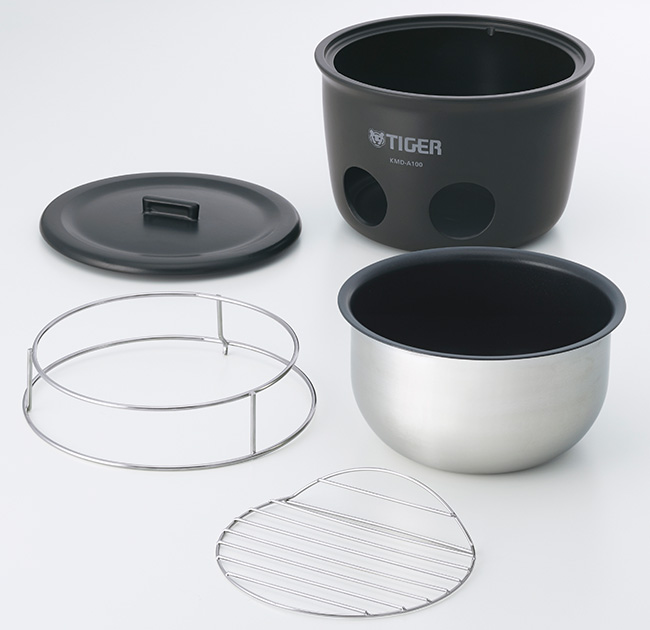 Tiger Kamado product page:
https://www.tiger-corporation.com/ja/jpn/product/rice-cooker/kmd-a/
Product Specifications
| | |
| --- | --- |
| Product name | Tiger Kamado |
| Product number | KMD-A100 |
| Suggested retail price | Open price* |
| Rice cooking capacity | White rice: 1 to 5 rice cups, Mixed: 1 to 3 rice cups |
| Size: Width × depth × height (approx.) cm | 25.0×25.0×23.3 *Minimum height for storage: Appro. 18 cm |
| Main unit weight (approx.) kg | 3.1 |
| Color patterns | Black "K" |
| Release date | October 20, 2023 |
The colors in the product photos may differ slightly from the actual colors. Please be aware of this.
*For open-priced products, there are no suggested retail prices.
Controlling temperature, creating a brighter future. Watch it now – 100th anniversary statement movie!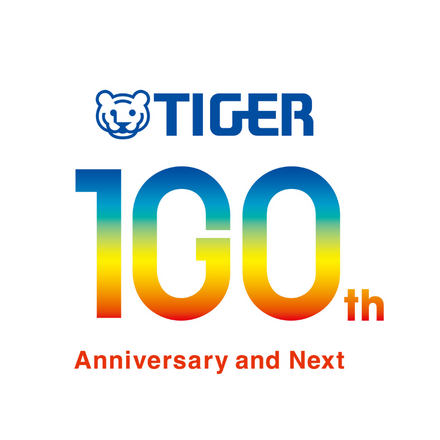 Cold? Warm? Just right?
Even a tiny temperature change can give our hearts comfort and strength.
From family gatherings to exploration of space,
a temperature change of a single degree
can open our eyes to life more precious.
Tiger Corporation has been in business for 100 years.
Now, we are looking forward to the next 100 years.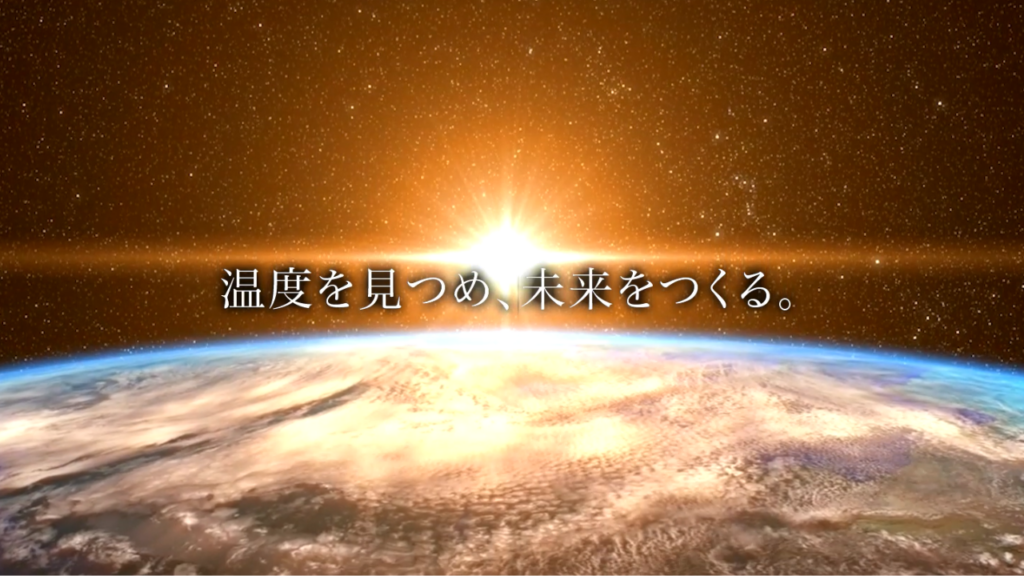 100th anniversary statement movie
Japanese : https://youtu.be/ojs_gKjj118
English : https://youtu.be/Z-s6dZrX53g