Precautions for the safe use of gas cartridge stoves
Thank you very much for your continued use of Tiger products.
To ensure the safe use of our gas cartridge stoves, we ask that you thoroughly familiarize yourself with the information in the instruction manual before using the product.We ask that you pay special attention to the following.
To avoid unexpected accidents, please use the product correctly.
1.Do not use two or more gas cartridge stoves side by side.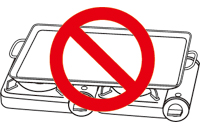 2.Do not use large cookware that covers the gas cartridge stove.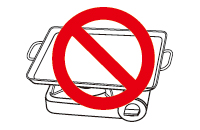 Japan Industrial Association Of Gas and Kerosene Appliances
Precautions for using gas cartridge stoves
If you have any questions about the safe use of gas cartridge stoves, please contact our customer service line.
Customer consultation desk
0570-011101
Opening hours : Monday to Friday from 9 a.m. to 5 p.m.
(Excluding national and public holidays and our company holidays)
This number is not toll-free. If Navi-Dial (a special toll service operated by NTT Com) is not available, call us at the following number:TEL.(06) 6906-2121