Rice Cooker
Steamed Vegetables
Did you know you could steam vegetables using a rice cooker? With minimal prepping involved and the press of a button, you can have a colorful plate of healthy vegetable on your table in less than 30 minutes!
Servings

3-4

Preparation
Cooking
Ingredients
8 ounces kabocha squash or other type of pumpkin, peeled and cut into bite size pieces
½ cup canned corn, or 2 corn ears, cut in half
1 large carrot, chopped
1 large potato, peeled and chopped
8 shiitake mushrooms or button mushrooms
20 green beans or French beans
⅓ cup water
1 tablespoon olive oil
Salt and pepper
Directions
Put the kabocha, corn, carrot, and potato at the bottom of the rice cooker inner pot and top with the mushrooms and green beans. Add the water and oil and season with salt and pepper. 
Close the lid and choose the [Plain] function. Press start.
Serve on a serving plate with your favorite dressing or sauce.
Nothing feels as healthy as a big plate of veggies! Here at Tiger, when we want to cut down on meat but still want a tasty and filling dinner, we use the rice cooker to steam a pot full of vegetables. The seasoning is kept to a minimal to let the natural flavors of the vegetables shine. We recommend serving this dish with a side of brown rice or over pasta, with a drizzle of olive oil and soy sauce.
How to Make Rice Cooker Steamed Vegetables
Cut the vegetables into large bite size pieces and add them to the rice cooker inner pot, starting with the kabocha squash, carrot, potato, and corn.
Place the green beans and mushrooms on top and finish by adding the water and oil. Season with a little salt and pepper and close the lid.
Choose the Plain function of the rice cooker settings and press start.
Serve the vegetables on a plate or large bowl. Enjoy!
Variations
Feel free to use other vegetables than the ones we are using for this recipe! Pumpkin and other types of squash work well as do other root vegetables such as turnip, sweet potato, and fennel.
Use 2 tablespoons butter instead of olive oil for a saltier and richer flavor.
Use chicken or vegetable broth instead of water for more depth of flavor.
Products used in this recipe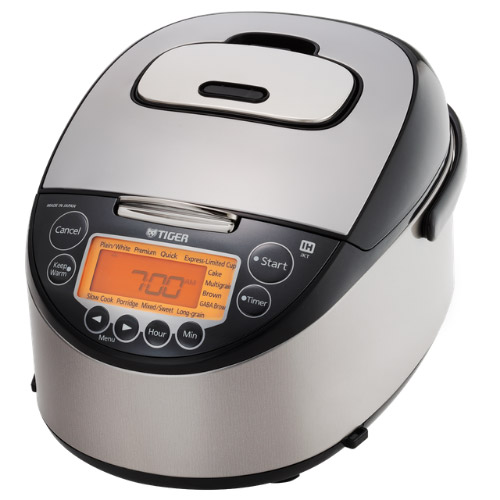 Induction Heating Rice Cooker JKT-D10U/18U
Made in Japan The TIGER JKT-D multi-functional induction heating (IH) electric rice cooker allows yo […]
LEARN MORE