Rice Cooker
Cabbage and Tofu Stir Fry
Feel like an Asian inspired stir fry tonight? Well, we've got just the thing! This cabbage and tofu stir fry is packed with flavor and ready with the press of a button.
Ingredients
1 tbsp Sake
1 tsp Sugar
1 ½ tbsp Soy sauce
¼ tsp Powdered chicken stock
1 tbsp Cornstarch
150ml Water
6oz Firm tofu, drained and cut into cubes
6oz Napa cabbage, chopped
1 Small carrot, chopped
4 Shiitake mushrooms, chopped in half
Salt and pepper, to taste
Oil or cooking spray
Directions
Mix sake, sugar, soy sauce, powdered chicken stock, cornstarch and water in a bowl, and set aside. 
Brush the inner pot with oil or spray with cooking spray.
Place the tofu, cabbage, carrot, and mushrooms in the rice cooker inner pot and pour the sauce mixture over.
Choose the [QUICK] function and press start.
Once complete, season with salt and pepper and serve.
AN EASY TOFU AND CABBAGE STIR FRY RECIPE
Food cravings can hit without notice. And sometimes the only thing that will scratch that particular itch is indulging with abandon.
Well, in the case of this cabbage and tofu recipe, it can be a guilt-free way to give into your hankering for Asian flavors without ordering takeout.
Tofu, napa cabbage, carrots and shiitake mushrooms are cooked in a savory and sweet sauce. Soy sauce and chicken stock bring the umami – and are contrasted by the dry sweetness of sake and sugar.
Now, calling this cabbage and tofu recipe a stir fry is a bit of a misnomer. Stir frying is actually cooking something in a pan or wok with a little oil for a short time at super high heat. However, we'd argue that the outcome – from a taste perspective – is pretty on-point with what you'd expect from an Asian stir fry. So we're sticking with the name!
But whatever you decide to call this easy vegetable recipe with bean curd, it's a breeze to whip up in your rice cooker!
HOW TO MAKE TOFU STIR FRY IN A RICE COOKER
Simply add your cubed tofu and veggies into the inner pot of your Tiger multifunctional rice cooker. Then pour your mixed sauce over the top.
Close it up and select the Quick cooking preset. And that's it! Your rice cooker will take it from there.
The vegetables and tofu will be perfectly cooked – and infused with the savory flavors of the sauce. Dinner is going to be delicious!
Products used in this recipe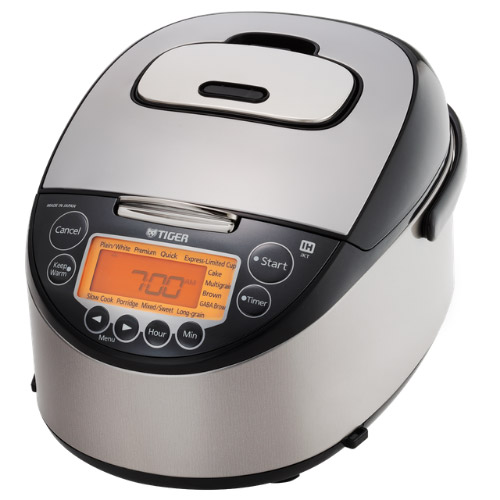 Induction Heating Rice Cooker JKT-D10U/18U
Made in Japan The TIGER JKT-D multi-functional induction heating (IH) electric rice cooker allows yo […]
LEARN MORE