Rice Cooker
Steamed Cabbage with Soy Sauce
This steamed cabbage recipe has umami for days! With a short ingredients list and this much savory goodness, it'll be in your weeknight dinner rotation in no time.
Ingredients
1 small Cabbage head
¼ cup Water
2 tbsp Butter or vegan butter
1-2 tbsp soy sauce
Ground black pepper
Directions
Chop the cabbage in 6 parts and place them in the inner pot, with the leaves facing down so the steam can drip to the bottom of the pot. Add the water and select the [Plain] function. Press start. 
When the cooking is done, open the pot and add the butter and soy sauce. Stir, and serve on a plate, seasoned with fresh ground black pepper.
AN EASY CABBAGE RECIPE WITH MOUNTAINS OF FLAVOR
Sometimes a recipe has a depth of flavor that is at odds with the simple ingredients list you used to create it. Well, this steamed cabbage with soy sauce is one of those food enigmas that tastes much greater than the sum of its parts.
At its core, is the humble cabbage – a veggie staple since… well, the dawn of vegetables.
On the periphery (but just as important) is a simple combination of soy sauce and butter. Now you can use vegan butter – or the real stuff if you prefer. Either way, when those two titans of taste combine, it imparts a savory richness and depth of flavor to the steamed cabbage leaves that's tough to beat.
Seriously, if you're wondering what to make with that head of cabbage that's been sitting in your crisper drawer forever, this is that recipe.
And it's so easy to make in your rice cooker!
HOW TO COOK CABBAGE IN A RICE COOKER
For this steamed cabbage recipe, your Tiger rice cooker is the perfect tool for getting the job done with the simple press of a button.
Just chop your cabbage into six parts and place them (with the leaves facing down) into the inner pot of your rice cooker. Add your water, select the Plain function (yep – that's the same one you use for making rice) and press Start. That's it!
How's that for easy? Your cabbage will be perfectly steamed when the cooking cycle ends.
After steaming, all that's left to do is add your butter and soy sauce. Stir and serve. Oh, and don't forget a dusting of fresh black pepper. It's an integral part of the flavor magic when it comes to this deceptively simple dish.
Products used in this recipe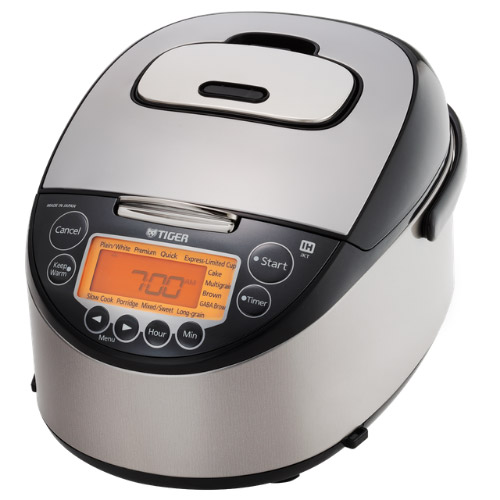 Induction Heating Rice Cooker JKT-D10U/18U
Made in Japan The TIGER JKT-D multi-functional induction heating (IH) electric rice cooker allows yo […]
LEARN MORE