Rice Cooker
Slow Cooker Sweet Potato Casserole
Get into the holiday spirit with this delicious and decadent slow cooker sweet potato casserole. Your rice cooker is the perfect tool to whip up this iconic Thanksgiving side dish!
Servings

3-4

Preparation

15 min

Cooking

80 min
Ingredients
2 tablespoon Butter, melted
1 ½ tablespoon Brown sugar
½ teaspoon Cinnamon powder
¼ teaspoon Vanilla extract
⅛ teaspoon Allspice
1 ½ pound Sweet potatoes, peeled and diced
½ cup Miniature marshmallows
Directions
In a bow, mix melted butter, sugar, cinnamon powder, vanilla extract, and allspice. 
Put the sweet potatoes in the rice cooker inner pot and pour the butter mixture on top. Stir well. 
Close the lid and choose the [Slow Cook] function. Set the time for 70 minutes and press start.
When the cooking is done, open the lid and stir the sweet potatoes. Place the marshmallows on top and close the lid. Leave for 10 minutes. Serve.
THE EASIEST SWEET POTATO CASSEROLE RECIPE
Confession: we could make an entire meal out of Thanksgiving side dishes. Sure, we love the turkey as well – but there's just something so unbelievable yummy about a plate loaded high with stuffing, mashed potatoes and gravy and green bean casserole.
But our favorite holiday side dish is definitely the sweet potato casserole. (Sometimes our sweet-tooth is a little out of control).
This sweet and gooey sweet potato recipe is loaded with brown sugar, cinnamon and butter. But the secret weapon is a dash of allspice. It's sweet, warming notes are reminiscent of cloves. YUM!
Don't stress if you've got a million things to do in the kitchen to finish your holiday feast. We've got an easy sweet potato casserole you can make with the press of a button!
HOW TO MAKE SWEET POTATO CASSEROLE IN A RICE COOKER
Simply place the diced sweet potatoes into the inner pot of your Tiger multifunctional rice cooker. Then drizzle in the melted butter, sugar, cinnamon, vanilla and allspice mixture.
Give it all a good mix and close the lid. Select the Slow Cook setting for 70 minutes – and you're free to move on to other elements of your holiday feast!
Once the timer sounds off and the Keep Warm lamp is illuminated, open up and stir the decadent sweet potatoes. The last step is to place your marshmallows on top and close the lid for 10 more minutes (trust us… it'll be worth the wait!).
The heat inside the rice cooker will melt the marshmallows on top of your sweet potato casserole.
Finally open it up and serve. We hope your Thanksgiving feast is epic!
Products used in this recipe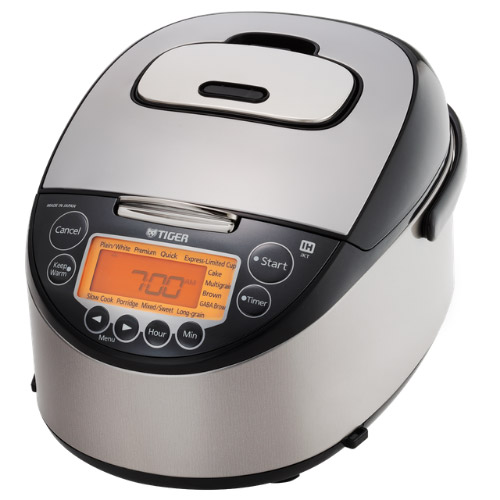 Induction Heating Rice Cooker JKT-D10U/18U
Made in Japan The TIGER JKT-D multi-functional induction heating (IH) electric rice cooker allows yo […]
LEARN MORE