Rice Cooker
Slow Cooker "Roasted" Vegetables
These slow cooker "roasted" vegetables have all of the flavor of rustic comfort food – but don't require an oven at all. Make this delicious veggie recipe in your rice cooker!
Servings
Preparation

10 min

Cooking

60 min
Ingredients
3 Garlic cloves, minced
2 tbsp Olive oil
2 tbsp Water
2 Medium potatoes, peeled and chopped
3 Medium carrots, chopped
1 Medium onion, chopped
1 Green bell pepper, seeded and chopped
Salt and pepper for flavor
Directions
Place all the ingredients in the inner pot and toss the vegetables until they are evenly coated with oil. 
Place inner pot in the rice cooker. Select the [Slow Cook] menu and set for 60 minutes. Press the [Start] key.
When cooking is complete, serve on a plate.
AN EASY VEGETABLE RECIPE. A WORLD OF FLAVOR
Whether you need a quick and easy Thanksgiving side dish – or are just making an attempt to introduce more healthy veggies into your diet, this rice cooker mixed vegetables recipe is loaded with an abundance of flavor and is easy on the waistline.
Potatoes, carrots and bell peppers are mixed with fragrant onions and garlic and coated in extra virgin olive oil. A little salt and pepper is all you need for a mixed veggie recipe that is both sweet, earthy and savory.
Now, let's get this out of the way right off the bat… Roasting happens when vegetables caramelize in the oven. Since we're making these "roasted" vegetables in a rice cooker, the trademark browning won't occur. Maybe think of this yummy recipe as more of a slow cooker vegetables dish. However, the iconic flavor of roasted veggies is definitely there!
And since you're cooking with the press of a button, it makes a great last minute addition to any rustic meal that needs a little boost of slow cooked comfort food goodness!
HOW TO MAKE "ROASTED" VEGETABLES IN A RICE COOKER
We absolutely LOVE telling you how easy it is to prepare food in your Tiger rice cooker! And it gives us great pleasure to let you know this recipe is as simple as it gets.
Seriously, just load all your ingredients into the inner pot of your rice cooker, close it up and select the Slow Cook setting for 60 minutes. Then press the Start button and focus on other elements of your feast. Or, hey… kick your feet up. You deserve it, chef!
Bon appetit!
Products used in this recipe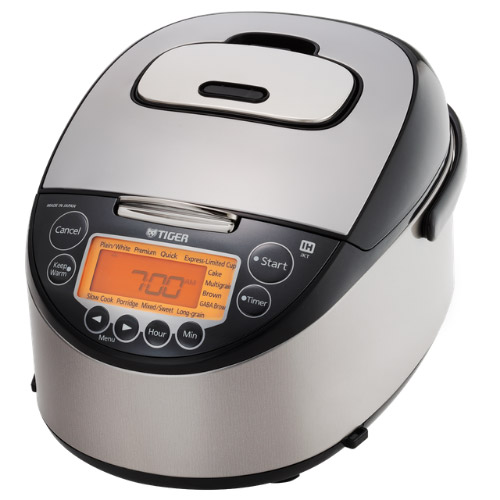 Induction Heating Rice Cooker JKT-D10U/18U
Made in Japan The TIGER JKT-D multi-functional induction heating (IH) electric rice cooker allows yo […]
LEARN MORE