This saffron rice recipe is one of our favorite seasoned rice recipes of all time! Make this easy recipe at home in your rice cooker.
Servings

3-4

Preparation
Cooking
Ingredients
1 cup dry jasmine rice
2 tablespoons olive oil
½ cup onion, chopped
1 garlic clove, minced
1 ¾ cup chicken stock
6 saffron threads
Salt and pepper, to taste
Directions
Briefly rinse the rice under water and drain well.
Add the rice to the rice cooker inner pot along with all the other ingredients, except for the cheese. Stir to combine and close the lid.
Choose the [Plain] function and press Start.
When the cooking is done, open the lid and add the cheese. Stir and close the lid for 5 minutes. Serve.
THINK OF THIS SAFFRON RICE AS AN ASSERTIVE RICE PILAF
When it comes to rice, we're always in awe of how many interesting ways there are to prepare this humble grain.
Every culture has its own recipes steeped in tradition and home-cooked goodness.
And it's those many proprietary spices and cultural influences that go into making seasoned rice recipes like rice pilaf.
Rice pilaf is essentially rice that has been cooked in broth or stock, instead of plain water. This imparts flavor into the grains themselves. And you can add other ingredients to make seasoned rice.
In this saffron rice recipe, we're using chicken stock for a savory base of flavor – and rounding it out with garlic and onion.
However, this seasoned rice wouldn't be as delicious as it is without its namesake spice: saffron.
WHAT IS SAFFRON?
Saffron is a fragrant spice that comes from a flower called the saffron crocus. These red threads impart a yellow hue when incorporated in a dish – and it is the hallmark flavoring agent used in iconic yellow rice dishes like paella.
Saffron threads are also, historically, one of the most expensive spices. Luckily, a little goes a long way.
You'll only need about 5 or 6 threads to make this delicious saffron rice recipe.
WHAT DOES SAFFRON TASTE LIKE?
Saffron is mildly earthy, slightly pungent with a hint of fruitiness around the edges.
HOW TO MAKE SAFFRON RICE IN A RICE COOKER
Simply load all of your ingredients (EXCEPT the Parmesan cheese) into the inner pot of your Tiger multifunctional rice cooker.
Stir well, close the lid and select the Plain setting (if you have the JKT model, you can select the Long-grain setting) – and press the Start button.
When the cooking cycle is finished, stir in the Parmesan and close the lid for an additional five minutes.
Finally, serve – and enjoy!
Products used in this recipe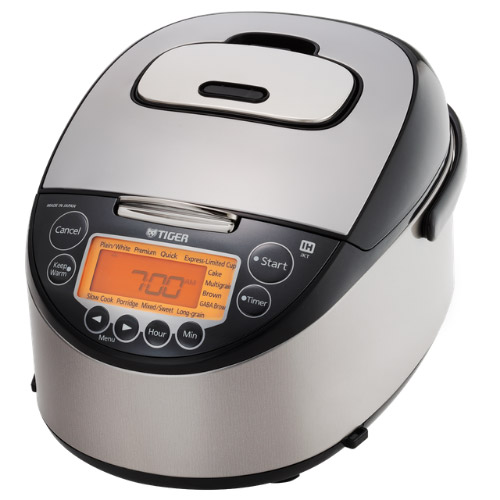 Induction Heating Rice Cooker JKT-D10U/18U
Made in Japan The TIGER JKT-D multi-functional induction heating (IH) electric rice cooker allows yo […]
LEARN MORE