Rice Cooker
Rice Cooker Vegetarian German Potatoes
Here's a recipe for savory German potatoes, no frying required! These rice cooker vegetarian German potatoes will be your family's new favorite side dish.
Servings

3-4

Preparation

15 min

Cooking

45 min
Ingredients
5 to 6 small russet potatoes
1 onion, thinly sliced
1 green bell pepper, thinly sliced
2 garlic cloves, minced
1 tablespoon extra virgin olive oil
1 ½ teaspoon soy sauce
250ml low sodium chicken stock or vegetable stock
Salt and pepper, to serve
Directions
Scrub the potatoes with the skin on and cut an x mark on top of each potato. 
Place them in the rice cooker inner pot along with the remaining ingredients.
Stir and close the lid. Choose the [Slow Cook] function and set the timer to 45 minutes. Press start.
Season with a little salt and pepper before serving.
A GERMAN POTATOES RECIPE YOU CAN MAKE IN YOUR RICE COOKER
Did you know German style potatoes are big in Japan? That's right, they're an izakaya staple – and one of the many Western style dishes you'll find in the Japanese food lexicon.
And – of course – we're always on the lookout for recipes we can alter just enough to make them in a rice cooker, while still retaining the essence and flavorful perfection of the original.
WHAT ARE GERMAN POTATOES?
German potatoes are simply fried potatoes and onions. Sometimes bacon is included for an added element of savory smokiness. The closest American dish we can think of for comparison is home fries.
For this rice cooker version, we're jettisoning the bacon – and using savory vegetable stock and soy sauce to up the umami ante instead (although you can use chicken stock if you prefer).
Thinly sliced onions, green bell peppers and garlic all make this easy potato recipe reminiscent of home fries.
And we think you're going to love how easy it is to make these vegetarian German potatoes in your rice cooker!
HOW TO MAKE GERMAN POTATOES IN A RICE COOKER
Simply load all of your ingredients (listed above) into the inner pot of your Tiger multifunctional rice cooker. Stir well, close the lid and select the Plain setting (yep – that's the setting you'd use to make white rice) then press the Start button.
Your German potatoes will cook to perfection – and when the timer sounds off, it's time to plate up and dig in! Don't forget a little salt and pepper just before serving😉
Products used in this recipe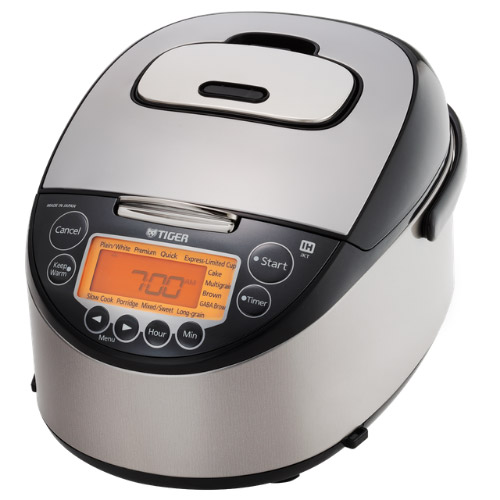 Induction Heating Rice Cooker JKT-D10U/18U
Made in Japan The TIGER JKT-D multi-functional induction heating (IH) electric rice cooker allows yo […]
LEARN MORE