Rice Cooker
Loaded Potatoes
Packed with all the smoky, savory flavors of a twice baked potato, this loaded potatoes recipe is a breeze to make in your rice cooker. Perfect as a snack for your Super Bowl party, or as a side dish for dinner.
Servings

3-4

Preparation

10 min

Cooking

60 min
Ingredients
Cooking spray
1 ½ pound Baby potatoes, sliced in half, or mini potatoes
¼ cup Milk or unsweetened oat milk
½ tbsp Smoked paprika
½ tbsp Chili powder
½ tsp Salt
4 Scallions, finely chopped
½ cup Bacon flavored bit such as Bac'n'Pieces
Sour cream
Directions
Spray the rice cooker inner pot with cooking spray.
Place the sliced potatoes, milk, smoked paprika, chili powder, half of the scallions, and season with salt. 
Close the lid and select the [Slow Cook] function. Set the timer to 60 minutes and press Start.
Stir the mixture every 20 minutes. 
Transfer the potatoes to a large serving bowl and top with cheese, sour cream, bacon bits, and the remaining chopped scallions.
BECAUSE THERE'S NOTHING BETTER THAN LOADED POTATOES WITH CHEESE AND BACON BITS
If we're having baked potatoes, you better believe we're piling them high with sour cream, cheese and bacon bits. That bit of savory and creamy kitchen alchemy is as iconic as the spuds themselves.
Well, for this delicious potato recipe, we're using smaller potatoes – and lots of them!
Baby potatoes, or new potatoes, have a soft, pliable skin, a velvety interior and cook rather quickly all things considered. They're the perfect tuber to use for this loaded potatoes recipe.
We're using chili powder, smoked paprika and salt to provide a bit of a smoky kick to the potatoes as they cook. It provides the perfect counterpoint to the gooey, creamy elements of the cheese and sour cream.
Fresh scallions provide a garden fresh crispness and herbaceous bite.
And the bacon bits deliver a savory, smoky crunch that ties the whole dish together. It's exactly what you'd want from a twice baked potato – but in bite size form.
Bonus: it's super easy to make loaded potatoes in your rice cooker!
HOW TO MAKE LOADED POTATOES IN A RICE COOKER
After giving the inner pot of your Tiger multifunctional rice cooker a hit with cooking spray, just load the baby potatoes, milk, half the scallions (reserve the other half for topping) and your spices inside.
Use the Slow Cook function for 60 minutes. Remember to carefully open the lid and stir every 20 minutes or so.
When the timer sounds off, just place the potatoes on a serving dish and pile high with your smoky, savory and creamy toppings.
We think these loaded potatoes might just make an appearance at your next Super Bowl party!
Products used in this recipe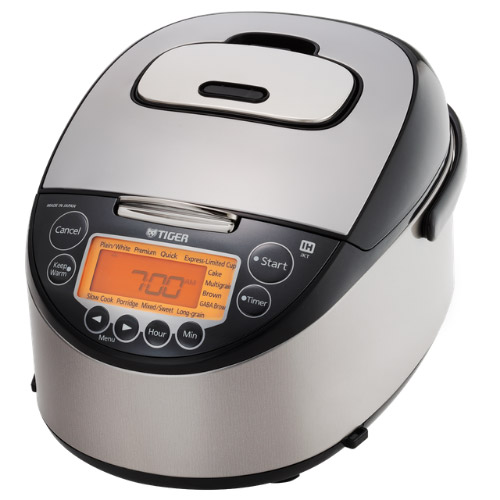 Induction Heating Rice Cooker JKT-D10U/18U
Made in Japan The TIGER JKT-D multi-functional induction heating (IH) electric rice cooker allows yo […]
LEARN MORE