Rice Cooker
Mushroom Broth
Need a versatile ingredient for your plant based meals? This simple rice cooker mushroom broth has flavor for days. Keep a jar of this wonder-ingredient in the fridge at all times!
Servings

3-4

Preparation

10 min

Cooking

70 min
Ingredients
2 carrots, peeled and chopped
2 celery stalks, chopped
1 medium onion, peeled and chopped
30g kombu
100g dried shiitake mushrooms
4 ½ cups water
¼ teaspoon salt
Directions
Add all the ingredients in the rice cooker inner pot, stir, and close the lid.
Select the [Slow Cook] function and set the timer to 70 minutes. 
Place a strainer over a bowl and carefully strain the broth. Discard the ingredients in the strainer or use the vegetables and mushrooms in a soup.
Save the broth in a jar and refrigerate for up to 1 week.
A MUSHROOM BROTH THAT TASTES GREATER THAN THE SUM OF ITS PARTS
When preparing dinner, sometimes a recipe needs a little push in the right direction so it can achieve the depth of flavor we just know is there, lurking right below the surface.
Well, think of this delicious rice cooker mushroom broth as that helping hand. It has a deep and soulful umami from the use of dried shiitake mushrooms – and a savory marine element from kombu (kelp). Celery, carrots and onions lend their garden fresh vegetal notes to the stock. And all it takes is a spin in your rice cooker to make it all come together!
In fact, it has so much effortless flavor, we like to think of this profoundly delicious mushroom stock as a vegan bone broth.
MUSHROOM BROTH USES
Keep a jar handy in the fridge, and use it as a hearty base of flavor for soups, stews and sauces. Make your homemade risotto an absolute umami-bomb.
But why stop there? We love using this mushroom stock as a cooking liquid for rice and pasta. As your carbs cook, they soak in the earthy, savory notes of the cooking liquid and just make them extra.
The uses are endless – and it's so easy to make mushroom broth in your rice cooker!
HOW TO MAKE MUSHROOM BROTH IN A RICE COOKER
Simply load all your ingredients into the inner pot of your Tiger multifunctional rice cooker. Select the Slow Cook function for 70 minutes – and your work is basically done!
When the timer sounds off, just strain your broth through a sieve or strainer and you're good to go. (You can use those savory cooked veggies in soup… just sayin').
And your strained mushroom stock will keep in the fridge for a week. It's such a delicious – and easy – ingredient to work with!
Products used in this recipe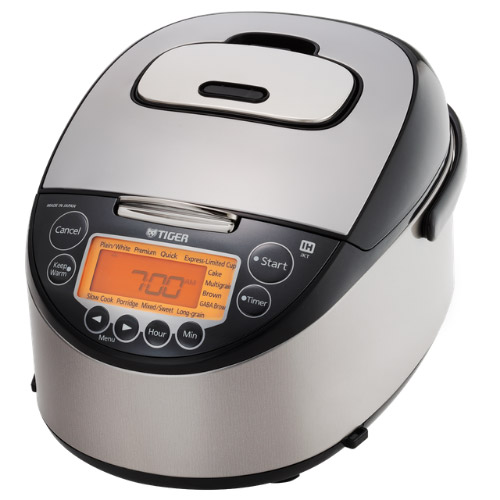 Induction Heating Rice Cooker JKT-D10U/18U
Made in Japan The TIGER JKT-D multi-functional induction heating (IH) electric rice cooker allows yo […]
LEARN MORE