Grab the pita chips and dig into this creamy hummus recipe. Best part: you can totally whip up this classic chickpea, tahini combo in your rice cooker!
Servings

3-4

Preparation
Cooking

90 min
Ingredients
1 cup dried chickpeas
2-3 Garlic cloves
1/3 cup Lemon juice
1/3 cup tahini
¼ extra virgin olive oil
A pinch of salt
A pinch of cayenne pepper
Directions
Soak dried chickpeas in 3 cups of water overnight.
Drain the chickpeas and place in inner pot of rice cooker and cover with 3 inches of water. Add a pinch of salt for flavor.
Place inner pot in the rice cooker. Select [Slow Cook] menu and set for 90 minutes. Press [Start] key.
Once cooked, check if the chickpeas are cooked. Add more cooking time if necessary. Drain the beans and save the liquid.
Add garlic and warm chickpeas in a food processor and pulse to mash them. Add lemon juice, tahini, olive oil and cayenne pepper. While pulping slowly, add 1/3 cup of the cooked liquid until smooth.
Serve with romaine lettuce or pita bread.
WHAT IS HUMMUS?
Hummus is an iconic Middle Eastern dip comprised of a mixture of mashed chickpeas (garbanzo beans), tahini, garlic, lemon juice and olive oil. It's absolutely delicious!
And there's no wrong way to eat hummus. Although it's typically eaten with pita bread, we've been known to dip tortilla chips, crackers, veggie sticks and even romaine lettuce leaves. Or use it as a spread on your favorite sandwiches and wraps.
Delish!
HOW TO MAKE HUMMUS IN A RICE COOKER
Wait… Hummus… in a rice cooker? YES! And it's amazing.
By now it probably doesn't come as a total surprise that you can prepare lots of things other than perfect rice in your Tiger rice cooker.
With cooking presets tailored for everything from slow cooking to synchronized cooking, we've got you covered from appetizers all the way through to dessert!
So whether you're making Cajun turkey meatballs, a skinny vegetarian Mexican chili or decadent blueberry and chocolate chip pancakes your Tiger multicooker can be the first kitchen appliance you think of when you just need to get the job done.
Same rules apply when it comes to this delicious, creamy homemade hummus recipe. After soaking and draining your dried chickpeas, place them in the inner pot with some water and salt. Simply use the Slow Cook setting for an hour and a half. Afterwards, you'll pulse your cooked and drained garbanzo beans in a blender with lemon, tahini, some of the reserved cooking liquid, garlic, olive oil and a bit of cayenne pepper.
You'll be pleasantly surprised by how creamy and full of flavor it is. And it's healthier than most store bought hummus… bonus, right!?
It's so easy – and delicious – to make this homemade hummus recipe. Now, get to dipping!
Products used in this recipe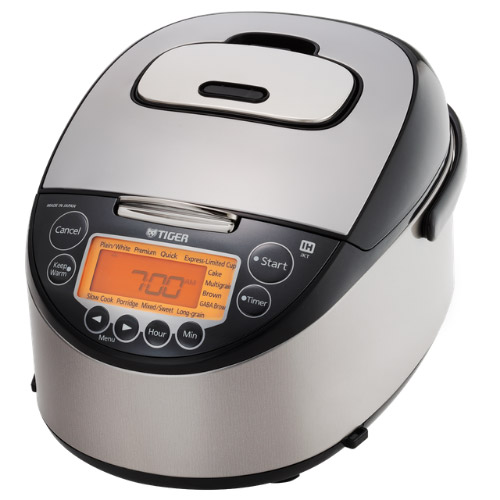 Induction Heating Rice Cooker JKT-D10U/18U
Made in Japan The TIGER JKT-D multi-functional induction heating (IH) electric rice cooker allows yo […]
LEARN MORE