Rice Cooker
Easy Rice Cooker Stuffing
Are you cooking for the holidays? This savory and easy to make rice cooker stuffing will be right at home on your family's dinner table!
Servings

3-4

Preparation

15 min

Cooking

55-75 min
Ingredients
285g (10oz) white bread such as baguette or ciabatta, sliced into cubes
1 cup white onion, finely chopped
1 cup celery, finely chopped chopped
⅓ cup chopped walnuts or pecans
1 large egg, whisked
1 1/2 cup low sodium chicken or vegetable stock
2 tablespoons extra virgin olive oil
2 tablespoons room temperature butter
1 teaspoon dried oregano
1 teaspoon dried rosemary
salt and pepper (to taste)
Directions
Put the bread, onion, celery, and chopped walnuts in a large mixing bowl.
Mix the egg, vegetable broth, olive oil, and butter in a separate bowl, and pour the mixture over the stuffing.
Add the oregano and parsley and mix well, until the bread is evenly coated with the mixture.
Season with a little salt and pepper and mix everything with a spoon.
Close the lid and select the [Slow Cook] function. Set the timer to 55 minutes and press start. 
Season with salt and pepper if needed and serve. If you find the mixture too wet, transfer the stuffing to an oven safe casserole dish or cake pan and bake at 400ºF for about 20 minutes.
THE EASIEST THANKSGIVING DRESSING RECIPE
Each year, as we gear up for the holiday season, we start to think about which recipes we're going to have to make via traditional methods – and which one's we can farm out to… ahem, more unconventional means.
Because whether it's turkey-day or one of the many holiday parties you might be going to, keeping it manageable in the kitchen is priority #1.
This rice cooker stuffing recipe is so easy to whip up – but it doesn't taste like you put in minimal effort. It's savory and perfectly spiced. We'd say it's our favorite side dish alongside turkey, cranberry sauce, green bean casserole and mashed potatoes and gravy!
Now, when it comes to the bread for this stuffing – we'd recommend using a day-old baguette or ciabatta ideally. But you can really use whatever bread you've got handy.
Chopped walnuts deliver a great texture to the overall dish – and dried herbs like rosemary and oregano give this rice cooker stuffing that trademark holiday flavor profile.
Chicken stock introduces another level of savory goodness to the dish. But you could use veggie stock if you plan on making a vegetarian stuffing.
But no matter what stock you decide on, you're going to love how easy it is to make this homemade stuffing in your rice cooker!
HOW TO MAKE STUFFING IN A RICE COOKER
Place all your dry ingredients into the inner pot of your Tiger multifunctional rice cooker – and top the mixture with your stock and a bit of salt and pepper.
Stir well, close the lid and select the Slow Cook setting for 35 minutes. How's that for an easy holiday recipe?
When the timer sounds off, fluff it up – and serve alongside your holiday favorites. Goes well with gravy… just sayin'.
Products used in this recipe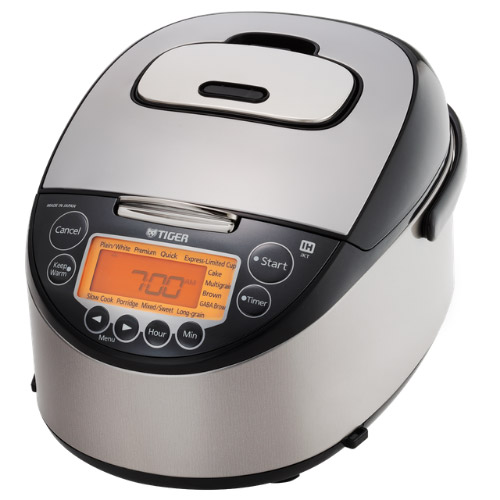 Induction Heating Rice Cooker JKT-D10U/18U
Made in Japan The TIGER JKT-D multi-functional induction heating (IH) electric rice cooker allows yo […]
LEARN MORE