Rice Cooker
Slow Cooker Cranberry Sauce
Whether you're looking for a last minute addition to your Christmas dinner, or want to try your hand at making the most iconic Thanksgiving side dish, this slow cooker cranberry sauce recipe makes the perfect accompaniment to turkey and stuffing. And it tastes way better than store-bought!
Servings

3-4

Preparation

20 min

Cooking

120 min
Ingredients
¾ cup Granulated sugar
½ cup Orange juice
¼ tsp Ground cinnamon
2 Cloves
12 oz Frozen cranberries
Directions
Add sugar, orange juice, ground cinnamon, and clove to the rice cooker's inner pot and stir well. Add cranberries and stir until they are all coated. 
Choose the [Slow Cook] function and set the timer to 120 minutes. 
Mash the cranberries and serve.
THE BEST HOMEMADE CRANBERRY SAUCE
Sure, when it comes to holiday meals, you've gotta have roast turkey, mashed potatoes, gravy, stuffing and green bean casserole. But let's not forget the most iconic (and sometimes overlooked) Thanksgiving dinner recipe of all: cranberry sauce.
Now whether you think of it as a side dish or condiment, cranberry sauce runs the gamut of flavor from complex sour and sweetness to almost zingy from the use warming spices like cinnamon and cloves.
And, while we actually like the store-bought cans of cranberry sauce, it's not hard at all to make your own at home and ratchet the flavor up to level 11 🙂
Well, you can totally use your rice cooker to make cranberry sauce from scratch!
HOW TO MAKE CRANBERRY SAUCE IN A RICE COOKER
Load all your ingredients into the inner pot of your rice cooker and give them a good stir, until the cranberries are well coated with your orange juice, sugar and cinnamon mixture.
We like to use frozen cranberries for this recipe, because they tend to be flash frozen as soon as they are harvested, ensuring their freshness and undiminished tartness.
Simply use the Slow Cook setting on your Tiger multi-functional rice cooker and press the Start key. You'll be freed-up to move on to other aspects of your holiday meal prep!
Once the timer sounds off, just mash the cranberries and serve. Not only will the tart sweetness be a welcome addition to your otherwise savory holiday meal, it will keep well in the fridge so you can use it on all those yummy leftovers you'll have in the coming days!
Happy eating… and happy holidays!
Products used in this recipe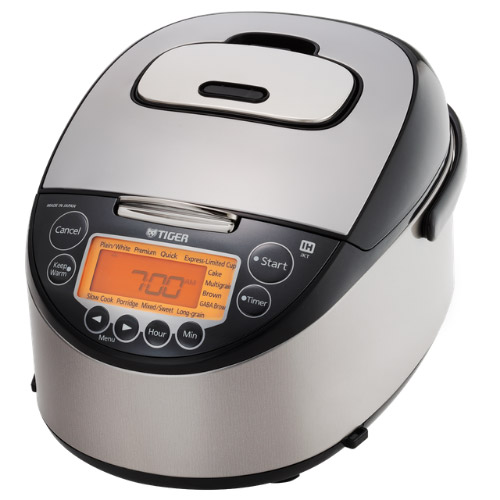 Induction Heating Rice Cooker JKT-D10U/18U
Made in Japan The TIGER JKT-D multi-functional induction heating (IH) electric rice cooker allows yo […]
LEARN MORE