Here's a hearty Indian soup that packs mountains of flavor! After one spoonful, this dahl soup recipe will be in your steady dinner rotation.
Servings

3-4

Preparation

10 min

Cooking

80 min
Ingredients
½ cup Red or yellow lentils
1 Small onion, finely chopped
2 Garlic cloves, minced
3 ½ cup water
1 tbsp Vegetable oil
2 tbsp Tomato paste
1 tsp Turmeric
1 tsp Cumin powder
¼ tsp Ground cinnamon
Cilantro leaves, for garnish
Lemon wedges, for garnish
Directions
Place all the ingredients in the rice cooker inner pot and stir.
Close the lid and choose the [Slow Cook] function. Set the timer to 80 minutes and press Start.
Serve with lemon wedge and cilantro.
A HEARTY LENTIL SOUP RECIPE YOU'LL CRAVE ON THE REGULAR
Dahl (at times spelled dal, daal and dhal) is one of those recipes that looks and sounds exotic – but is actually extremely easy to make.
Hey, at the end of the day it's lentil soup.
But don't let the ease of whipping up this dal recipe fool you into thinking it tastes simple. On the contrary, there's a lot going on in the flavor department!
Yellow lentils are slow cooked with onion and garlic – along with a host of warming spices like turmeric, cumin and cinnamon for a depth of flavor that isn't spicy, yet packs a real punch.
We've added a bit of tomato paste to impart the bright essence of tomato – and finished it off with zingy lemon and garden fresh chopped cilantro.
This dahl recipe is one of our favorite lentil recipes of all time. And you'll be shocked by how easy it is to make!
HOW TO MAKE DAHL SOUP IN A RICE COOKER
To make this rice cooker dahl soup, simply load the inner cooking pot of your Tiger multifunctional rice cooker with all the soup ingredients (EXCEPT the chopped cilantro and lemon wedges).
When you select the Slow Cook preset and press the Start button, your work is done!
We love serving dal with a spritz of fresh lemon juice and a sprinkling of bright cilantro. And if you've got some naan to dip in this flavorful Indian soup, you've got a full-on meal at your fingertips.
Products used in this recipe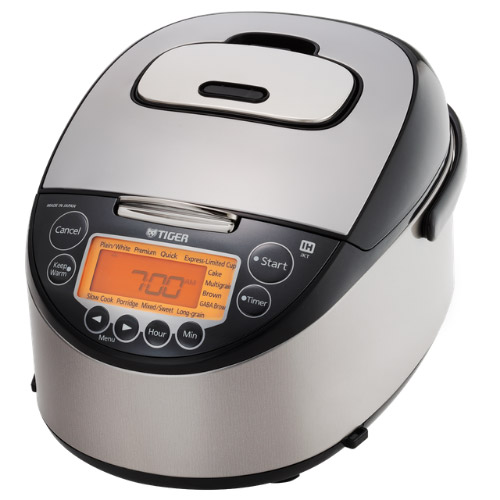 Induction Heating Rice Cooker JKT-D10U/18U
Made in Japan The TIGER JKT-D multi-functional induction heating (IH) electric rice cooker allows yo […]
LEARN MORE