Rice Cooker
Cauliflower Soup
This creamy cauliflower soup is silky smooth and packed with garden freshness. If you've been looking for a rice cooker recipe that will erase the winter chill and put a smile on your family's faces, this one is for you!
Servings

3-4

Preparation

20 min

Cooking

120 min
Ingredients
2 tbsp Extra virgin olive oil
¼ tsp Dried thyme
2 Garlic cloves, minced
1 Medium onion, chopped
1 Small potato, peeled and chopped
1 Medium cauliflower, chopped
4 cups Low sodium chicken broth, or water
5 oz can Fat free evaporated milk
Salt and pepper to taste
2 tbsp Flat leaf parsley, chopped, for topping (optional)
Directions
Add olive oil, dried thyme, garlic, onion, potato, cauliflower, and broth to the rice cooker inner pot and stir. Choose the [Slow Cook] function and set the timer for 120 minutes. Press start. 
When the cooking is done, transfer the soup to a blender and blend until smooth.
Return soup to the inner pot and stir in evaporated milk. Stir well, season with salt and pepper and serve in bowls. Top with parsley.
A DELICIOUS SLOW COOKER CAULIFLOWER SOUP
Sometimes you taste a simple soup recipe and can't quite believe how much flavor can be packed into a single spoonful. Comfort food is great that way.
Well, this cream of cauliflower soup is packed with flavor – and achieves that with a relatively short ingredients list.
Cauliflower, potato and onion form the base of this creamy soup – and are elevated with a bit of minced garlic and thyme. It produces a soup that isn't just flavorful – it has an edge of refinement to it. Almost like a starter at a fancy French restaurant – but super easy to make at home. That's what we love about soup. It can be deceptively simple to prepare, and still deliver elegance in the bowl.
Yep, soup is just good stuff! And you can totally make this homestyle slow cooker recipe in your rice cooker.
HOW TO MAKE CAULIFLOWER SOUP IN A RICE COOKER
For this cream of cauliflower soup recipe, place all your ingredients in the inner pot of your rice cooker (EXCEPT for the evaporated milk). When you use the Slow Cook setting and press the Start key, you're free to work on other elements of your dinner. Or, heck… free to kick your feet up with a beer and a good book. You've earned it!
Once cooked, blend until silky smooth and stir in your evaporated milk. It's easy and SO delicious!
Bon appetit!
Products used in this recipe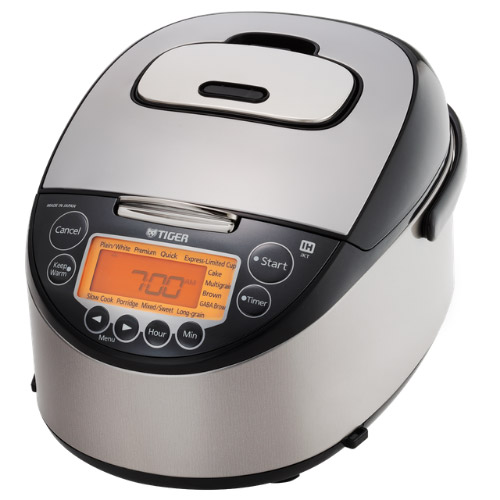 Induction Heating Rice Cooker JKT-D10U/18U
Made in Japan The TIGER JKT-D multi-functional induction heating (IH) electric rice cooker allows yo […]
LEARN MORE