Rice Cooker
Apple Yogurt Cake
Make this apple yogurt cake when you need a little dessert in your life. Sweet, moist and perfect, you're going to love this rice cooker apple upside down cake!
Servings

3-4

Preparation

15 min

Cooking

60 min
Ingredients
Cooking spray or butter
1 large apple, such as Honeycrisp, peeled, cored, and sliced into thin wedges
1 teaspoon lemon juice
3 tablespoons olive oil
6 tablespoons granulated sugar
200g all-purpose flour
½  teaspoon baking powder
½ teaspoon baking soda
2 large eggs, whisked
5 ounces plain yogurt
Directions
Cover the rice cooker inner pot with cooking spray or butter to prevent the cake from sticking to the surface.
In a separate bowl, add the apple wedges and drizzle the lemon juice and olive oil on top. Gently toss the apples to evenly cover each piece with the mixture. 
Transfer the apples to the rice cooker inner pot and sprinkle 3 tablespoons of sugar on top.
In a separate bowl, mix the flour, baking powder, baking soda, and remaining sugar. 
Add the whisked eggs and the yogurt and stir until the mixture is smooth.
Pour the mixture over the apples and spread to cover the apples evenly.
Close the lid and choose the [Slow Cook] function. Set the timer to 75 minutes and press start.
Take the inner pot out of the rice cooker and put a plate on top. Flip the pot over and serve the cake on the plate with a side of whipped cream or ice cream.
OUR TAKE ON AN APPLE UPSIDE DOWN CAKE
Everyone should have a few easy cake recipes in their back pocket for those times the need for dessert rises up. Because, let's be real, sometimes your sweet tooth ends up calling the shots!
And we've been hard at work creating rice cooker dessert recipes that require limited time and effort to prepare – with maximum flavor once it hits your fork. Whether you're in the mood for carrot cake or a sweet, creamy rice pudding, we've got you covered.
This apple yogurt cake is sweet and tart from the usual suspects of sugar and lemon juice. But we've introduced a creamy element in the form of yogurt that turns out a rice cooker cake that is impossibly moist (and skews slightly to the healthier side of things).
And while all of those ingredients shine, we'd say the most important ingredient of all is the apples themselves. We're using Honeycrisp apples for their perfect balance of tart sweetness – and the crispy (dare we say clean) texture they naturally have.
You'll want to peel, core and slice those apples into thin wedges. Be sure to drizzle the apple slices in lemon juice to keep the color from harmlessly turning brown.
HOW TO MAKE APPLE YOGURT CAKE IN A RICE COOKER
First things first: coat the inner pot of your Tiger multifunctional rice cooker with a thin glaze of cooking spray or butter so the finished cake will slide right out after cooking.
We've got ingredients and quantities, along with step by step instructions on treating the apples and making your apple cake batter on this page (just above). Simply follow along.
Once everything is inside the inner pot, you're ready to go. Just close the lid and select the Slow Cook setting for 75 minutes.
When the timer sounds off – it'll officially be dessert time!
Products used in this recipe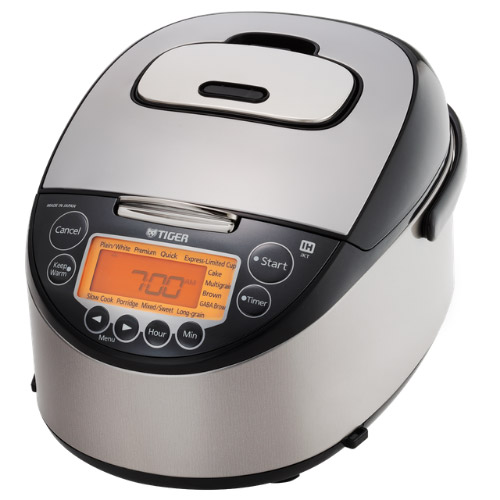 Induction Heating Rice Cooker JKT-D10U/18U
Made in Japan The TIGER JKT-D multi-functional induction heating (IH) electric rice cooker allows yo […]
LEARN MORE