Rice Cooker
Zucchini Bread
Get your snack on! This rice cooker zucchini bread is pillowy soft with the perfect hint of sweetness. This'll be your new favorite no-bake recipe!
Servings

3-4

Preparation

15 min

Cooking

65 min
Ingredients
1 small ripe banana, mashed
1/2 cup sugar
1/4 cup extra virgin olive oil
2 large eggs, whisked
1 1/2 cup grated zucchini
1 teaspoon baking powder
1 teaspoon baking soda
1/4 teaspoon salt
2 cups all-purpose flour or whole wheat
Cooking spray, for coating the rice cooker inner pot
Directions
In a large bowl, mix the mashed banana, sugar, olive oil, eggs, and zucchini, until everything is well combined.
Stir in the baking powder, baking soda, and salt.
Stir in the flour last and mix until you get a batter.
Spray the rice cooker inner pot with cooking spray and add the batter.
Select the [Slow Cook] function and set the timer to 100 minutes. Press start.
When the cooking process is done, turn the rice cooker off and leave for 20-30 minutes to cool.
Take the inner pot out and place a plate on top. Carefully flip the pot over so the cake lands on the plate. Serve with custard, whipped cream, or yogurt.
THE EASIEST ZUCCHINI BREAD RECIPE EVER
Sometimes you just need some baked goodness in your life. Bonus if that happens to be an impossibly delicious zucchini bread.
And triple points if you don't have to actually turn on the oven in the middle of a heatwave to indulge in that zucchini bread.
Now, this recipe in particular has the perfect level of sweetness from the use of a small amount of good ol' sugar – and a ripe banana.
The banana, grated zucchini, extra virgin olive oil and eggs impart incredible moisture – and the structure of the crumb is actually more like a cake than a bread. So no harm if you have a little slice for dessert after a well balanced dinner.
In fact, we think topping the finished zucchini bread with a little custard, whipped cream – or even yogurt – is the perfect way to take it to the next level.
But no matter how you decide to serve it, we know you'll love how easy it is to make in your rice cooker!
HOW TO MAKE ZUCCHINI BREAD IN A RICE COOKER
Simply mix your zucchini bread batter (exact ingredients and amounts in the tabs above) and add to the inner pot of your Tiger multifunctional rice cooker. (Add a little cooking spray to the inner pot beforehand to ensure the finished product pops right out after cooking.)
Then select the Slow Cook setting for 65 minutes and press the Start button. And that's about it!
Give it a good 20 minutes or so to cool after cooking – then dig in. You and your family are going to love this delicious zucchini banana bread!
Products used in this recipe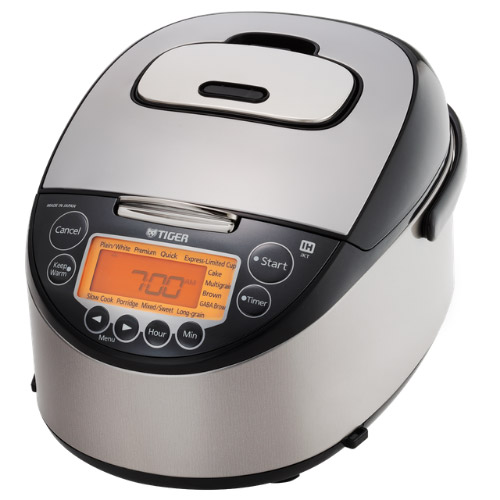 Induction Heating Rice Cooker JKT-D10U/18U
Made in Japan The TIGER JKT-D multi-functional induction heating (IH) electric rice cooker allows yo […]
LEARN MORE