Need a little banana bread in your life? We've got a classic banana nut bread you won't have to get anywhere close to an oven to make at home!
Servings

3-4

Preparation

15 min

Cooking

130 min
Ingredients
1 ½ cup All-purpose flour
½ tsp Baking soda
½ tsp Salt
½ cup Granulated sugar
3 tbsp Extra virgin olive oil
2 tbsp Water
2 tbsp Oat milk, or milk
1 tsp Pure vanilla extract
2 small-medium ripe bananas, mashed
⅓ cup Chopped walnuts (or pecans)
Cooking spray
Directions
In a bowl, mix the flour, baking soda, and salt. Set aside.
In a separate bowl, mix the sugar and olive oil. Slowly add, while stirring, the water, oat milk, vanilla extract, and mashed bananas.
Slowly add the flour mixture to the wet mixture until well combined.
Add the chopped walnuts and stir.
Spray the rice cooker inner pot with cooking spray, including the sides.
Pour the banana bread batter into the inner pot and close the lid. 
Choose the [Slow Cook] function and set the timer for 130 minutes. Press start.
Once complete, serve on a plate.
THIS RICE COOKER BANANA BREAD QUALIFIES AS BAKING MAGIC
Banana bread is one of those perfect little pieces of baking alchemy that is as at-home as a midnight snack as it is on a dessert plate.
Well, what if we told you you didn't have to even turn on your oven to make this moist, spongy bit of decadence?
Now, as with most banana bread recipes, we'd recommend using ripe bananas. In fact, this recipe is an excellent clearinghouse for the bananas that have seen better days – and might not be making it into your morning smoothie anymore.
And you can use walnuts or pecans if you like your banana bread to have a bit of crunch and texture. Or leave them out. Your choice. We usually make both versions when we head to the bake sale.
But no matter which version you make, we think you'll be shocked at how easy it is to whip this up in an appliance you might not first think of when undertaking a baking project.
HOW TO MAKE BANANA BREAD IN A RICE COOKER
This is as easy as it gets! Follow the instructions for making your banana bread batter (check the ingredients and directions tabs on this page for exact measurements). Then spray the inner pot of your Tiger multifunctional rice cooker with a little cooking spray. Don't forget the sides!
Pour the batter in – and select the Slow Cook setting for 130 minutes. Believe it or not, at this point, your work is basically done.
You're going to love the moist perfection this banana nut bread delivers. Don't be surprised if it disappears FAST!
Products used in this recipe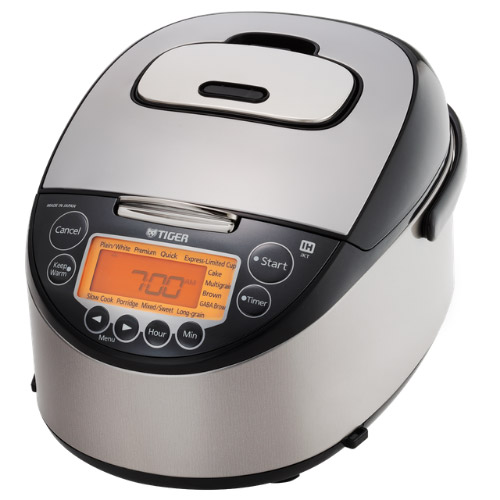 Induction Heating Rice Cooker JKT-D10U/18U
Made in Japan The TIGER JKT-D multi-functional induction heating (IH) electric rice cooker allows yo […]
LEARN MORE